Things that make my life, my baby's life, or my family's life in general a little bit easier .
The following is a list of services, products and must-have tips that help make my life as a new (very busy) mama easier. I plan to add to and update it regularly as time goes on and I discover new things to share with you to hopefully make yours a little easier too.
I've used Minted.com for essentially every holiday or announcement card I've sent over the last 6 years, including our wedding invitations and Taylor's birth announcement:
I have also used Minted to create canvas wall art of family pictures to hang in our home. I love that you can customize such a wide variety of templates to your own tastes, and create an account so that all of your addresses can be saved for future cards/mailings. Minted always delivers a quality, stylish and professional end product; I personally won't use another company for this purpose. I'm planning to share a DIY Holiday photo shoot post, and I'll be sure to show you which template I'm using for our card this year! Check out all of their Holiday card options here.

I came across this children's company through a Google search along the lines of, "where can I find quality, solid colored onesies and leggings for my baby?" Primary met that criteria, and then some. These are my absolute go-to wardrobe staples for Taylor; I've bought at least 5 items from Primary for every stage of her life so far (i.e. hoodies, onesies, romper dresses, etc.). I even used a long sleeved Tangerine "baby suit" and pair of black leggings from Primary for her Halloween costume this year. Their clothing is already very reasonably priced, especially for the quality, but they're also offering 20% off for your first order through the end of this year (2016): click this link to access the discount and pick up some baby/kiddo wardrobe basics.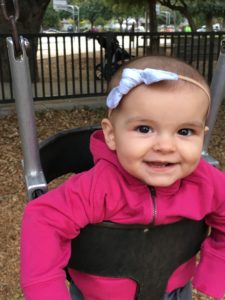 Amazon Prime is an absolute mama must-have! I do about 80% of my shopping through Amazon, if you hadn't picked up on that from my blog. Not only is 2 day shipping super nice, but you can also stream tons of kiddo shows from Amazon video (i.e. Sesame Street, Daniel Tiger, etc.), which comes with the yearly Prime membership – I know I'll be accessing that when the time comes. I think Amazon Prime is definitely worth the investment – $99 per year or $10.99 per month. The first 30 days of the annual subscription are free, and you can cancel anytime!
Baby Bin is essentially a personal online shopping service for your baby.  It's convenient, useful and simply fun. As a busy new, working mom, I'm all about online shopping and time saving services and Baby Bin is another that fits the bill.  Baby Bin is a personalized online shopping service wherein a personal shopper (a real life, experienced mama) selects age/developmentally appropriate products for your baby and ships them directly to your doorstep, but you only pay for what you choose to keep. I'm absolutely LOVING this concept right now. You can read more about my experience with Baby Bin and how it works here.
My husband and I use the Door Dash service/app at least 2 times per week, and WAY more than that during the first few months after Taylor was born – I was just trying to survive in those first few weeks with a newborn, and the last thing I wanted to do was cook! Door Dash is a service that most definitely makes my life easier, and more delicious! For a small delivery fee, you can have your favorite local restaurant's food delivered right to your door. When I come home at the end of a particularly tough or long workday, the last thing I want to do is cook and clean up a meal. Those are the nights I hop on the Door Dash app (sometimes even on the way home at a stop light – eek), order a local favorite for my hubby and I, then get on to playing with my baby girl for the couple precious hours I have with her before she falls asleep! I'm so glad I found out about this service. Check to see is Door Dash is currently serving your area and sign up by clicking here – you can thank me later : )
This is an AMAZING resource for busy, yet style conscious mamas (or moms-to-be!). Now that time to shop for myself is SUPER limited, I rely on Stitch Fix to keep me updated. Between work and trying to spend every waking minute I'm not there with my family, I honestly don't know when I'll ever get to the mall again for a "real" shopping trip! I love that a stylist picks out items for me based on an elaborate style profile I fill out, sends the "fix" monthly, and I only pay for what I choose to keep. I used Stitch Fix religiously for more than a year before I was pregnant with Taylor, and still wear almost all of those pieces to this day.  I even used this service for a few months during pregnancy (yep, they have Maternity "fixes"!). If you are a busy mom to be or mama who could use a convenient, personal shopping service you might want to give Stitch Fix a try.


This page contains affiliate links, all for your convenience. All are services and  products I truly believe in. If you purchase through a link, thank you!