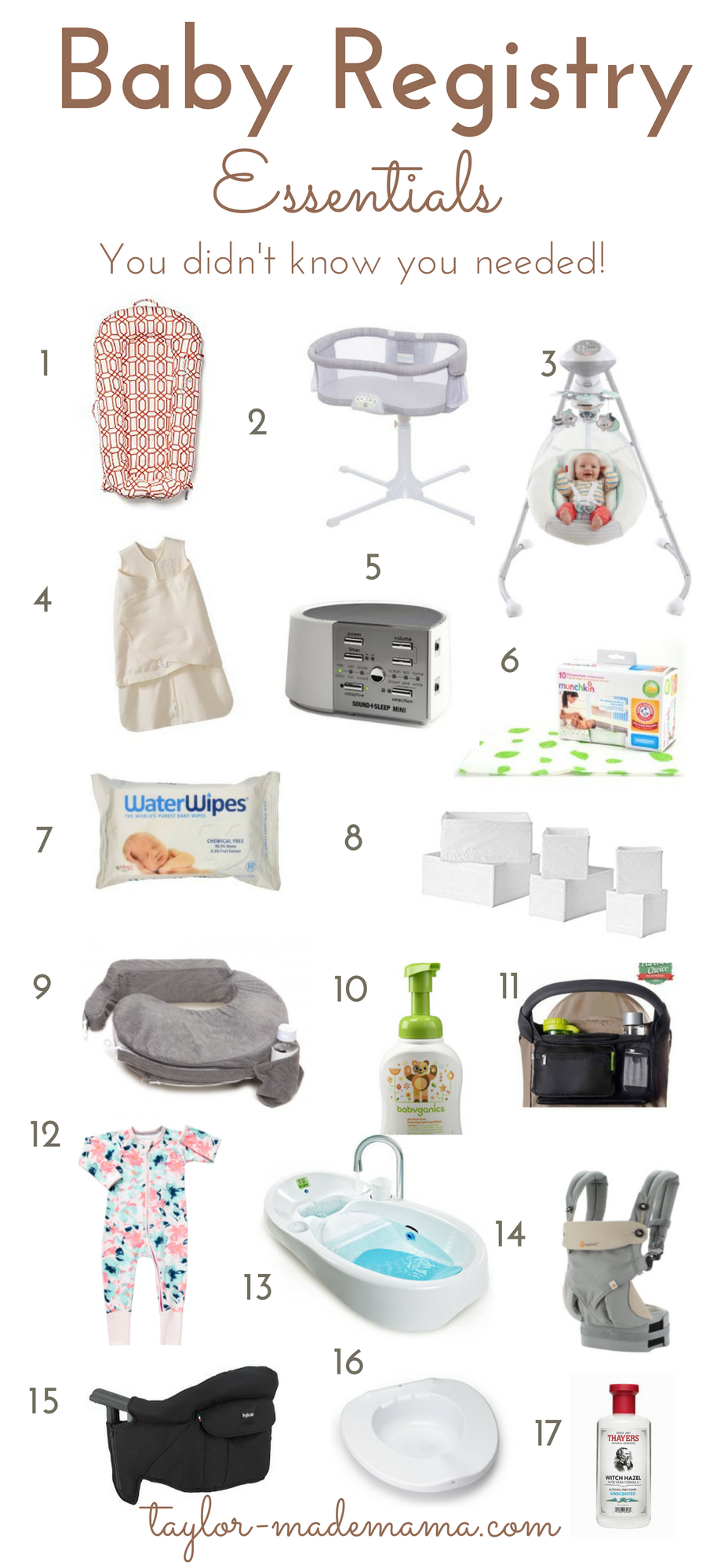 This page contains affiliate links for your convenience. Views are 100% mine. If you purchase through a link, thank you!
I had the luxury of inheriting a killer registry list from my BFF which has been passed down and refined, pregnancy by pregnancy, by her and her teaching colleagues. It took out so much of the research and guesswork I would have had to do otherwise! However, since Taylor's birth, there are some non-traditional items that I've discovered by recommendation or figuring out by trial and error that I would definitely recommend adding to a registry [I used Amazon for mine] or purchasing ahead of time to have on hand. I hope you find some of these recommendations useful : )
SLEEP STUFF
At first it may seem a little pricey, but a DockATot is well worth the investment when your baby is sleeping in it like a champ! I hadn't heard about the brand before a girlfriend of mine recommended it to help Taylor and I with her sleep. Coupled with her bedtime routine [more on that here] and swaddling, I truly believe the DockATot was integral in getting her to sleep through the night in her own crib at only 6 weeks old! Docks can also be used in lieu of a more cumbersome Pack & Play when traveling – which is nice because your peanut will have something familiar in an unfamiliar sleep environment. DockATots also work great for "tummy time" sessions, and fit inside of most bassinets allowing you to use it to help transition baby from bassinet to crib. There are so many cute patterns like this one, this one and this one:



2. Halo Bassinest Swivel Sleeper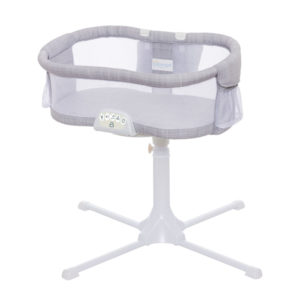 Speaking of bassinets….this one is the best! AJ's barber recommended the Halo to him and I'm so thankful she did. Even though we transitioned her pretty quickly into her crib, I am still glad we used the Bassinest for the first weeks we had her home.  It pulls up right onto the edge of your bed [hello space saver!], and swivels out of the way when you need to get out of bed. When your baby wakes up at night you just push down the front panel to pull them out to feed, and if you hear any funny little noises [in case you didn't know – newborns make the weirdest noises at night] you can look through the mesh and see what's going on. I loved having Taylor so close to me while we slept, but also safe in her own little space.
3. Fisher-Price Moonlight Meadow Cradle 'n Swing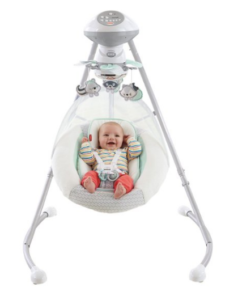 One of my besties recommended this swing for Taylor after hearing my complaints about her crap naps [20-30 minutes at a time], and I'm so glad we ended up getting it. The first time I tried swaddling her and placing her in it for a nap, she slept 1.5+ hours! Infants love being in motion.  This swing is literally the only place she has ever fallen asleep on her own thus far. She can nap peacefully in it up to 25 lbs, so we'll continue to make good use of this item for months to come.
4. Halo Swaddle Sleep Sacks
–
I am lazy and terrible at swaddling with blankets, so these sleep sacks have been lifesavers. I bought two of the newborn size and now two of the size smalls, so that if one gets dirty it's not an emergency laundry situation before nap or bedtime. I also recently purchased one for her daycare bag as well. Update: now that Taylor is out of a swaddle, she still uses a Halo Sleep Sack – this winter weight sack keeps her warm and cozy:


5. Sound Machine
If your baby is anything like my baby – white noise will quickly become your best friend. Taylor is pretty conditioned to fall asleep with the sound of "rain". Originally not a believer, I started using white noise with her out of No Sleepville desperation via an app on my iPhone, and it eventually worked like a charm. Nowadays, if we're on a walk and she starts to struggle-fuss because she is sleepy, I whip out my phone, place it next to her and she instantly settles down. Who cares if I sound like a walking thunderstorm?! For nighttime sleep I didn't have anything with continuous play and I didn't want to leave my phone running all night in her room, so I purchased a sound machine with that option.
NURSERY
6. Disposable Changing Pads
For some reason, babies like to pee as soon as you take their diapers off – at least mine does. You don't want to have to wash your cute changing pad cover every day [like I did for the first couple weeks before Amazon Priming these bad boys], so having a disposable pad on top saves you that step. Plus, they are great to stash in your diaper bag/car kit/portable changing clutch for diaper changes out and about.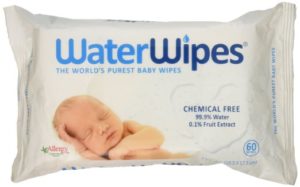 7. Water Wipes
Newborns are not supposed to have wipes with any chemicals on them, and at the hospital they may recommend just wetting dry wipes. I found these Water Wipes that are 99% water, and 1% monk fruit – totally all natural and you won't have to take the step of wetting dry wipes which seemed totally annoying to have to do. I order them through Amazon.com, but they do also sell them at Target.
8. Drawer Organizers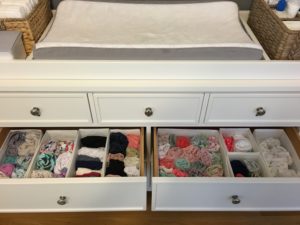 –
The IKEA Skubb collection is super great for organizing all the little clothing and accessories that babies require. I have these in all of her nursery drawers, and they really help to keep everything organized and neat – my OCD thanks IKEA. I bought 4 of the sets of six, and 2 of the ones with lots of little compartments. 
9. "My Brest Friend" – nursing pillow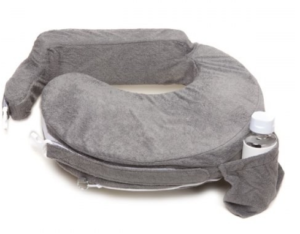 The "My Brest Friend" pillow has a solid sturdy surface, wraps around your waist providing a backrest, and is adjustable to your size. The attached pocket is super useful to store things you'll need every time you feed your babe [I always keep protein bars, spit-up cloths, baby nail clippers, nipple cream and hand lotion for me stocked.]. Seriously, this pillow has been a MUST for us! I also have a Boppy nursing pillow, but personally it didn't work for me – way too swishy!
10. Babyganics Foaming Hand Soap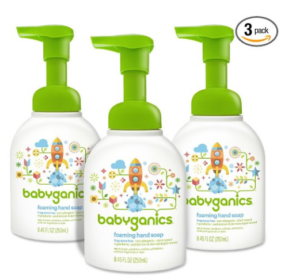 –
You can't always get to the bathroom to wash your hands immediately, so it's nice to have one of these easily accessible on your changing table. I also have one next to the chair where I usually nurse Taylor. The Babyganics brand is Pediatrician and Dermatologist tested- safe to use around your baby. I also have the mini version stashed in my diaper bag, stroller organizer, etc.
MISCELLANEOUS
11. Stroller Organizer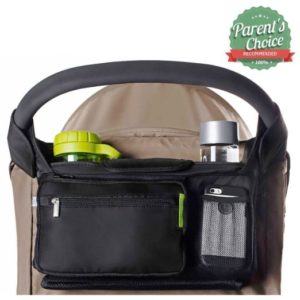 Essential for holding your water bottle, coffee, keys, phone, baby socks/beanies/etc. for all those walks you'll be taking on maternity leave and beyond! I linked the Ethan and Emma organizer I have and love.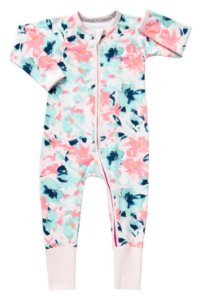 12. Baby Wondersuits by Bonds
I have 3-4 of these for Taylor in every size from 0-3 months up through 12-18 months, and they are pretty much all she sleeps in. Honestly, I have kept her in these most days for her morning play time as well. They have both short and long sleeve versions so your babes can sleep in them year round.


I can't say enough about how much I love these things – super quality/comfy material, adorable patterns, zip from the top and bottom [who wants to bother with a bunch of buttons and snaps at 3AM?!] and fold over flaps for both feet and hands so that they stay warm and don't scratch their little faces with flailing arms while they sleep. Bonds give free shipping to the US for orders over $100  AU dollars. Fortunately, the conversion rate is such that you only end up spending about 75 US dollars – deal!!
13. Infant Tub by 4 Moms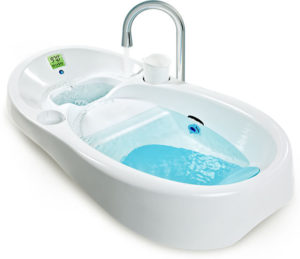 I originally had the PRIMO Eurobath tub that Taylor could grow into, and still plan to use later, but it was just too big and slippery for her infant self [and for me to feel comfortable bathing her as a new mama!]. This tub is made specifically for infants: it has a temperature gauge to ensure the water temperature is not too hot or too cold, there is a slip-proof pad on the bottom, and the water stays fresh and clean throughout the entire bath.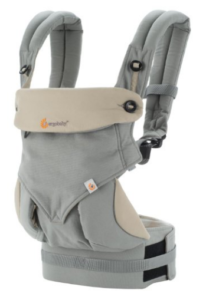 14. Ergobaby Four Position 360 Baby Carrier Grey –
We've used out Ergobaby carrier to bring Taylor with us everywhere – wine tasting, hikes, the grocery store, walks downtown, etc. It makes maneuvering around a lot easier than using her stroller, and she typically falls right to sleep in it. Another thing I didn't realize – make sure to purchase the Infant Insert if you have a newborn [I believe they need the insert until about 15 lbs]. Amazon carries a combination carrier + insert HERE.
15. Inglesina High Chair – this is an absolute must-have for us to go out to eat with Taylor. I wish I had come across this idea sooner!
POSTPARTUM CARE
16. Sitz Bath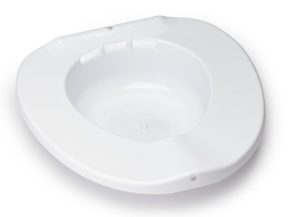 –
This is not a glamorous recommendation by any means, but I have to keep it real with you…I had no idea how sore and uncomfortable I would be after giving birth. It got so bad that I ended up calling Kaiser, and the wonderful Advice Nurse recommended I get one a sitz bath, and use it a couple times per day for 10 to 15 minutes to promote healing, in addition to walks. I can't tell you how much doing that helped, and I only wish I had had this from postpartum day ONE! It's a new mama's best friend ; )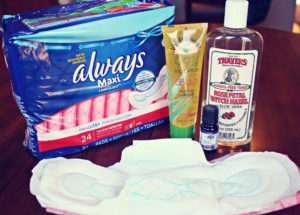 17. Padsicles –
Last, but DEFINITELY not least…A friend recommended I make about two dozen "Padsicles" before delivering, and I'm infinitely glad I did. Trust me, if you are expecting you'll want to go ahead and have these ready to rock for your first week postpartum. Your hubby might be a little weirded out by all the pads in the freezer at first, but it's SO worth it. There are lots of "recipes" online, but I linked the one I used.
The ingredients you'll need are: alcohol-free witch hazel, extra thick maxi pads, lavender oil and 100% aloe vera.
What other "off the beaten registry" items have you discovered that I'm still missing out on? I'd love to follow up with a Part 2 using what you've found to be essentials!
Other Ta[y]lor-made Mama posts you may be interested in:
You may also like: