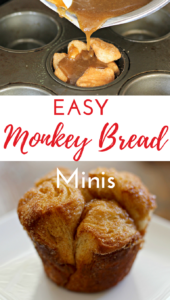 This is a recipe my college roommates and I made entirely too often, back in the days when my metabolism was still moving at lightning speed (thank goodness). Flash forward way more than 10 years and I'm still enjoying this tried and true, easy-peasy recipe. I've made this Monkey Bread for my immediate family every year on Christmas morning as the recipe became and instant favorite and tradition When my husband came into the picture, he too fell in love with the tradition of Christmas Morning Monkey Bread; we even made it a couple years ago when we vacationed in Hawaii for Christmas – how's that for a Mele Kalikimaka! In college, we would throw all the cinnamon-sugar coated dough into a bundt pan, bake and go at a massive pile of pull-apart yumminess with no regard for calories. However, in my post-college years – trying to limit my own intake jusssst a little, I started to make a mini version of this Monkey Bread using a muffin tin. Although my attempts to portion control almost always fail – it's way too good to have just one -the presentation is super cute, the mini versions are perfect to serve to guests on individual plates.
AJ and I enjoyed the round of monkey bread yielded from the making of this post immensely, and even let Taylor have a little taste of cinnamon sugar. I can't wait for her to be old enough to fully partake in this tradition with us! We'll definitely be enjoying this treat, in our matching family Christmas pajamas, for years to come and I hope you enjoy this quick, easy and delicious recipe as well.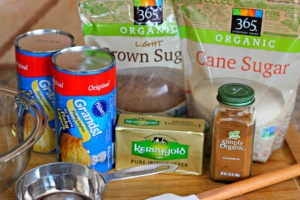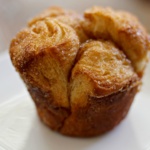 Easy Monkey Bread Minis
Ingredients
1

cup

brown sugar

1

cup

butter

1

cup

granulated sugar

1

tbsp

cinnamon

2

cans

refrigerated biscuit dough

I used Pillsbury Grands
Instructions
Preheat oven to 350 degrees.


Melt butter and brown sugar in a medium sauce pan on low, stirring regularly.

In a wide bowl, mix granulated sugar and cinnamon.

Cut biscuits into 6 pieces each.

Roll the biscuit pieces in the cinnamon sugar until thoroughly coated.

Place 5-6 biscuit pieces into each muffin tray cup (if you're smarter than me you'll remember to put foil liners in first!)

Spoon or pour 1 teaspoon butter/brown sugar mixture on top of each cup.

Bake at 350 for 13-15 minutes, or until done.

Let cool for several minutes, serve and enjoy!
What are your favorite, traditional family recipes and treats around the holidays?