Not much is cuter than a baby girl with a sweet hair accessory – especially when they don't have very much hair. [or maybe that's just my bias for my bald babe!]. I absolutely love the beautiful headbands that Heather, owner of The C Shoppe, creates.
The nylon headbands are super soft and have just the right amount of material to stay put, yet not leave an indentation on my baby's head. I ordered a custom neutral colored "Anemone" [featured on the title image of this post] and received it within 3 days of emailing Heather to make the request. Heather was so kind and open to creating an adorable, custom piece for Taylor. And, I mean, how cute is this packaging?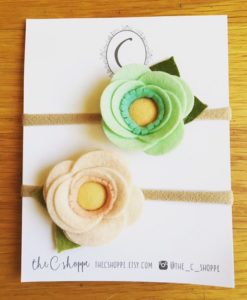 Heather will become a mama through adoption, and all of the proceeds from the shop go toward bringing her child/children home. So if you have a little girl or need a gift for one, head over to The C Shoppe to support a fellow mama, and add a truly adorable hair accessory to their collection.
Taylor wore a teal Anemone to her friend's 1st B-day party, and it was the perfect, festive addition to her "look":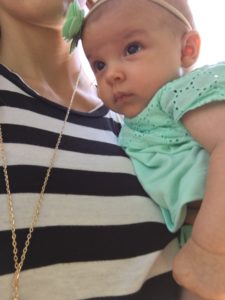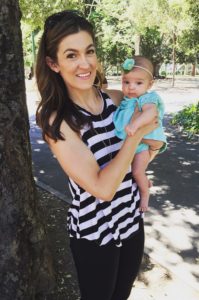 What are your favorite Etsy [or other] shops for stylish kid's clothing and accessories? Leave a comment and let me know – Thanks for the tips, and for reading!
You may also like: