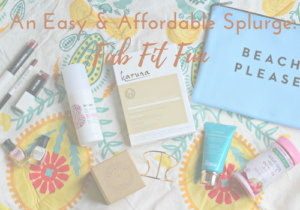 This post is sponsored by fabfitfun.com. All views and opinions are 100% my own.
When was the last time you did something just for you?
Do you incorporate self care into your days, weeks or months? Trust me, I know it's hard to find the time to take care of, let alone spoil yourself. Luckily, one thing I've found during this first year of motherhood is that little splurges can go a long way in the self care department: a 15 minute lavender scented bubble bath, a 20 minute walk around the block listening to a favorite podcast, taking the time to give yourself a mani/pedi with a fresh polish color, getting up before the baby to read a chapter of a soul-filling book with a hot cup of coffee (before you have to reheat it 3 x), or receiving a package in the mail you've been looking forward to. I think it's important to our well being to do little things to take care of and treat ourselves regularly when we devote so much of our time, energy and selves to caring for others.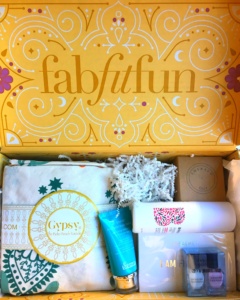 A week ago I received a package I was really looking forward to, full of self care goodness, from Fab Fit Fun. You may have seen Fab Fit Fun advertised all over social media, and with good reason: this box is seriously awesome. There are a lot of subscription boxes out there, and I've had the opportunity to try out a few, but none come close to the quality and value of Fab Fit Fun.
As busy woman we don't often have the time to go out hunting for the latest and greatest in beauty, fitness, health and wellness products. Fortunately, Fab Fit Fun delivers a box of full-sized, premium products to you four times per year, with each new season. Boxes contain everything from health food products, to skincare, to hip travel coffee mugs, to the latest eyeshadow palette – whatever is in demand and in style for the season! As soon as I opened the Spring Box I felt instantly spoiled and couldn't wait to share this positive experience with you. I think you'll really like it! The value of the box is worth well over $200 for only $49.99, or $39.99 using the my discount code: TAYLORMADE.
Although part of the fun in opening your first Fab Fit Fun box is discovering all the fun goodies inside, I wanted to give you a sneak peak of what is in the Spring Box and some details on each product, in case you are considering a splurge for yourself. Don't forget, you can get $10.00 off of your first box at fabfitfun.com using the code TAYLORMADE at checkout.
What's In The Spring Box:
Emerald Duv "Josua Tree" Cage Bracelet (retail value: $80) – This lovely cage bracelet is a classic. It will compliment and add an elegant flair to just about any look.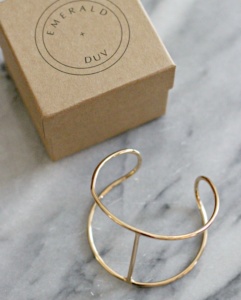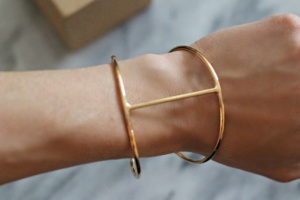 Dr. Brandt Microdermabrasion Age Defying Exfoliator (retail value: $79) – Free of parabens, sulfates and phthalates (yuck!), this natural exfoliator polishes away all dead skins cells and leaves you with a healthy glow. I have a tendency to break out after using scrubs if they are to harsh, but this one is gentle and I've had no issues so far. In my opinion, this product is worth the cost of the whole box if you're looking for a good exfoliator! Younger looking skin? Yes please!
Karuna Hydrating Face Mask (retail value: $28) – Perfect for a quick 10-20 minute self care sesh! This box comes with 4 deep-conditioning sheet masks made of all natural wood-pulp fiber, recommended for weekly use. I popped one of these on, set my iPhone timer for 20 minutes and indulged while editing photos for this post (self care + productivity for the win!). Karuna states that the mask will improve hydration by 40% after 1 use and, while if would be hard to stick a percent on it, I do have to say that my skin looked a lot more hydrated afterward! I'll definitely be ordering these again from Amazon (linked here). My one complaint would be that I could not for the life of me get this mask to lay flat on my skin as shown on the packaging (see picture below for a good laugh). My face definitely didn't fit the masks as intended…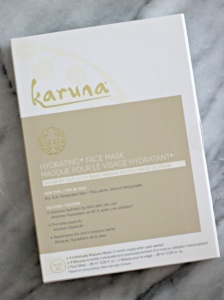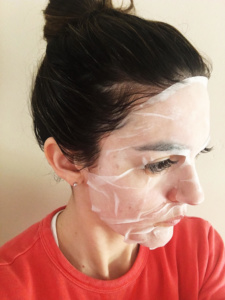 Nature's Bounty Hair, Skin & Nails Gummies (retail value: $15) – I'm loving the strawberry flavor so much that I have to utilize willpower to only eat the daily dose of 2. I have never taken a Biotin supplement before, but I'm looking forward to incorporating these guys and hopefully improving the health of my hair, skin and nails.
Briogeo Rosarco Milk Reparative Leave-In Conditioning Spray (retail value: $20) – This is perfect for dry, brittle, color-treated or postpartum hair like mine. In your hair needs some extra TLC this is a great product to have on deck. It both nourishes split ends and protects hair from heat and UV rays, plus it smells super yummy! I'm glad it was included in the Spring Box as I wouldn't normally have thought to use it.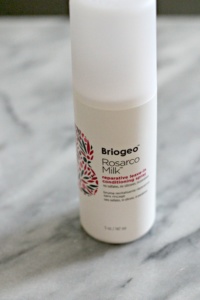 REALHER Lip Kit in Deep Red (mine), Deep Nude, or Neutral Pink (retail value: $48) – The creator of REALHER is a dad who made this entire brand in honor of his daughter as a way to empower her and all women to be themselves and start their days in a way that makes them feel great. There are motivation quotes and affirmations on each, all natural product. I LOVE the heart and message behind this brand. Now, on to it's color and staying power: while I would have preferred to receive the nude or neutral kit (and will probably purchase on my own), I have to say that this is by far the most easy to apply and longest lasting lip product I have ever owned. Without the gloss overlay it is also kiss proof!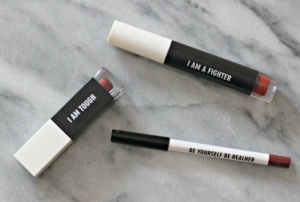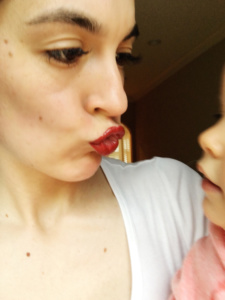 Deborah Lippmann Nail Polish Set in Shape of My Heart + Like a Virgin (retail value: $19) – Perfect hues for spring that will look great on any skin tone: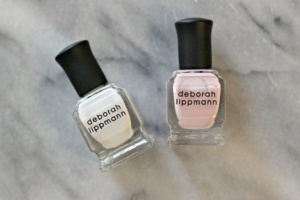 Gypsy 05 Roundie (retail value: $50) – This was the item I was most excited about when I initially opened my box as I've always wanted a roundie for picnics, beach trips, park days, etc. I really like the pattern that came in my Spring Box, but there are several other options that are just as cute, including a blue hue tie dye!
The Milly Zip Pouch (retail value: $45) would be perfect to tote around disposable utensils, napkins, sunscreen, wipes or whatever you need to pack for a day out. I honestly don't love the saying on the zip pouch that was sent to me because it is a play on a cuss word (although it is cheeky for a beach trip). However, there are several other options you may receive in your Spring Box( i.e. "Slay All Day," or "Haute Mess").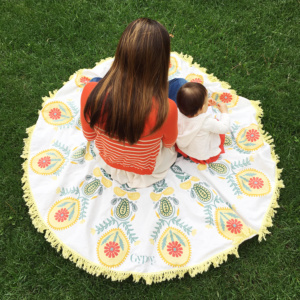 Is Fab Fit Fun a box you would consider trying out? Even if you don't go for the Spring Box, I still encourage you to find little ways to take care of yourself each day because you definitely deserve it.
Have a wonderful day and thank you so much for reading!
This post contains affiliate links for your convenience. If you utilize a link to make a purchase, I make a small commission at no cost to you. THANK YOU!
You may also like: