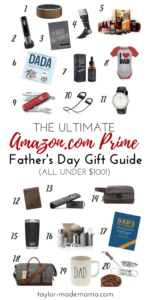 Are you a last minute shopper (like me), not wanting to spend a ton of cash, but still want to give your baby daddy (or your own Dad!) something to make them feel extra special on Father's Day this year? Then look no further – this is the gift guide for you! All of the gifts listed are under 100 dollars and have FREE 1-2 day shipping, if you're an Amazon Prime member.
If you aren't one already, definitely hop aboard the Prime train – you won't be disappointed. My Prime membership easily pays for itself within a few weeks. I save hundreds per year by shopping for everything from the comfort of my home, office, car (as a passenger of course), waiting in line, etc. My husband thinks I'm crazy for how many boxes arrive on a daily weekly basis, but it works for our busy lifestyle.
If you don't have Prime yet you can get a free 30 Day Trial
HERE
, just in time to purchase a gift from this list. Orrrrrrrr you can just trust me and go ahead and sign up for Amazon Prime
HERE
.
"Once you go Prime you never go back,"
  doesn't really have a ring to it, but it's still totally true. Check out ALL the cool stuff you'll get access to with your Prime membership, in addition to free 1-2 day shipping and free returns,
here
.
Now back to what you came here for: The Ultimate Amazon.com Prime Gift Guide for Guys (all items are under $100, and many are on super sale!):
The Wire – The Complete Series ($72.80)
Sharpest Tool Socks ($16.92)
Homebrewing Craft Beer Making Kit ($49.99)
Your Baby's First Word Will Be Dada, by Jimmy Fallon ($12.84)
All Natural Beard Conditioning Oil ($14.99)
1st Father's Day Onesie ($21.00)
Bevel Shave System Kit ($75.95)
Dad Mug ($19.98)
What are you getting your honey for Father's Day this year? How are you celebrating?!
P.S. Don't forget to SUBSCRIBE. Subscribers are automatically entered to win bi-monthly Mama Must-Have Giveaways!
Pin this list for the next time you need an eleventh-hour gift for a guy in your life:
This post contains affiliate links for your convenience. If you utilize a link to make a purchase, I make a small commission at no cost to you. 
You may also like: