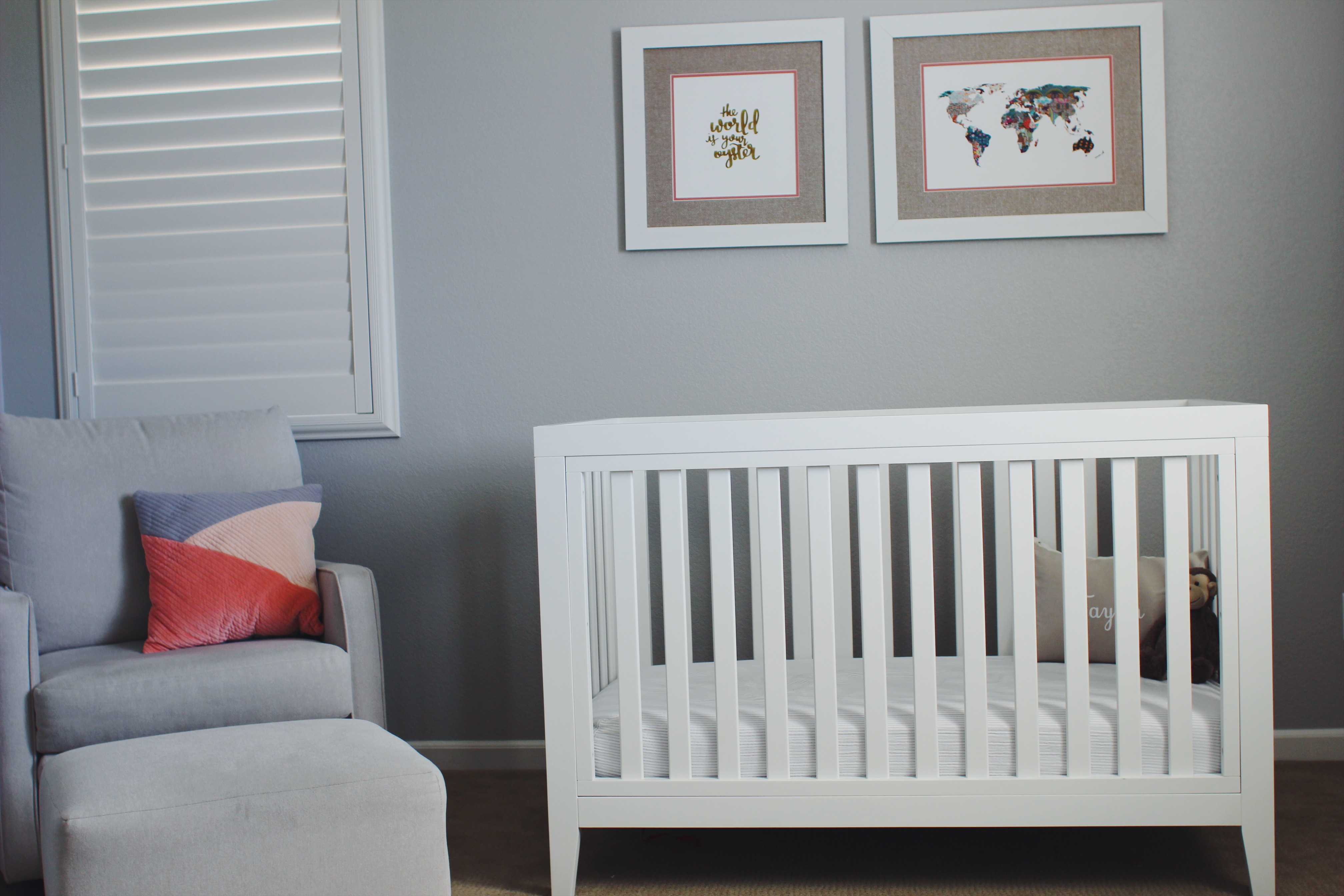 I was prompted to share this Modern Girl Nursery Reveal post as I have begun to think that, all too soon, I'll need to transition it into a "Big Girl" room (my eyes tear up even just writing that sentence). I'm just waiting and watching the monitor closely for the day when she attempts to climb out of her crib. Babies just don't keep, I tell you…
If you've been a reader for a while, you already know that
I quit my job as a Special Education Administrator to stay home with Taylor
a few months ago. Part of that whole cluster-change package was moving to a new home in a new city! Aside from
now getting to spend my days with my precious little girl,
one of the things I'm finding a lot of joy in these days is decorating our home! My passion for interiors is definitely resurfacing with the blessing of time and headspace. My favorite rooms to design by far have been Taylor's  nursery as well as her playroom; each decision and detail in those rooms is an expression of my love for her. I truly hope you enjoy photos of the finished product!  Oh, and I linked everything that I could still find online for you at the bottom of the post!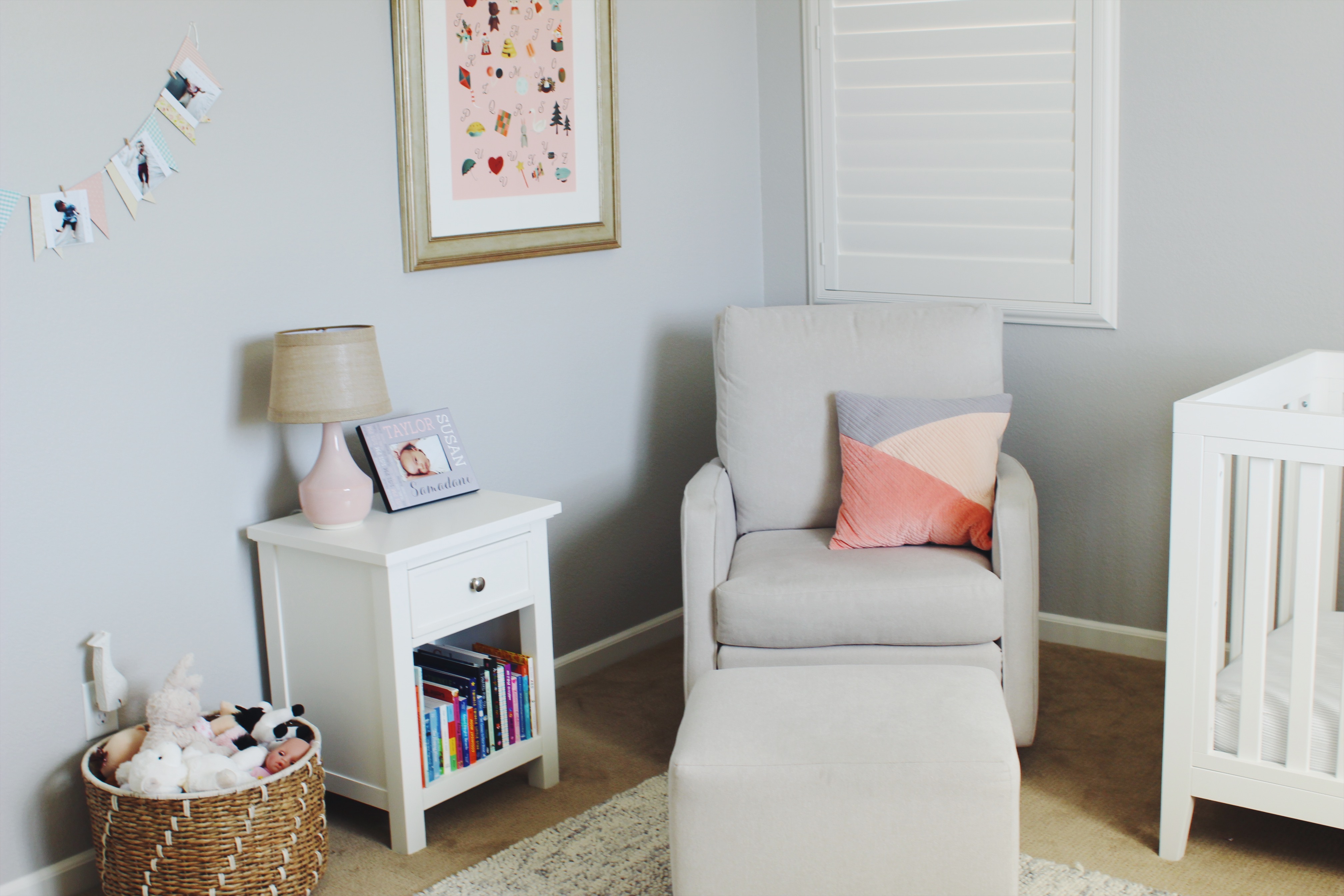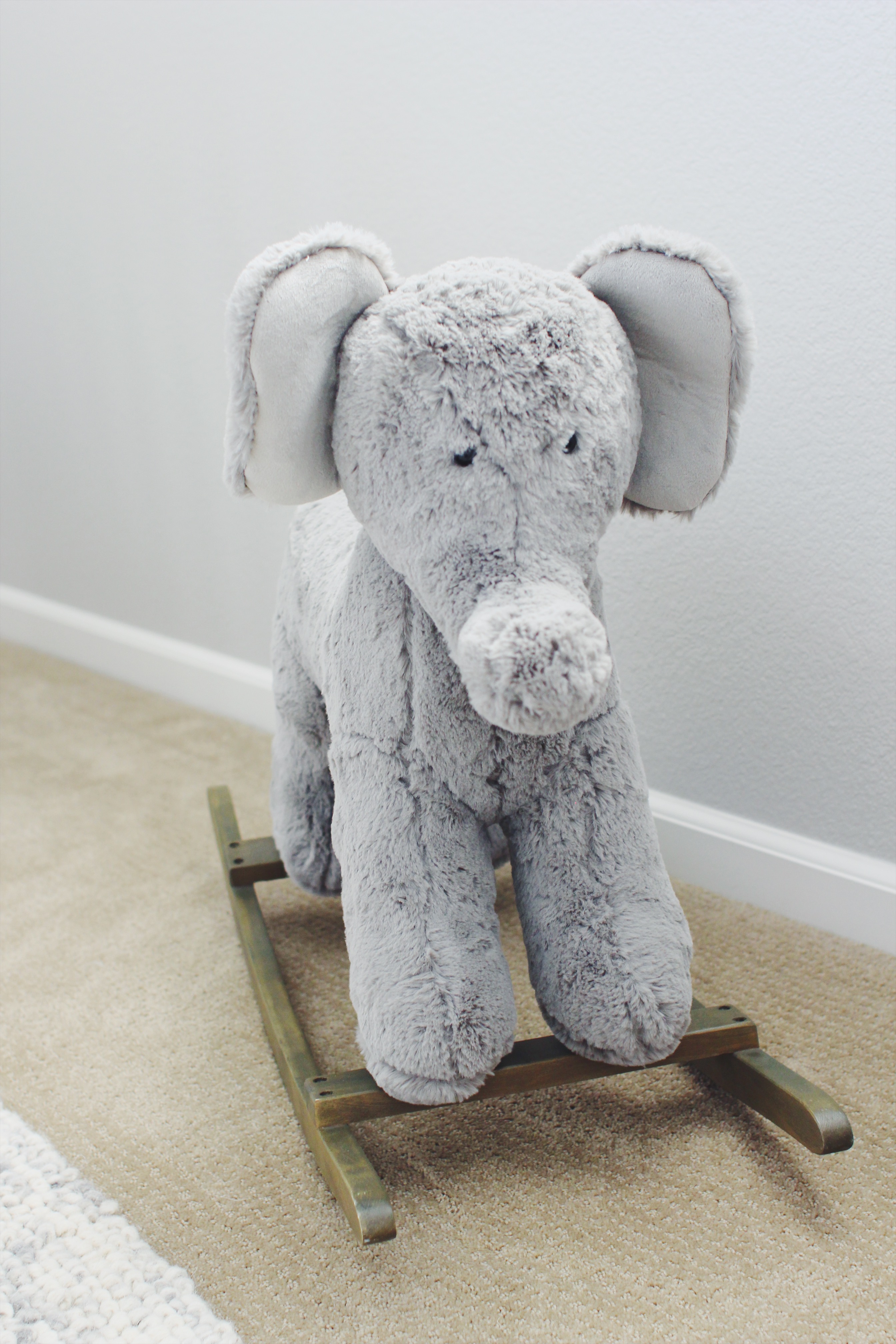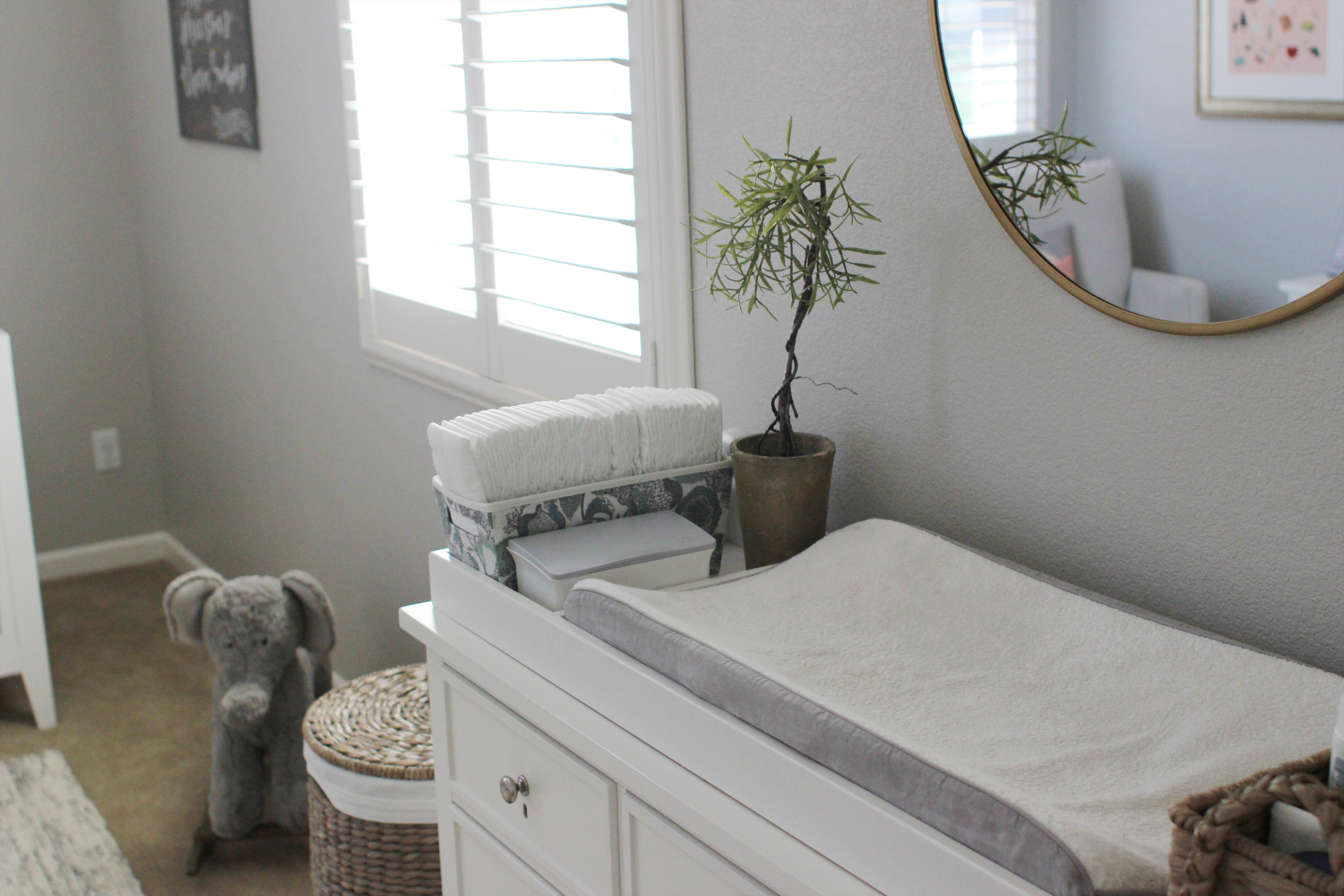 With a second shot at creating Taylor's modern nursery space, I used many of the pieces and artwork we had in her room at our previous home but paired things down for an even simpler, clean look. The other main change to her modern girl nursery is that the queen-sized bed (where I slept for several months when she was newborn!) is no longer in her room. This left a lot more space to work with.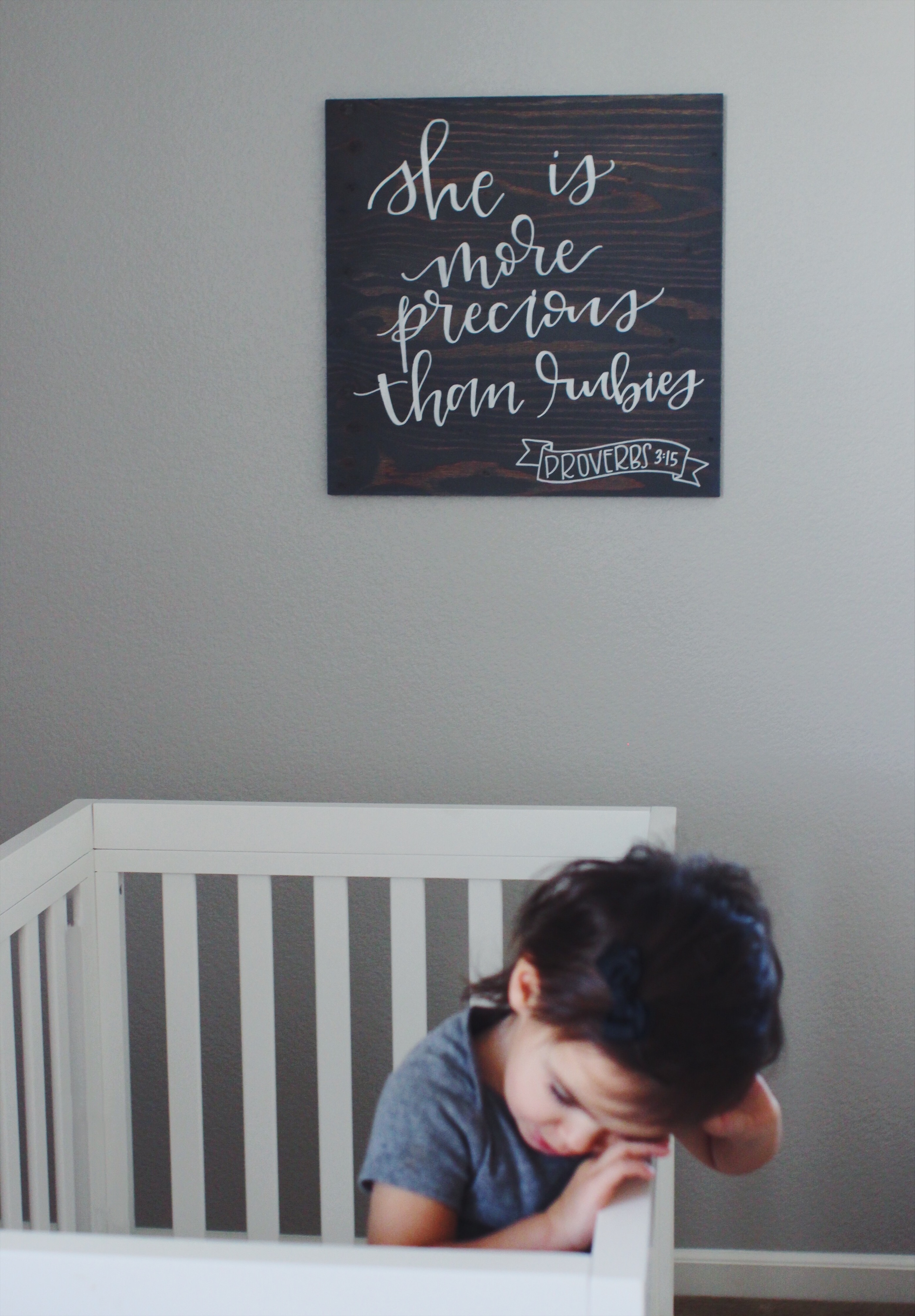 The most recent addition, and finishing touch to Taylor's room, is the beautiful piece shown in the photo above. This piece was gifted to us by one of Sacramento's local artists, Sarah Phulps, owner of 
She's Scripty
. I told Sarah the verse I wanted over T's bed (Proverbs 3:15), sent her several pictures of the room, and she created this one of a kind gem! I couldn't be more pleased with her creation. You have to check out Sarah's 
Instagram
and
ETSY shop
!
It is my daily prayer + mission that Taylor will grow up believing that, because of her heart and the unique being God created her to be, she is indeed more precious than rubies.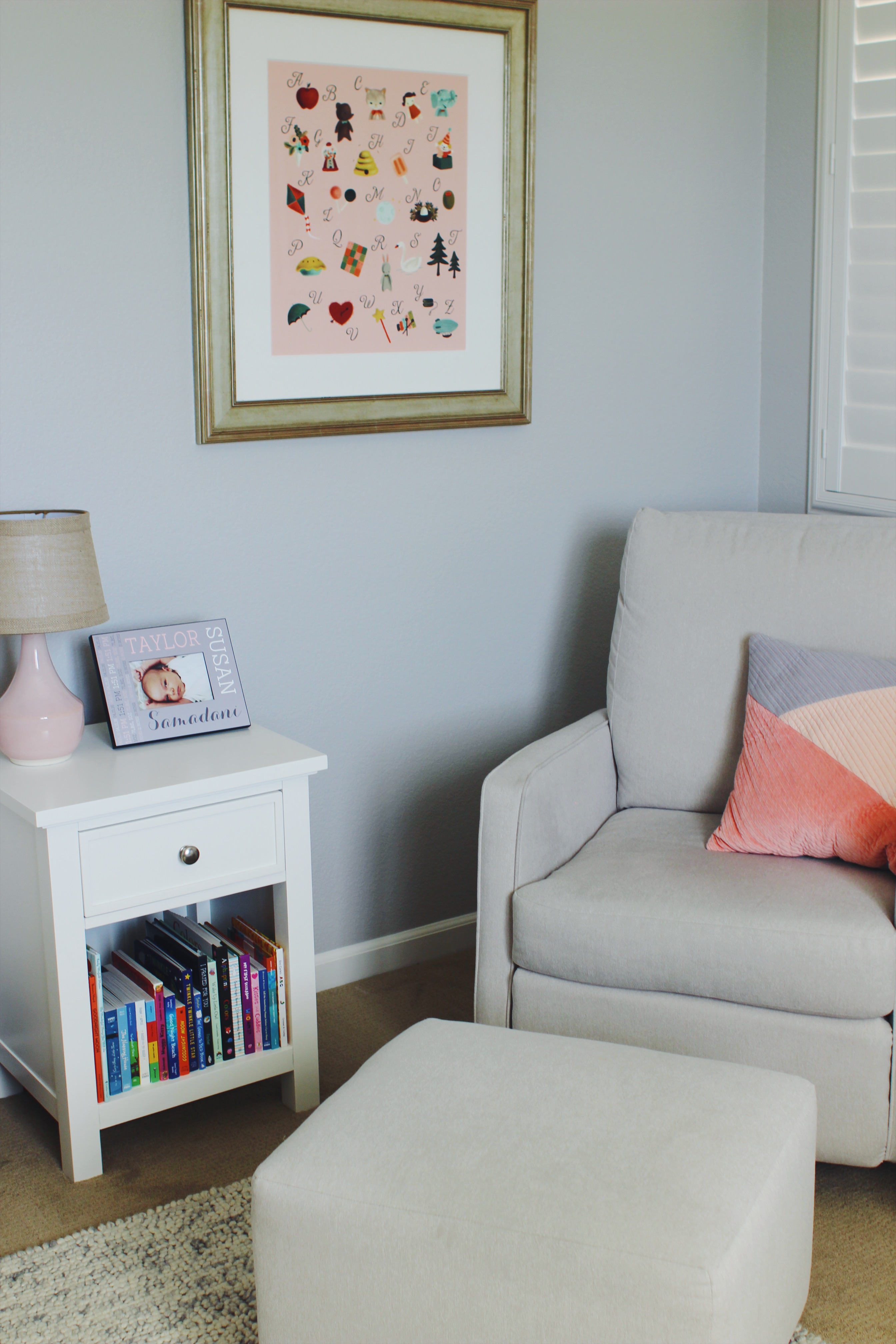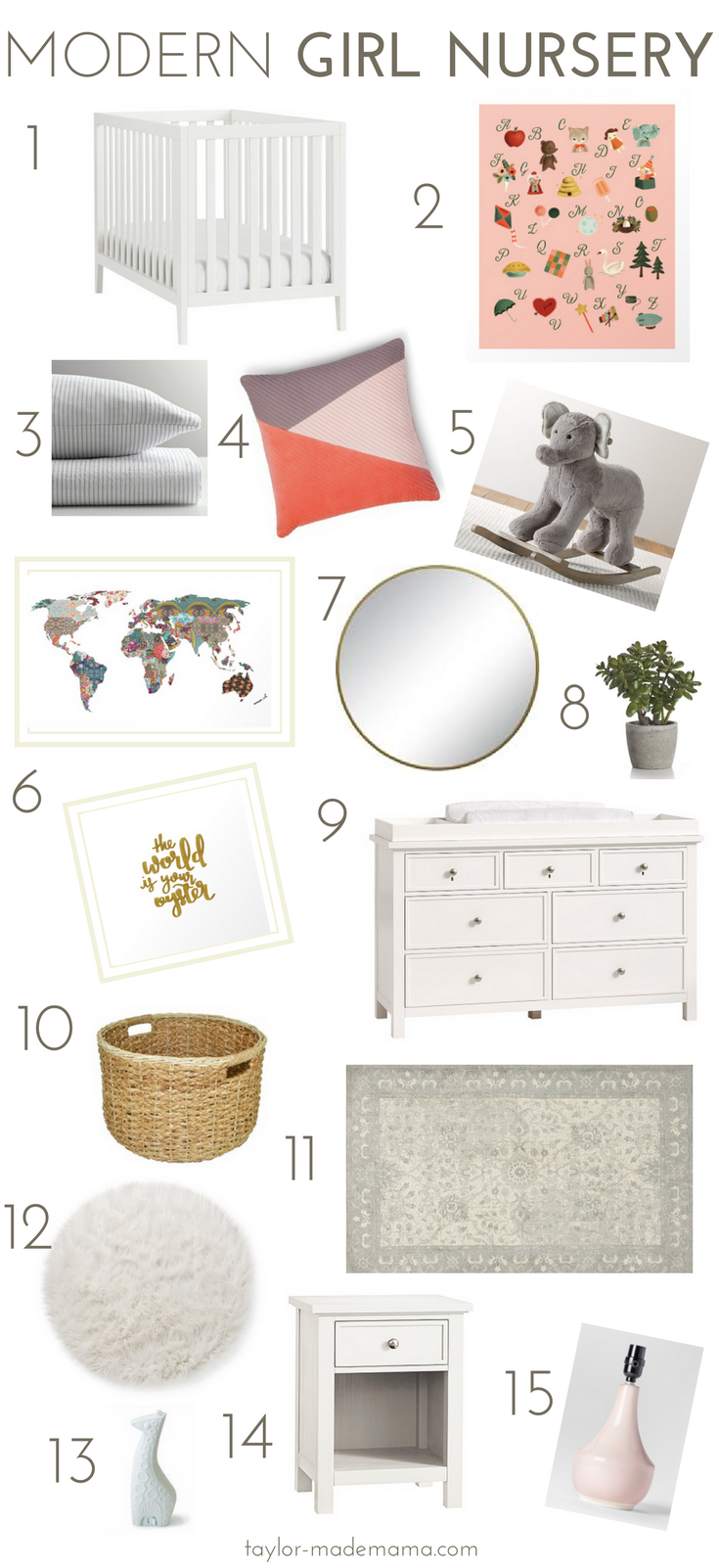 All custom framing in Taylor's modern girl nursery is from Aaron Brothers. Rocking Chair is from Buy Buy Baby but is unfortunately no longer available;
linked here
is one from Land of Nod that is very similar.

Modern Girl Nursery Organization:
Ya'll know I can rarely put a post up without some sort of organizational tip or spin, and this one's no different!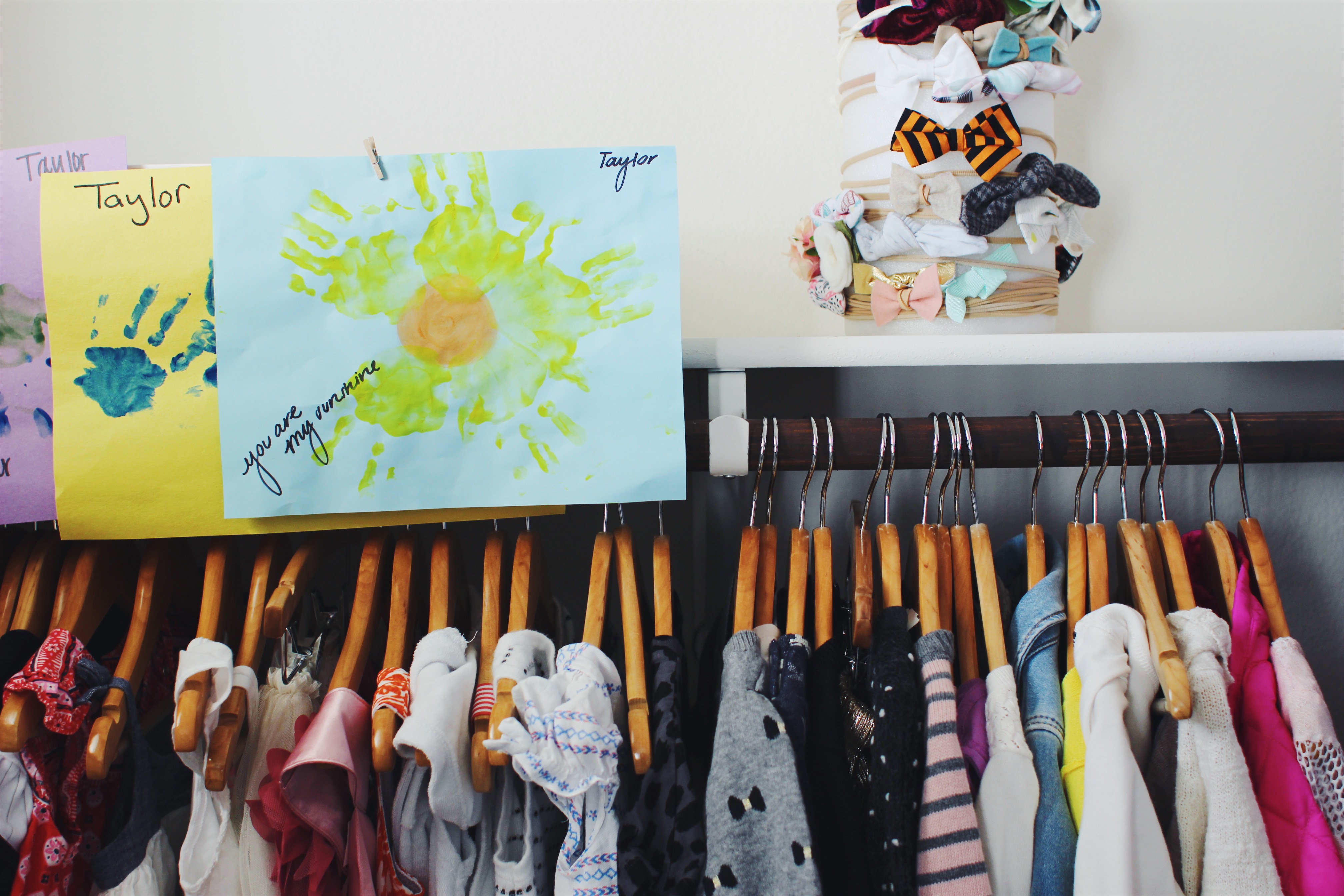 Organization For Outgrown Clothes:
With the rate babies grow (mine in particularly bc girlfriend is already on 2T at 18 months!), it's important to have a system to keep all the clothes they outgrow organized until you decide what to do with them. Alternatively, you can just have a massive pile of little clothes in the bottom of the closet. Whatever suits you – mom your way ; ) I don't yet know what we'll do with Taylor's baby clothes, but at least they're neat and tidy for now, right? Maybe I'm secretly hoping we'll have another girl who can wear it all but I digress… Anyway, here is a visual of what I came up with for storing the clothes/shoes she outgrows by size (the
clear bins
can be found at Target!):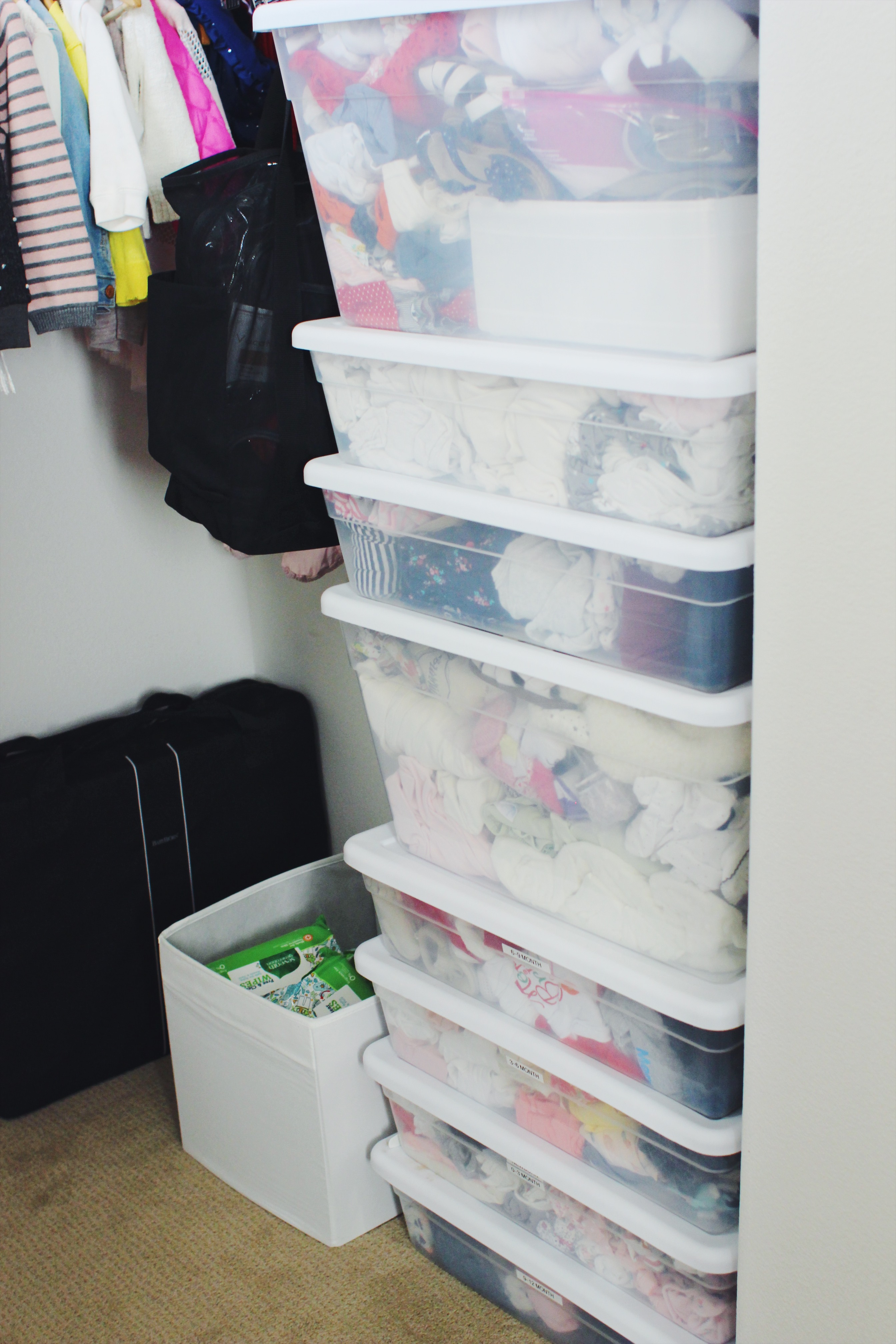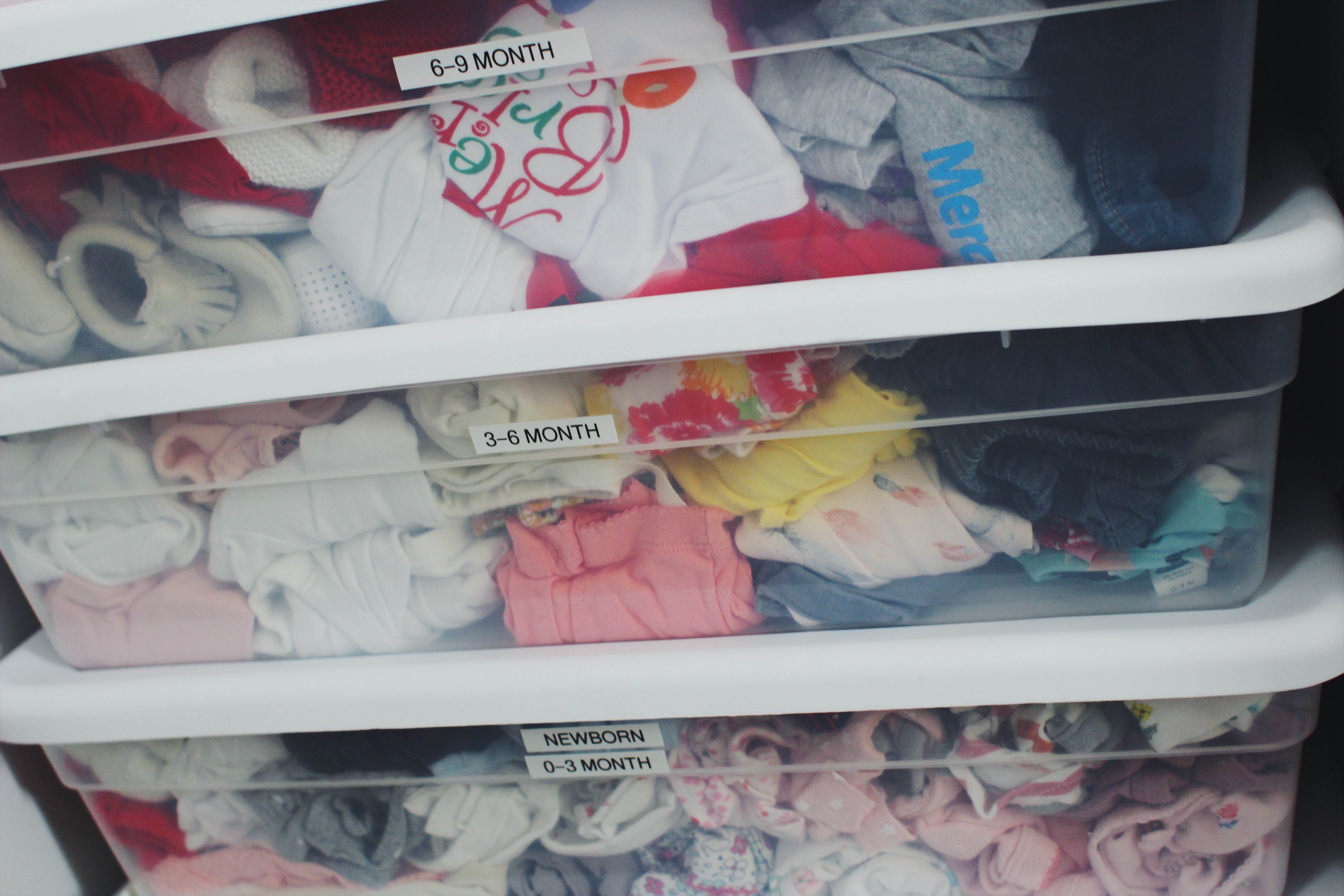 Changing Station Essentials + Organization:
Although Taylor is a toddler, since she is still in diapers, not much has changed about the configuration of her changing station since her newborn days. Below are a few photos of how I organized her changing station/dresser for convenience as well as a printable shopping list of Changing Table Essentials (PS if you don't have the
Ubbi Diaper Pail
– go. get. one. now. It works like a charm and works with the decor of any nursery!)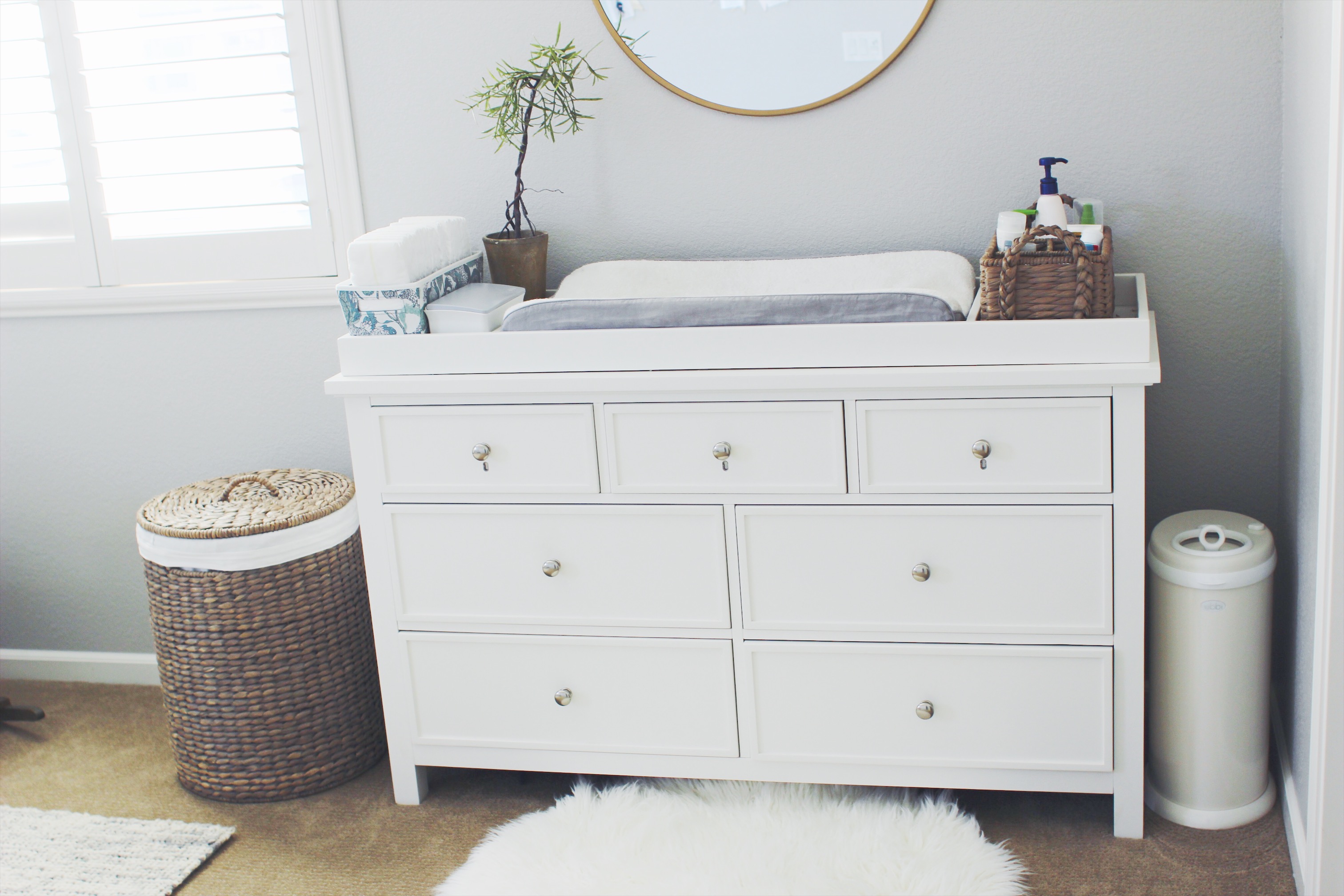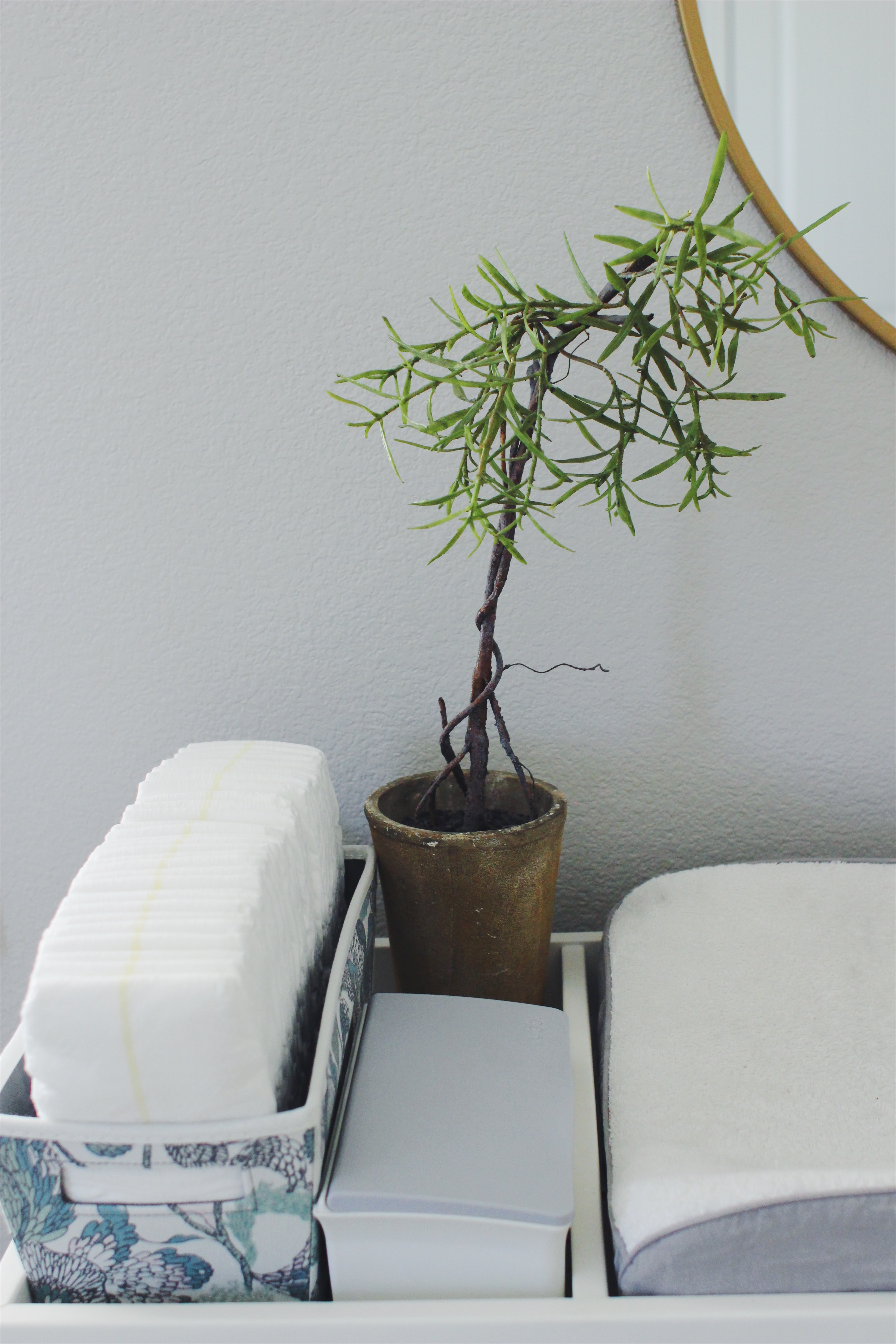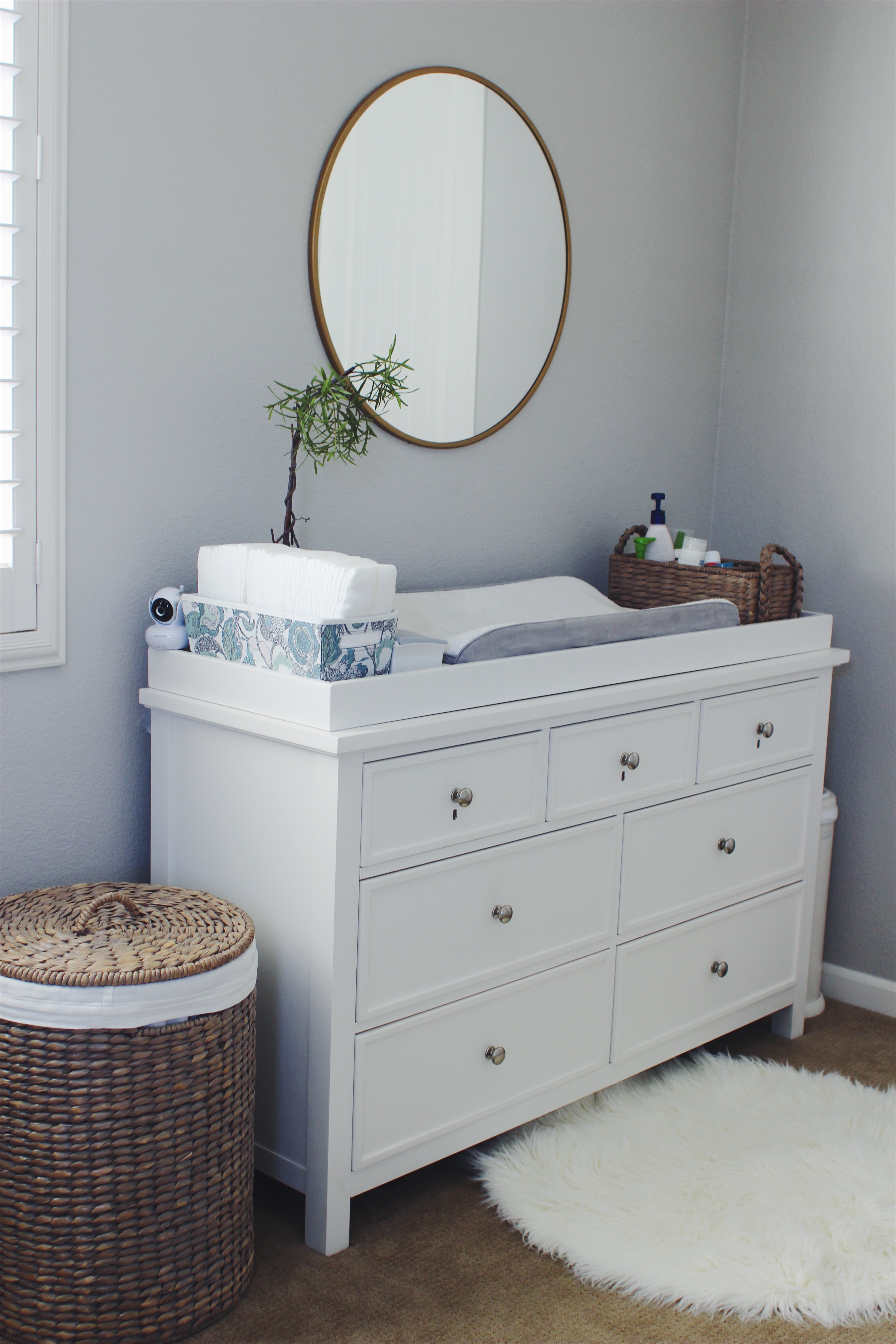 To access the printable Changing Station Essentials Checklist, click THIS LINK or the image below. If you are a subscriber, this list is now in the Printables Library for you!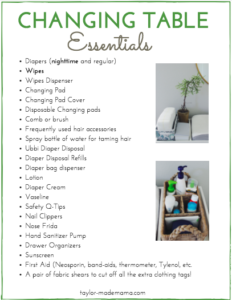 I truly hope you enjoyed this Modern Girl Nursery reveal post. If there is anything else in my pictures you would like links to, comment on this post or shoot me an email and I'll send them directly to you! If you haven't already, make sure to subscribe so that you don't miss our upcoming Modern Playroom Reveal post – I seriously CANNOT WAIT to show you what I've been working on in there!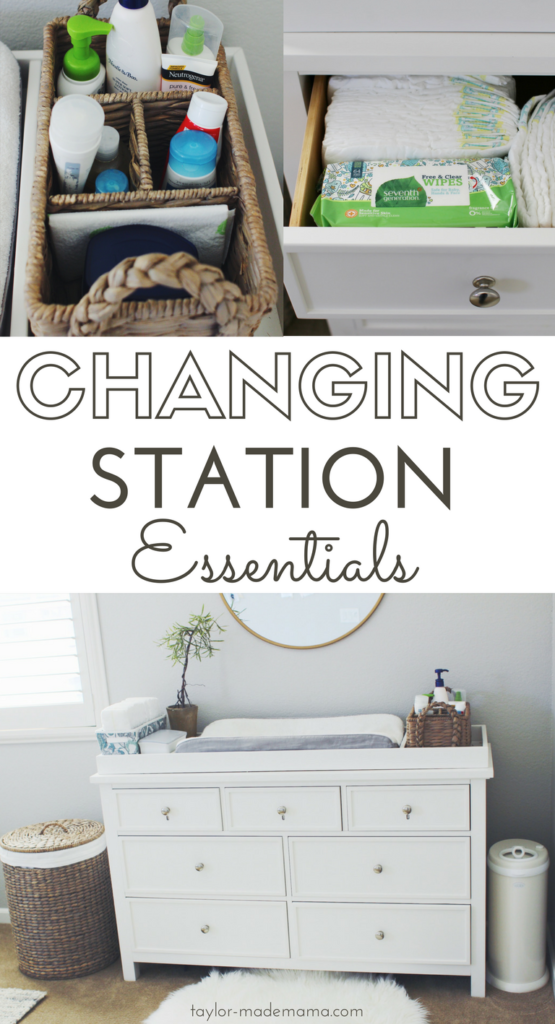 You may also like: