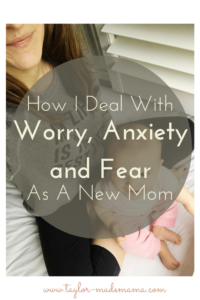 I post a lot on the blog about schedules, routines and strategies for organization for us moms and our babies. I do so not because I have everything totally together (definitely NOT the case), or that I feel like I have anything particularly groundbreaking to share, but honestly in large part because it helps me to feel in control, when a lot of the time I feel the exact opposite as a new mom. I hope I'm not the only mom who feels like they have no clue what they are doing and worries about every little thing a lot of the time – maybe you can relate? Oftentimes, this blog and my desire to help other moms, motivates me to be extra organized and prepared for new phases and adventures with Taylor so that I can share with you in a cohesive manner; At the same time, the process of thinking through, developing plans and writing about them for you decreases some of the fears, worries and anxieties that have come along with new motherhood for me:
What the heck am I doing? (I can't tell you the amount of time I've thought this in the last 6 months!)

Will my milk supply drop when I start working full time? Will I be able to maintain the breastfeeding relationship like I want to?

Will Taylor be less bonded to me because I'm away from her at work?

How will I manage to successfully pump enough milk when I work full time?

Will I be able to handle working full time, and maintain my sanity?

Am I perceived at work differently, now that motherhood is my top priority?

Am I doing sleep training correctly?

Should I be sleep training at all? Do I want to? Need to?

When will I get to sleep more than 3-4 hours at a time again? Is this just a sleep regression?

When and how do I start Taylor on solids and finger foods? How much? What if she starts to choke on something?

Will I ever feel the elusive "balance" in life again?

Are my days of being in shape over forever? I know I'm not getting to the gym as often as I would like to…

Am I still a good wife, daughter and friend now that I'm more busy than I've ever been.

Am I a good mom?
The list goes on and on, and most days I just have to take deep breaths, trust that I'm doing the best I can and give it all to God.
One of my best friends called me out recently for putting out this post on what I pack in my daycare backpack too soon. I had just started back to work and put Taylor in daycare the week I posted and, within a month, we made the decision to pull her out. She is now at home on the days that I work with my mom and husband who works from home. The thought of her at daycare – not getting the one on one attention I was able to give during maternity leave, and totally out of my supervision – was literally giving me so much anxiety that I couldn't function at work at even near full capacity on those days. When I posted, I didn't know that I would feel the way I did, or that things would ultimately work out as they have for Taylor and I – that's Motherhood.
While I do want to share that update with you, as it is part of my journey as a new mom and our journey as a family, I do not have any regrets about posting when I did. I prepared our daycare backpack way ahead of time and wrote that post so that I would feel more ready to send my baby girl to daycare – something I felt anxious about for months prior. It made me feel more confident to have everything together as much as I could on the outside, when on the inside I was anything but. I didn't want to drop her off at daycare on those mornings for the month that I did, but having everything she would need packed and ready made me feel just a little better about it. Everyone deals with their anxieties, worries and fears differently. Maybe it's because my dad is a Boy Scout Master or maybe it's a slight case of OCD, but my way to deal is to be super prepared and organized. Did daycare ultimately work out for our family? No, it didn't and we are SO blessed to have another option for Taylor's care (thank you, Mom!).  My hope, as it was at the time I posted, is that the information will continue to help other new moms who don't have the option to have their little one at home with a relative feel more prepared for the huge transition from being on maternity leave to returning to work and having to send their baby to daycare. That Daycare Backpack and it's contents served us well for a short time, and I hope that post and what I put together for Taylor for that month continues to help other new moms – my whole goal for this blog.
I guess the purpose of this update is to keep it real with you, and make it clear that I am WELL aware that Taylor-made Mama is not the only blog for new moms out there – and for that reason I'm super thankful that you choose to follow along with our journey.
Thank you for reading my new mom tips, learned through trial and error as well as my "best guesses" that help me feel more prepared for motherhood, and like I know what I'm doing – just the slightest bit.
How do you deal with the inevitable worries, anxieties and fears that come along with becoming a mom for the first time?