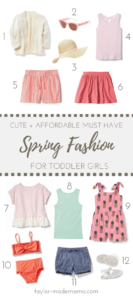 Almost all of these toddler girl fashion must haves for Spring (and Summer!) are on sale right now so if you see something you like, snag it today.
Here are my favorite pieces for little ladies this season:
1.LIGHTWEIGHT NEUTRAL CARDIGAN – on sale for $13
A staple for transitioning from warm spring days into cooler evenings when you're out and about with your little lady. This one goes with everything, and I think it's a steal at $13.
2. SUNGLASSES – $5.90
3. FLOPPY STRAW SUN HAT – on sale for $13.50
Taylor won't allow me to put anything on her head at the moment, but I'm hoping that changes soon (or I can figure out an effective way to coerce her) as it makes shielding her from the Spring and Summer sun when we are doing something outdoors so much easier! Perfect hat for a day at the beach or a picnic in the park.
4. LACE TRIM KEYHOLE TANK – on sale for $9 (4 color options, including basic white) OR
LACE TRIM TANK BODYSUIT – $14.95
Taylor wore the bodysuit versions all the time last summer as a newborn, and I just took advantage of Gap's Last Days of Spring Sale to grab her two of the white lace tanks, and one pink. These are also a great staple as they can be paired with pretty much any shorts or skirts your babe may have.
5. MULTI-STRIPE SHORTS – on sale for $19.99
I love that these shorts have several different colors highlighted throughout the coral base. These over even a plain white Onesie would be adorable.
6. THE POCKET SKIRT -$12, or $11 each for 3+
If you have been a reader for a while, you already know about my affinity for Primary Clothing for kids and babes, but their fitted tanks (#8) and pocket skirts are definite warm weather staples for a little miss. Super soft and a price making it inviting to stock up on several colors.
7. EYELET PEPLUM TOP – on sale for $16.99 (3 color options)
Isn't this top the sweetest?
8. THE TANK -$9, or $8 each for 3+ (15 color options!)
9. PINEAPPLE ROMPER – $29.95
For those warmer spring days we get here in California, I love dressing Taylor in a quick, easy and comfy one piece. This romper is the perfect blend of function and fun for play time!
10. RUFFLED BACK BIKINI – on sale for $10
I am dying over how cute this little itty bitty bikini is. At only $10 I'm sure these won't last long!
11. RUFFLED CHAMBRAY SHORTS – on sale for $10
Every little lady needs a pair of feminine jeans shorts in her Spring wardrobe. I had these for Taylor in a 0-3 month size last year and she was in them nearly every day!
12. JELLY SANDALS – $24.95
I feel like Jelly sandals are a rite of passage for little girls in a way. Did you wear them growing up? I know I did! I'm definitely snagging a pair for Taylor to sport on summer days at the pool in our new community. I can't believe we move in a month!
Where are your favorite places to shop for your little one? What colors do you tend to go toward? Let me know in the comments!
P.S. Don't forget to SUBSCRIBE. Subscribers are automatically entered to win bi-monthly Mama Must-Have Giveaways!
This post contains affiliate links for your convenience. If you utilize a link to make a purchase, I make a small commission at no cost to you. THANK YOU!