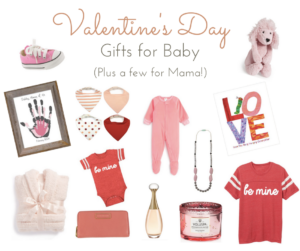 One of the most exciting things about a baby's first year is celebrating all of their first holidays. Pre-Taylor I was honestly not super into holidays (I know, such a Scrooge) but I have really enjoyed doing special things for each one this year, even though she is too young to remember. Valentine's Day is right around the corner, so I've been perusing the internet looking for a couple of special gifts to give her. I searched for non-tacky, V-Day appropriate gifts that could be could be enjoyed year round and think I found some winners. As often happens when I'm web surfing, I also found several things I wouldn't mind receiving on Valentine's Day myself – or gifting to myself! I'd say as new moms we've earned to treat ourselves on a totally commercial holiday, right? Plus, between now and 1/31/17 you can save 15% off ILY Couture's Valentine's Day Collection using the Promo Code: HEARTILY. Their clothing is great quality and super cute on ; I'm thinking the "Be Mine" tops Mommy & Me twinning may have to happen this year….
Here are 10 Valentine's day gift ideas for your Littlest Valentine AND a few that you may just want to pick up for yourself (or hint/pass along to your Big Valentine to get for you!).
For Baby
For Mama
There you have a list of fun gifts for your baby's first Valentine's Day, and some things you may want to gift yourself. I still haven't decided which to get for Taylor – which do you think is the best option? What was your favorite 1st holiday to celebrate with your baby?
If you liked this blog post I would really appreciate your quick vote for me on Top Mommy Blogs. Click HERE to cast a vote. Thank you!
P.S. Don't forget to SUBSCRIBE. Subscribers are automatically entered to win my bi-monthly Mama Must-Have Giveaways!