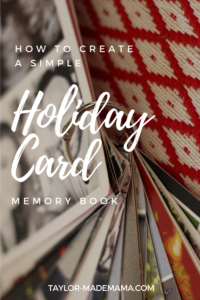 Want to preserve the magic of Christmas all year round?
I know I do, especially this year with it being Taylor's first!
One of my favorite traditions of the holiday season (up there with my xmas morning Monkey Bread) has always been receiving Christmas cards in the mail. Beginning around the end of November, I anticipate the mail each day hoping to receive a card with the beautiful, smiling faces of another friend or family. As a child, my mom always displayed each card our family received on our refrigerator, and I can remember admiring them every day and missing them when they were inevitably taken down. I honestly don't have any ingenious way to display the cards we receive and should really step my game up at at some point (I just use red twine similar to this and mini wooden clothespins) but I wanted to share the simple way I save the cards and keep them accessible (but not up on the wall) all year long.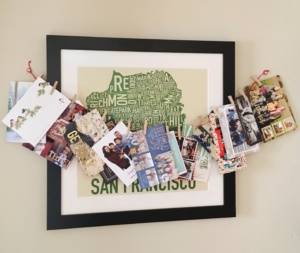 The past few years I have been preserving our Christmas cards after the holiday season is over simply by hole punching them with a single hole punch and binding them with a single binder ring. I keep the cards for the previous year in a drawer that I can easily access throughout the new year whenever I want to see our loved ones; it is a good reminder to continue to pray for the health and well being of each family, not just during the Christmas season. Can you imagine how much more connected you would feel to your friends and family throughout the new year if you started your day with a cup of copy, sending prayers and/or positive thoughts for them out into the world? This is a goal I have for the new year – less focus on me and my needs, more on those of my friends and family.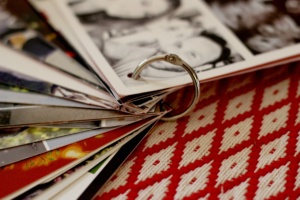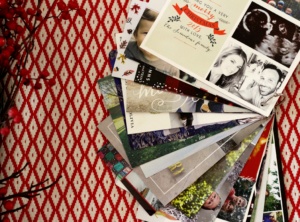 This year I brought out the 2015 memory book and let Taylor flip through photos of my favorite people. Our family card last year (2015) featured a picture of AJ and I on our Honeymoon and a 20 week ultrasound of our baby girl. One of the most special photos from the hundreds I took at our various celebrations this Christmas season is Taylor looking at that card from a year ago. She was randomly flipping through and looking at the pictures, but paused and touched our faces in recognition when she got to our card. Sometimes I still can't believe that our precious baby girl is now here with us, and that we get to celebrate all our Christmases from now on with her (pinch me!). I anticipate that as she grows older, she will truly love flipping through the cards throughout the year and identifying the faces and names of friends and family who she loves but doesn't get to see all the time.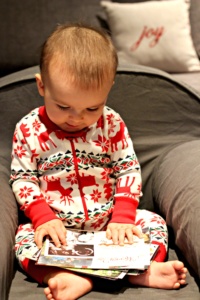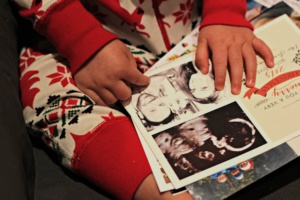 Here are the super simple and inexpensive supplies you'll need to put together your own Holiday Card Memory Book for 2016:
1.) A set of loose leaf binder rings. Stack your cards and hole punch in the top left corner with the second supply,
2.) A single hole punch.

3.) Put your own Holiday Card on top as the cover or use the one I created for our memory book this year:
If you would like to use my cover, leave your name and email address below and I will send it directly to your inbox. You'll also receive Taylor-made Mama post updates and be automatically entered to win my bi-monthly Mama Must-Have Giveaways!
What do you do with all of your holiday cards once the new year begins? Leave me a comment and let me know!

P.S. Don't forget to SUBSCRIBE. Subscribers are automatically entered to win my bi-monthly Mama Must-Have Giveaways!