Merry Christmas from my family to yours!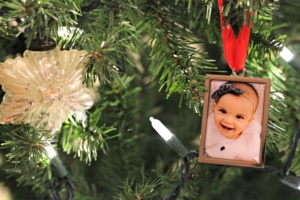 This is definitely our most special Christmas yet, as it is Taylor's first. Christmas is already a important celebration to us, but there is something even more magical this year. Today we're heading out to spend time with our best friends, and then to church this evening (wish us luck getting through an hour with a squirmy 8.5 month old!).Whatever you do to celebrate, I hope that you have a lovely next few days full of yummy food, laughter, friends and family time.
I'm so thankful that you read this blog, and wanted to give a little early Christmas gift as a token of that appreciation. Below is a gift card to Starbucks loaded with $50; you just need to ask your barista to scan the barcode. Please use the card for just one drink so that as many people as possible can grab a festive beverage today (skinny peppermint mocha anyone?!). Enjoy! And, please forgive the "Hi Merry" – apparently I don't know how to fill in fields properly : )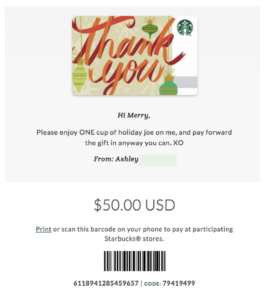 Merry Christmas and Happy New Year! Let me know what you get down in the comments!