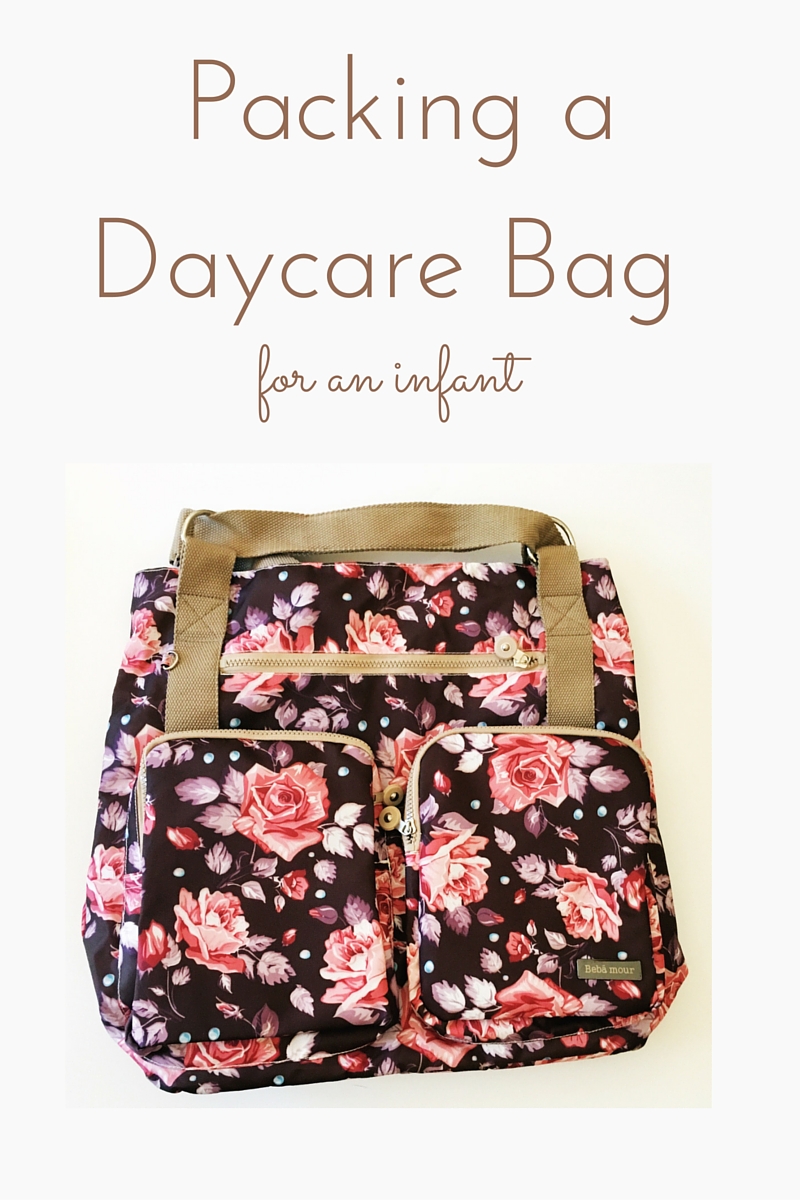 This page contains affiliate links for your convenience. Views are 100% mine.
I'm back at work now, fortunately only part time this year. 1-2 days per week Taylor attends a wonderful daycare/infant center right down the street. Do I wish I was with her instead? Yes, with all my heart. Do I feel confident that she is getting good care, socializing and developing without me a couple days per week? Absolutely. They do tons of developmental activities, she has an assigned "caregiver" who feeds her and puts her down for naps, and she gets a chance to socialize with the other infants which is nice for Taylor since she doesn't [yet] have a sibling around. The other days she is with my mom, her Grammy, and my husband who works from home – huge blessings for our family.
Nowadays I feel like a total bag lady – my diaper bag, pumping bag, gym bag and now a daycare bag all have to be organized and prepared for each day before leaving the house. I posted about what I pack in my pumping bag HERE. I always make sure everything is ready to rock before I go to bed at night – if I leave that until the morning it's highly likely I'll forget something. If your mornings are anything like mine, there is way too much going on to with too little time to be sure everything makes it in the bag and out the door.
If you're a new mom with a baby who will be in day care for part or all of the work week, I hope this post gives you some ideas for packing up your own bag before heading back to work.
A lot of the bags I looked at for Taylor's daycare bag [like this one from Skip Hop which was a good price point] didn't have quite the dimensions I needed to fit her milk cooler in the bottom. I purchased this bag by Bebamour because it a) had TONS of pockets and storage space, b) could be worn as a backpack [essential for getting out of the house with all those bags AND a baby/carseat!], c) a very reasonable price for the quality, and d) almost exactly the right amount of room to fit the cooler for her milk in the bottom. Plus, I think it's super cute:
Now, on to the contents of Taylor's daycare backpack: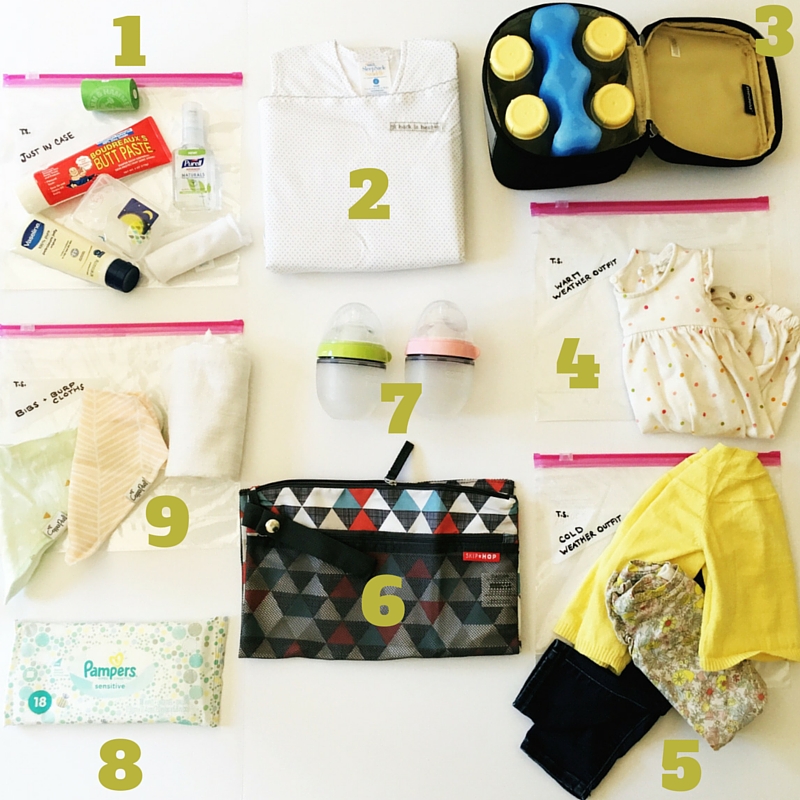 1.The "Just In Case" gallon ziplock bag:
In this Ziplock I have a tube of Vaseline, MAM pacifiers [the only kind she'll occasionally take], butt paste [this smells INFINITELY better than Desitin, IMO], mini hand sanitizer [I buy these in bulk and stash them everywhere] and disposable diaper bags.
4. Warm weather spare outfit in a Ziplock
5. Cold weather spare outfit in a Ziplock
6. Wet/dry bag for bottles or clothes with spit up on them [darn you acid reflux!]
7. Comotomo Bottles:
We tried several different kinds of bottles, and this is the one Taylor took to consistently. The other brands that were recommended for breastfed babies may work for your babe, so I'll link them here in case you need reference: Tommee Tippee, Lansinoh mOmma and Breastflow.
8. Wipes
9. Bibs [I adore these by Copper Pearl] & burp cloths [we use cloth diapers because they're cheap and very absorbent!]
How does it all fit? Well, it was hard to get a good shot but you can hopefully see that I put the empty bottles in the front compartment [when I pick up Taylor + bag, the bottles are in the wet part of the wet/dry bag], the "Just In Case" ziplock is in the other front pocket, the cooler sits at the bottom, and all the other compressed ziplock bags +swaddle + wipes are in a stack turned sideways to the tight side of the bag. The wet/dry bag is wedged between the cooler and the side of the bag for easy access.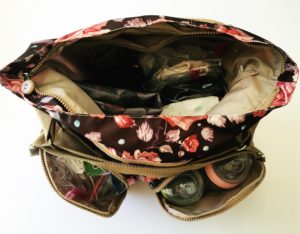 That's about it! If you're sending your babe off to daycare for the first time like I am, I hope you both have a smooth transition.
Am I missing anything I could add to make my/Taylor's life more organized? 
If you liked this post, check out other posts in this series: