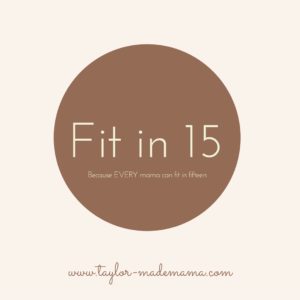 This page may contain affiliate links. Views are 100% mine.
Many of the workouts I've shared on my personal or Taylor-made Mama social media accounts  involve weights and/or require a gym because a) I have a garage gym at home or can occasionally make it to 24 Hour Fitness, and b) that is the style of workout that is most effective/enjoyable for me. I will continue to share what I'm doing and that style of fitness occasionally,but I realize that not every mama has access to a gym, the ability to arrange childcare in order to get to a gym, or an affinity for weights. Also, now that I'm back to work I'm finding that it's more difficult than I thought to find the time for workouts!
The good news is that You don't need to have hours per week to incorporate fitness into your life and get/stay in shape. If you can fit in 15 minutes a day, and commit to giving 100% effort during that time, then I have some killer workouts for you coming up!
I truly commend you for making the time to take care of your body and health – it's not easy to do, and I know you're all as or more busy than I am!
I want to share with you some effective, FIFTEEN MINUTE, workouts that you can do at home – no equipment required. Fifteen minutes leaves little room for excuse as to why we don't have the time to take care of our health and bodies – think of all the times you could fit in 15 minutes: early in the morning before the baby/kids wake up, during nap time, after the kiddos go to sleep, while the hubby has special time with the kiddos, etc…
My plan is to post one Fit In 15 workout per week on my Instagram account for now, and see how you all like them. So go and follow me there if you aren't already: @taylormademama
If you give your max effort on these, eat well and stay consistent [ previous post linked here] you will feel great and start to see results.
Although these workouts do not require equipment, here are a few items I definitely recommend purchasing at some point to add intensity [I'll note where and how on future Fit In 15  workouts or the ones HERE]:
a set of dumbbells
a pair of ankle weights – I use THESE
a set of resistance bands – I use THESE
Give the Fit In 15 workout below a go during your babe's next nap, when you're up before work or in the evening when your hubby is home and can play with the littles. I did this the other day during Taylor's first nap of the day, but subbed 30 glute bridges for the lunges because I can't do those until I'm all healed up [grrrrr]. I ended up with 5 rounds + 12 bridges, and a lot of sweatiness : )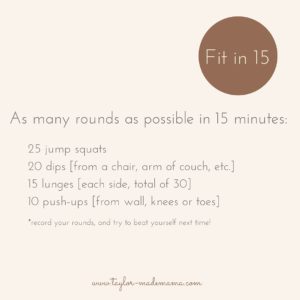 Leave me a comment or email me if you have any questions on the workout: ashley@taylor-mademama.com
Try this workout twice within a week and try to beat your first "score". Have FUN getting fit, mamas! You can do this : )