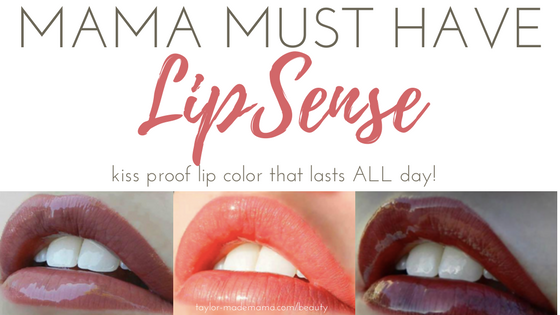 LipSense…
A lipstick that is kiss-proof, smudge proof, waterproof and lasts up to 18 hours?
Seems too good to be true, right? No way those claims are actually legit…
That's exactly what I thought every time I saw LipSense pop up in my social media feeds over the last year or so. However, the idea of being able to put on lip color in the morning, kiss Taylor and my hubby goodbye/drink way too many cups of coffee without leaving a mark,  and not have to think about reapplying throughout my entire work day sounded really appealing. When I initially connected with a SeneGence Distributor, who offered to send me a Lip Kit to review and potentially share with you,  I was cautiously optimistic to give LipSense a try.
(Update: I actually became a LipSense Distributor in August 2017 because I fell in love with this stuff!! You guys, it's that good of a product AND business opportunity!).
She sent me a Lip Kit which included a super pretty natural lip stain (Bella), clear Glossy Gloss, a pot of Lip Scrub and an Ooops Lip Color Remover. The first day I tried LipSense I could not get over how cool it was. It takes a little longer to apply than a regular lipstick, but no more than a minute for the whole process.  I definitely think I demoed how I could drink out of my coffee cup and not leave a single trace of lip color behind to way too many co-workers that day. I mean, check out this picture taken right before I left work the other day – after drinking multiple cups of coffee, yapping my way through several meetings, and eating a burrito for lunch – with color still clearly intact: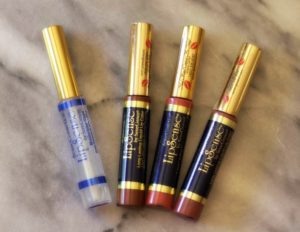 I'm not even kidding when I say I don't think I'll  ever go back to traditional lip color.  After the initially LipSense experience, I contacted Shana right away and ordered two additional colors to add to my collection. I wore Dusty Rose, a slightly darker yet natural looking color, the day of Taylor's first birthday party and never once had to reapply. I also wore Dusty Rose  to a friend's wedding celebration out of town. and had to wait until the next day  to take it off as I had forgotten my Ooops Remover! How's that for long lasting?!  Lastly, here's an admittedly ridiculous picture of me in the middle of a work day sporting Heartbreaker, a fun spring/summer color: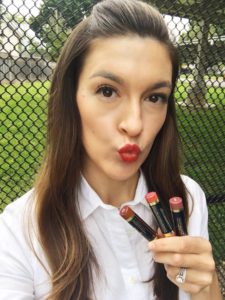 This stuff is a total Mama Must Have, and I wouldn't be posting about it today if I didn't think it would be worth it for you to try out. Thank you to Shana Carter for gifting me with these three colors in exchange for a blog post.
Update: I loved and believed in this product so much that, as of August 2017, I became a LipSense Distributor myself (read all about that decision and how you can to HERE)! You can check out my in-stock colors, join my Facebook Group (where I host tons of Giveaways and sales!) and order LipSense here: https://taylor-mademama.com/beauty/
If you have ever thought about becoming a LipSense Distributor for the discount (20-50%!!) or to make money from home, please enter your email below and I'll send you a packet with detailed info on SeneGence's  commission structure (AKA how you'll make your money) as well as Frequently Asked Questions about how to become a LipSense Distributor. 
You can also comment on this post with any questions you have and I'll get back to you : )
What other beauty hacks am I missing out on? Please do tell!