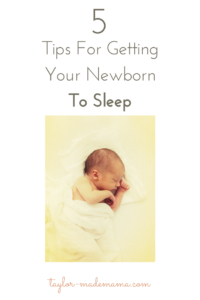 This page may contain affiliate links. Views are 100% mine.
The first three months of a baby's life is sometimes referred to as the 4th Trimester. They are as much outside their comfort zone as you are out of yours as a new mama. For 9 months they were soothed to sleep by your movement throughout the day, constant whirring of noise in the womb, and the snuggly feeling of compression all around. It must be pretty darn cozy in there (heck Taylor decided to stay an extra 8 days!). It's no wonder babies have a difficult time settling and falling asleep in the outside world. I think the saying "sleeping like a baby" is actually sort of backwards when it comes to newborns; if someone is sleeping like most newborns, then they're probably having a difficult time falling and staying asleep! For the 4th trimester, I didn't worry about sleep training or if I was creating any bad sleep habits – it's the time to just do whatever you can to help your sweet newborn (and yourself!) get some rest. Give yourself that freedom and do whatever works for you and your baby. Read more about surviving the first weeks with your newborn in THIS post.
When Taylor was born I was naively surprised that I couldn't just put her down with a pacifier and have her fall asleep. I guess I had never spent enough time around a newborn to know that, with rare exception, it's just not that easy. In fact, Taylor rejected a pacifier until she was 4 months old. Trust me, I tried every trick and variety of pacifier I could find, all to no avail – little mama just wasn't having it. It was hard to watch her struggle so much to fall asleep and feel like I had no clue how to help her. However, having a baby who wouldn't take a pacifier encouraged me to really look into what else (aside from sucking) helps newborns feel soothed enough to fall asleep.
I am by NO means an expert, and obviously every baby is different, but I  do want to share 5 things that really worked well for Taylor. These are 5 things I wasn't doing for the first month of her life, and that I noticed made a huge difference once I started. Within one week of implementing these 5 things Taylor was sleeping 8-9 hours for her first stretch of sleep followed by 3-4 more, at only 6 weeks old!
If you're a brand new mama, I hope some of the things that worked for us work for you and your newborn as well.
1. Swaddle
Taylor seemed to fight the swaddle for the first month of her life, so I had her sleep without it. She was waking up every 1-1.5 hours that entire time. No joke, the night I started her back in this Halo Swaddle Sleep Sack, she slept a 4 hour stretch and then 8 hours a couple days later. The more I've read, the more I understand that most babies really need that compression to feel cozy and secure, just like in the womb. Swaddling also helps control to Moro Reflex which causes their little arms to flail up and about uncontrollably, which often wakes them in the night for the first few months. I have an entire Pinterest board devoted to Baby Sleep – click the link and give my board a follow for a wealth of info !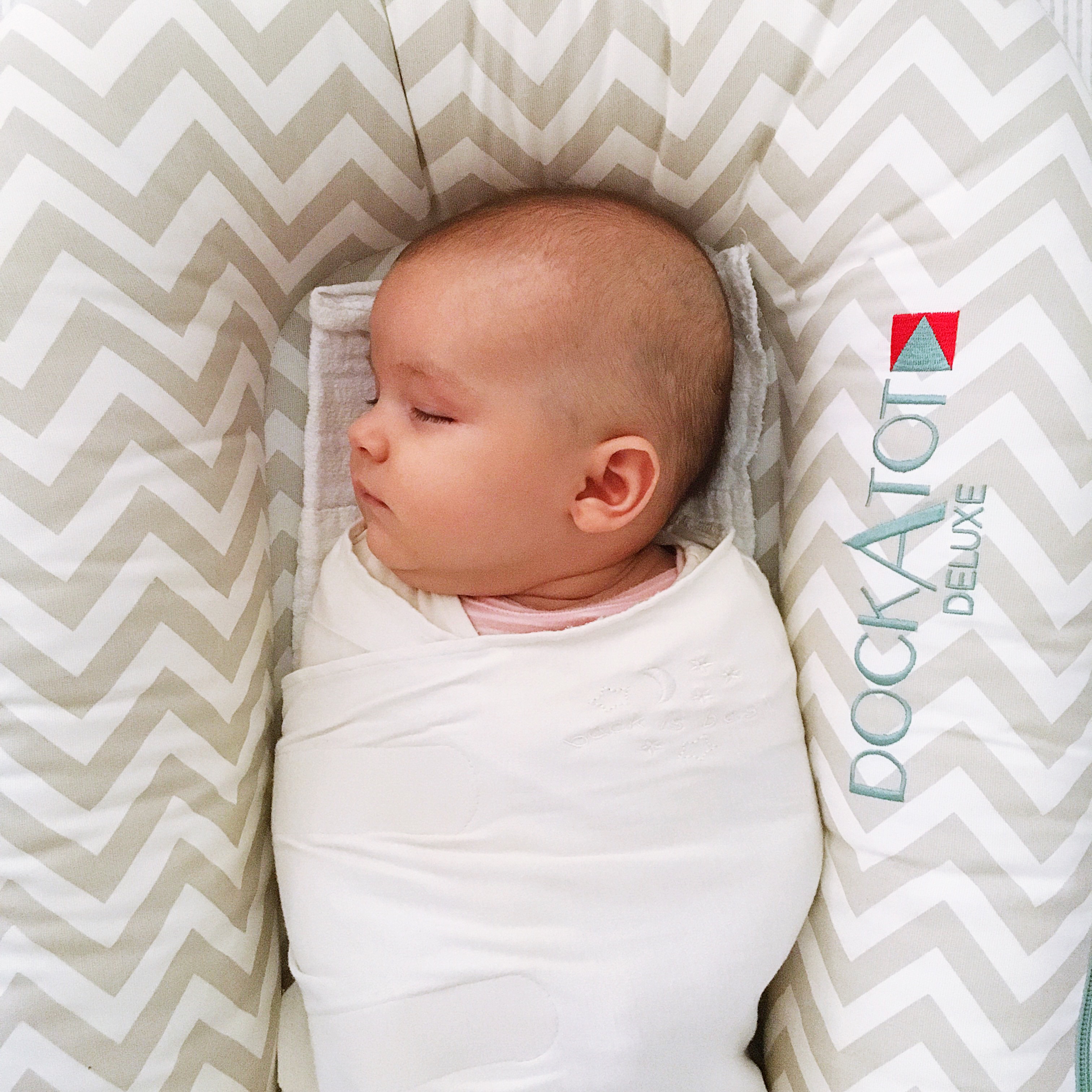 2. Use white noise
Did you know that inside the womb sounds just a bit louder than a vacuum cleaner!? It's no wonder that babies are comforted by loud white noise. Again, I started incorporating loud white noise as a component of Taylor's bedtime routine around 5 weeks old, and she began sleeping through the night shortly thereafter. I didn't think it would work, but it really did! I think it helped her be soothed back to sleep when she did wake in the night as well. We use THIS sound machine and love it. It is portable and can run on batteries, which is perfect for travel. For more items, like the sound machine, I wish I'd added to my baby registry read THIS post.

3. Establish a bedtime routine early on!
I wish I had started a bedtime routine for Taylor even earlier than I did.  The first few weeks I was totally baffled about the whole baby sleep thing and flew by the seat of my exhausted, new mama pants. However, within one week of establishing a bedtime routine for Taylor, at 5 weeks old, she began sleeping through the night! Routines help babies to understand that it is time for nighttime sleep – they're used to sleeping during the day for the last 9+ months when you were moving around, lulling them to sleep. It makes sense that a lot of babies are confused between day and nighttime for a while, hence the waking all night long.
For newborns, a routine can be something super simple such as:
Dim the lights or turn them off completely and use a nightlight (during the day I always had her nap in a bright room)
Turn on loud white noise
Change baby into an overnight diaper even if you just changed their diaper 30 minutes before (I use regular diapers one size larger, and cover her bum in this natural Butt Paste)
Put babe into his/her PJ's
Sing a lullaby or two while swaddling
Nurse or bottle feed baby while rocking
*Put baby in crib drowsy but awake
*I have to pat Taylor's belly a little bit until she drifts off, and sometime she falls asleep while nursing so I put her in the crib already asleep. From 9 weeks until about 15 weeks, we would usually need to bounce her on a yoga ball after nursing to help her get drowsy before going into her crib.
4. Make sure baby is well burped/gassed
This may seem like a no brainer to some, but I truly didn't realize how much I would need to burp Taylor in order for her not to have gas that would keep her up. Sometimes the simplest things can have a huge impact on your babe's ability to fall and stay asleep. They rely solely on you to make sure they aren't experiencing discomfort. Burp, burp and burp that newborn some more until you are certain there is no gas trapped in his or her little tummy. There are also techniques to help newborns get rid of any gas that may keep them from sleeping comfortably. Sometimes Taylor would wake in the night making little grunting noise and all I would need to do is "gas" her by pumping her legs  in a bicycle motion and gently up toward her chest until there was no more gas. Then she would fall right back to sleep. I used the technique the parents show in THIS video and the massage shown in THIS video.
I've heard that some babies don't like their swings, but I absolutely swear by this swing. Taylor learned to fall asleep on her own in this swing. At first you'll have to have the swing setting on fairly high, but then you can progressively lower the speed until your baby can fall asleep with little to no motion at all. We did not have Taylor sleep in the swing at night, but it really helped her to learn the skill of falling asleep on her own, which then generalized to her nighttime/crib sleep.
You can read more from the baby sleep experts at Precious Little Sleep on getting babies (even the most sleep resistant!) to sleep in a swing HERE.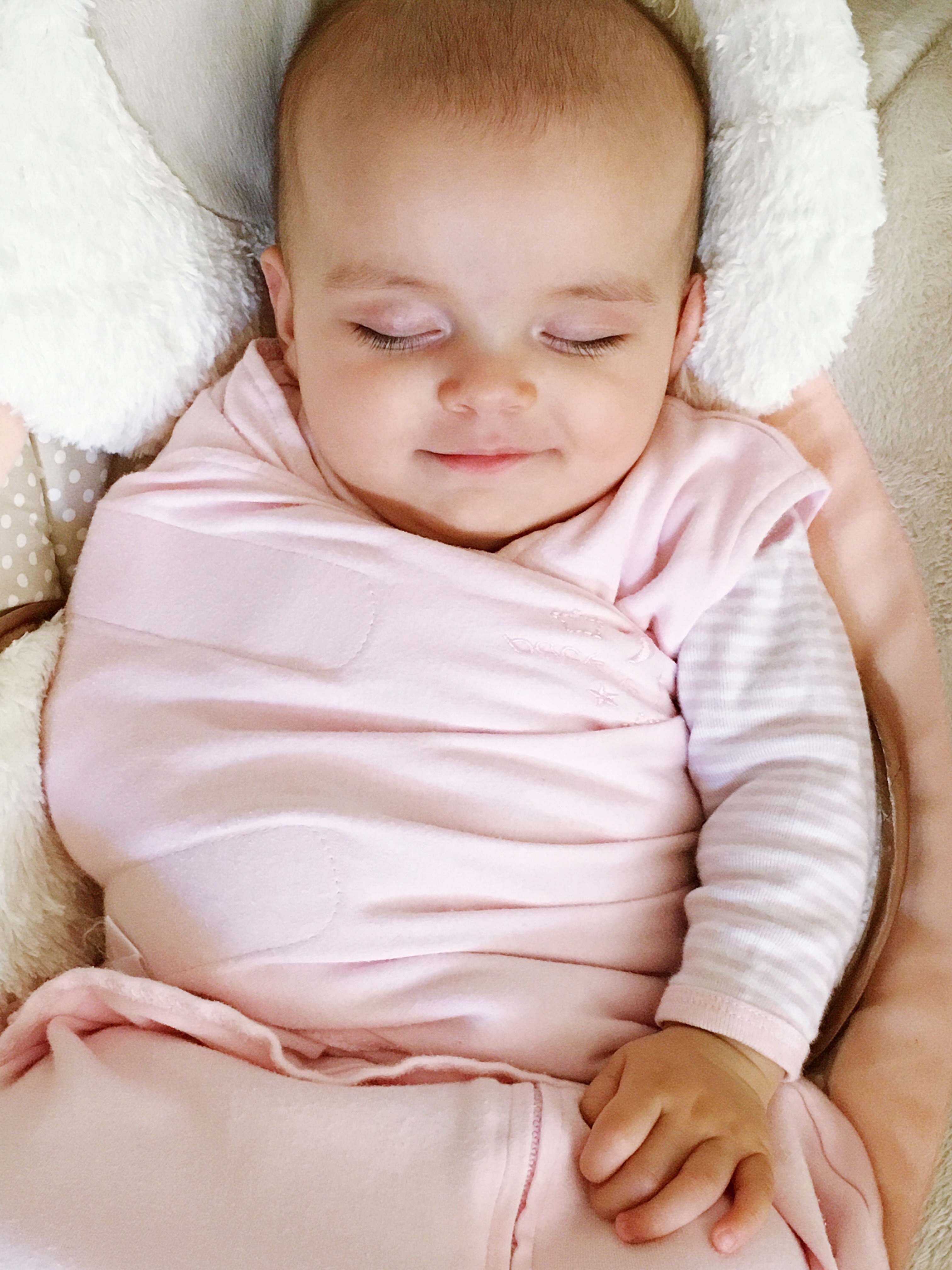 So there you have it – my top 5 tips for getting your newborn to sleep and stay asleep. Hopefully these tips work for your baby, and for you!
What other techniques, routines or tips do you have to get your little one to sleep?
*Disclaimer: Taylor turned 4 months and the regression hit immediately. Although she is not sleeping 8-9 hours a stretch right now at 5 months (I wish!), she is still sleeping 5-6 hr stretches and waking only twice at most. We were super spoiled with her sleep as a newborn, and I still think it had much to do with these 5 tips.