Do you have a toddler car kit stocked with everything you would need in case of emergency (i.e. forgotten diapers, sudden need for a potty break, stuck in traffic, car wont' start,  flat tire, etc.)? Do you lug around a huge diaper bag full of everything under the sun in case of emergency and want to lighten your load? If you answered yes to either question, then this post is for you!
Taylor and I were out and about the other day when she needed a mid-shopping diaper change. I realized I didn't have a diaper in my diaper bag – TOTAL #momfail. Then I remembered the Baby Car Kit I keep for her in the trunk of my car (this also happens to be one of this blog's most popular posts to date!). Relieved, we walked to the parking lot for her change. Much to my chagrin, I realized it had been quite a while since I'd updated her kit, and the diapers I had in stock were a size too small. Although I was able to squeeze her into the diaper until we made it home and I wouldn't necessarily categorize this as an "emergency" situation, it did remind me that our original emergency car kit needed a little updating.
So update I did, and here is exactly what is you need for an emergency car kit, fit for a toddler.
Everything You Need In A Toddler's Emergency Car Kit 
Here is a list of everything you need to pack in an Emergency Car Kit for your toddler to keep them fed, changed, happy and entertained in case of an unpredictable situation (or if you just don't feel like dragging a big ole diaper bag around with you everywhere!). I pack all of this in this bin + lid from Tar-jay – it's less than $10 and fits all our supplies (minus the portable potty) perfectly!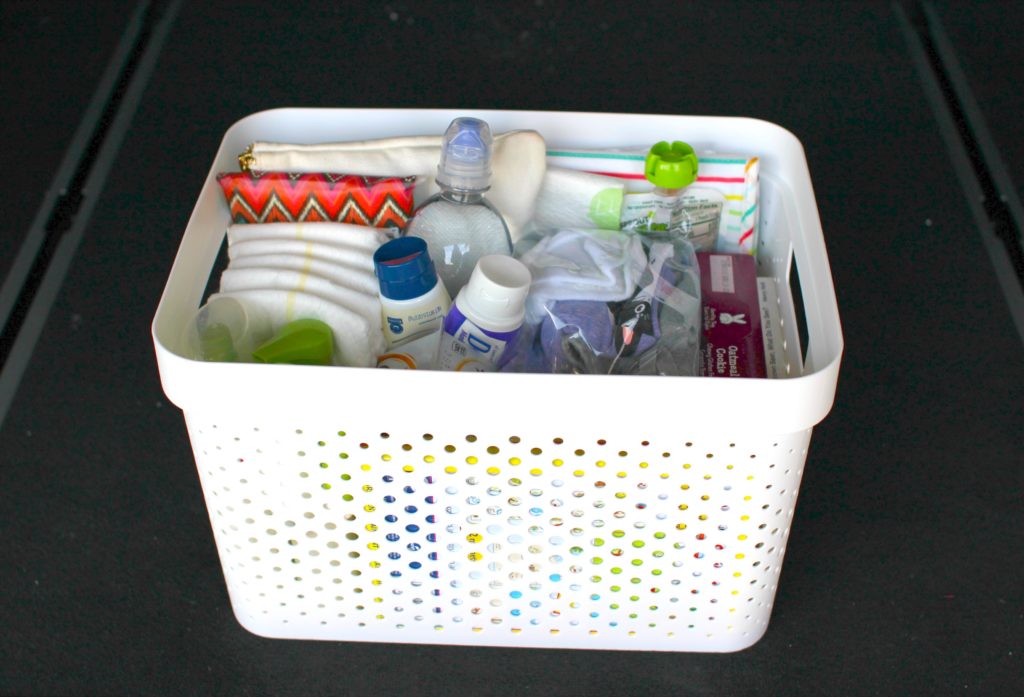 Water bottle with a spout (at least 1) to  keep both you and your tot hydrated.
3-4 diapers
Wipes – I keep my wipes in a lined, zippered bag like this one so that moisture doesn't escape over time (especially when it's hot!).
Non-perishable snacks like Annie's gluten free oatmeal bars or these Sprout Power Pouches.
Disposable diaper bags + dispenser –  I have these Munchkin bags and dispensers in my diaper bag, daycare bag and car kit.
Diapering creams
Roll of toilet paper – if you're in the potty training stage, this is critical, along with this portable potty (scroll down for more details).
1-2 activities/toys – I always keep 1-2 books and an activity that could consume my toddler's attention for the maximum amount of time possible. This Magnetic Curious George Set is perfect for the car and developing imagination, and T loves it!
Travel first aid kit  – you could, of course, put one together yourself, but I chose to buy http://bit.ly/2xKe7PVthis one from Target for $6.49.
Sunscreen  – my favorites are this spray version and  pure mineral sunscreen face stick from Babyganics.
Changing pad  – the one pictured here is sold out, but this is a great option on Amazon Prime + only $6.
Hand sanitizer – I have one of these Babyganics hand sanitizer pumps in our change table caddy, nursing station basket and in the emergency car kit. I like this brand because it is alcohol and paraben free, yet 99% effective in killing germs.
Spare outfit (socks, pants, shirt) – I keep a t-shirt and pants that are 1-2 sizes too big so that I do not have to think about updating the spare outfit every couple of months because – growth spurts. The Cat & Jack line at Target has super cute T-Shirts for between $4.50 and $6.00  (both short and long sleeved depending on the seasons you're in/entering).
2 gallon Ziploc bags
{NOT PICTURED} Lightweight blanket – I keep a swaddle blanket by Aden & Anais in the car in case it gets chilly.
{NOT PICTURED} A Restaurant Kit – create a Restaurant Kit with all the essentials you need to reduce the stress of dining out with little ones and keep it in your trunk. I have actually been bringing the Airplane Entertainment Kit in the car lately because it's so packed with things to keep T busy.
{NOT PICTURED, but a MUST HAVE} Potette portable travel + training potty – I don't yet have this portable potty because we haven't started potty training at this point, but it is already on my Amazon shopping list for later. My best friends both have this in their cars and it's come in incredibly handy on numerous occasions. You can actually be out and about during potty training because it can be adapted to any toilet seat OR you can just plop in on the ground anywhere you are and the disposable liners catch everything. Genius, right?!

To access the printable Toddler Emergency Car Kit Checklist use this link or just click on the image below.  Print it, shop with it, then keep it in your kit to make sure you're always stocked up. As a subscriber, you can access and download this and any of the other printables from my website by going to the Printables Library Page and entering the password I emailed to you when you subscribed.

Is there anything I'm missing? What other ways do you keep your car organized and prepared for your little ones? Let me know if I'm missing anything in the comments on this post and I'll happily update my kit + this post.

P.S. This post is part of the Packed to Perfection Series. Each post (including one of my most popular – "What To Pack In A Carry-On To Entertain A Toddler On An Airplane") includes tips for what to pack and printable checklists to make sure you don't forget anything. It's hard enough remembering what to pack for yourself, right?!  I like to print my checklists, laminate them and keep them in my bags/suitcases/kits so that they are right on hand and I can keep track of what needs packing, refilling, etc.

Other Ta[y]lor-made Mama posts you may be interested in: