This post is the first in my new, official Packed to Perfection series. Be sure to check back for other posts in the Packed to Perfection Series as they are posted – I'll be including free downloadable packing lists for each! Print, laminate (this laminating machine is $19.97 on Amazon.com – woo hoo!), stick the list in your bag, and never worry about forgetting something again! You can see other examples of ways to organize and pack for a baby or toddler in these existing posts: Diaper Bag for Baby, Packing Cubes, Working Mom's Pumping Bag, Infant Daycare Bag, Baby/Toddler Car Kit, and Restaurant Kit for Babies/Toddlers.
Make sure to download and print the FREE printable Toddler Pool Bag checklist at the end of this post!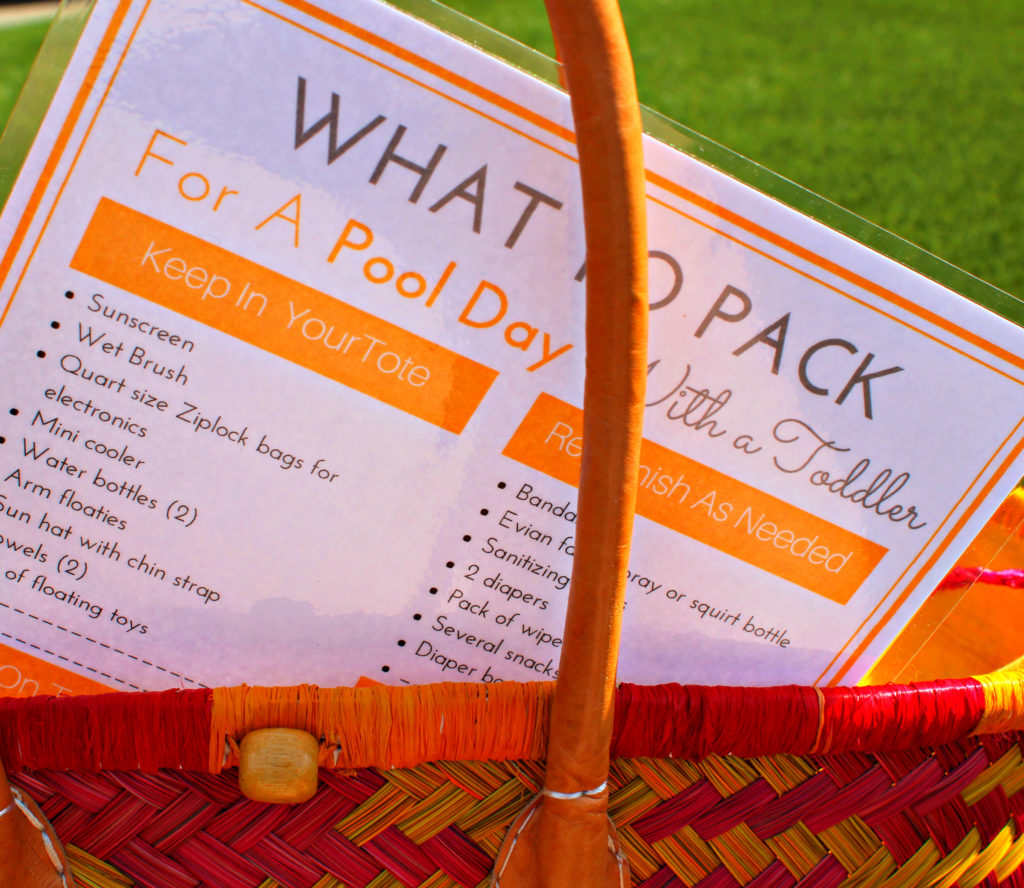 Now, let's dive into (pun intended) what to pack for a day at the pool with a toddler…
It used to be as easy as grabbing a towel, sunnies and a  suit, sunblock, an issue of InStyle, water bottle, flip flops, then off to the pool for the day. Now that you have a baby or toddler in tow, there is a whole new element to planning and packing for a successful, fun, safe day at the pool. 
I want to show you what and how I pack for a Mommy and Me Pool Day with my toddler. If you're a first-time mom in the same boat as I was OR a been-there-done-that pro mama, I hope this post will give you some good ideas for things to pack (and what to pack them in!) for a great day at the pool with your toddler.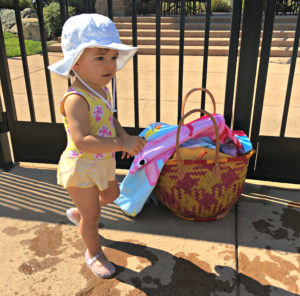 Now that we have access to a pool right down the road in our new community, pool days are a part of our weekly routine. Taylor lovingly refers to this special place as the "poooo," which I find pretty darn funny, but I digress…
Before we moved, I had never taken Taylor to a pool and I wasn't quite sure what to pack to bring with us that first day. Flash forward a couple weeks and I feel like we have rounded up everything we need with the caveat that, at some point, we'll probably start bringing some pool toys. Right now, at 15 months old, Taylor is happy to just people watch from her float or splash/walk around in the baby pool. The first few times at the pool for her were about introducing her and helping her become accustomed to the water and new environment.
What to pack for a day at the pool with a toddler: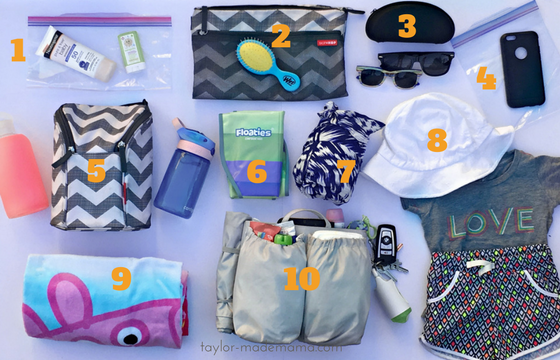 Tote Bag – obviously, this is a must! The bag shown in the photo above is one I got at our local grocery market because I loved the design, fun color scheme and the size worked perfectly. Here are a few similar and the black mesh tote I am using for a carry on/beach bag for our upcoming vacation (it comes in several colors and is under $10!):


1.Babyganics sunscreen stick SPF 50 (for the face bc my fingers on her face is, apparently, torture) and sunscreen in a gallon Ziplock bag – I usually put my own sunscreen on at home and if I need to reapply, I will just use Taylor's.
2. Skip Hop wet/dry bag with the following inside the dry pouch: the Wet Brush and a change of clothes for a toddler. When we are ready to leave, we rinse off and then I change her into a diaper, put the pool cover up back on her and throw the wet suit into this bag.  I can't tell you how many things I use these bags for or how many we own!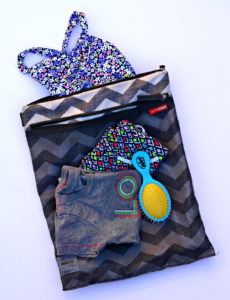 3. Sunglasses for mama and toddler 
4. Quart size Ziplock bags for electronics
5. Skip Hop cooler for water bottles (I also used this in my Pumping Bag) – Camel Back bottles: mom version, toddler version. If you're looking to pack snacks that need to be refrigerated I HIGHLY recommend this Freezable Tote by PackIt; you stick it in the freezer and, once frozen, it stays cold for up to 10 hours – no ice packs needed!

6. Floaties – the ones linked are super easy to blow up, well rated, Amazon Prime eligible (as are most items linked in this post) and under $10! If you aren't yet an Amazon Prime member, you can sign up for a free 30 day trial HERE.
7. Swim Suit Cover Up for mama – I have two pool cover ups I'm LOVING right now. The first is this simple, classy one.The second (shown in the photo above) is by Michael Stars. I got that one as part of the summer Fab Fit Fun box. I'm kind of obsessed with these boxes. Most of the individual items in the box (like the cover up) are worth more than the cost of the ENTIRE box. Use the code TAYLORMADE to save $10, and get your box for only $39.99!
8. Baby or toddler kids sun hat with chin strap (50+ UPF cotton) – I also bring my own hat, similar to this floppy chambray one from Nordstrom.
9. Towels  – I bring one for myself and one for Taylor, but you could probably get by with just one and save bag space.
10. ToteSavvy Mini Insert – I use this ToteSavvy insert interchangeably in all my bags these days be it a purse, diaper bag, carry on for a flight or pool day bag;  I love it because I always know where to look for the essentials. To me, this insert is an absolute mom must-have! These days I carry the following inside it's pouches: Bandaids, mini Evian facial spray (this keeps both toddler and mama cool on a hot day!), a couple small toys, Babyganics Alcohol-Free individually packed hand,face and mouth sanitizing wipes, 2 diapers, pack of wipes, several snacks, keys, wallet and one of the most popular items purchased through Amazon via links on my site – the Munchkin Arm & Hammer diaper bag dispenser and bags:
On Toddler: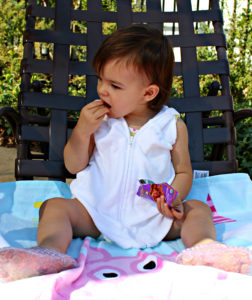 Swimsuit – I bought a couple of these suits with built in swim diapers by I play on Amazon Prime Day 2017, and we're loving them so far.
Swim diaper to wear underneath a suit if it doesn't have a built-in. We have been using these disposable swim pants by Babyganics, but there are also tons of non-disposable versions as well.
Diaper for over the swim suit in the car ride to the pool because swim diapers tend to leak (or maybe I'm using them wrong?).  When we get to the pool we just take off this extra safety precaution.
Sandals – these clear Mary Jane jellies are a toddler girl must, plus they have great grip on the bottom. Old Navy has a huge variety of strap-back flip flops for toddler girls and boys.
Additional Items: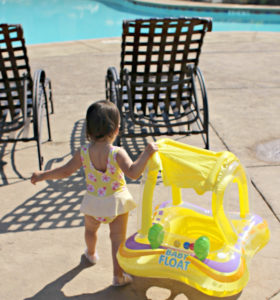 Now you tell me, what are your pool day bag must haves? I'm on the lookout for some water shoes like these from Carter's for Taylor, but are there some you like better?

Click here or just click on the picture below to access, download and print a copy of the checklist: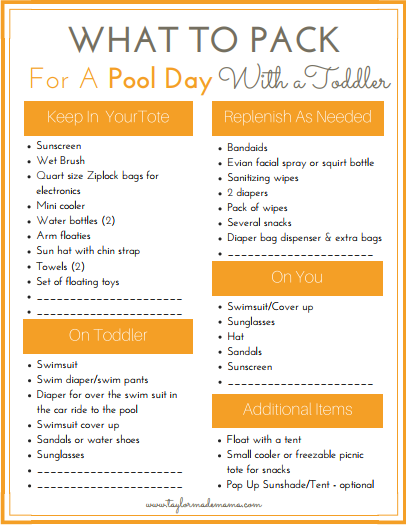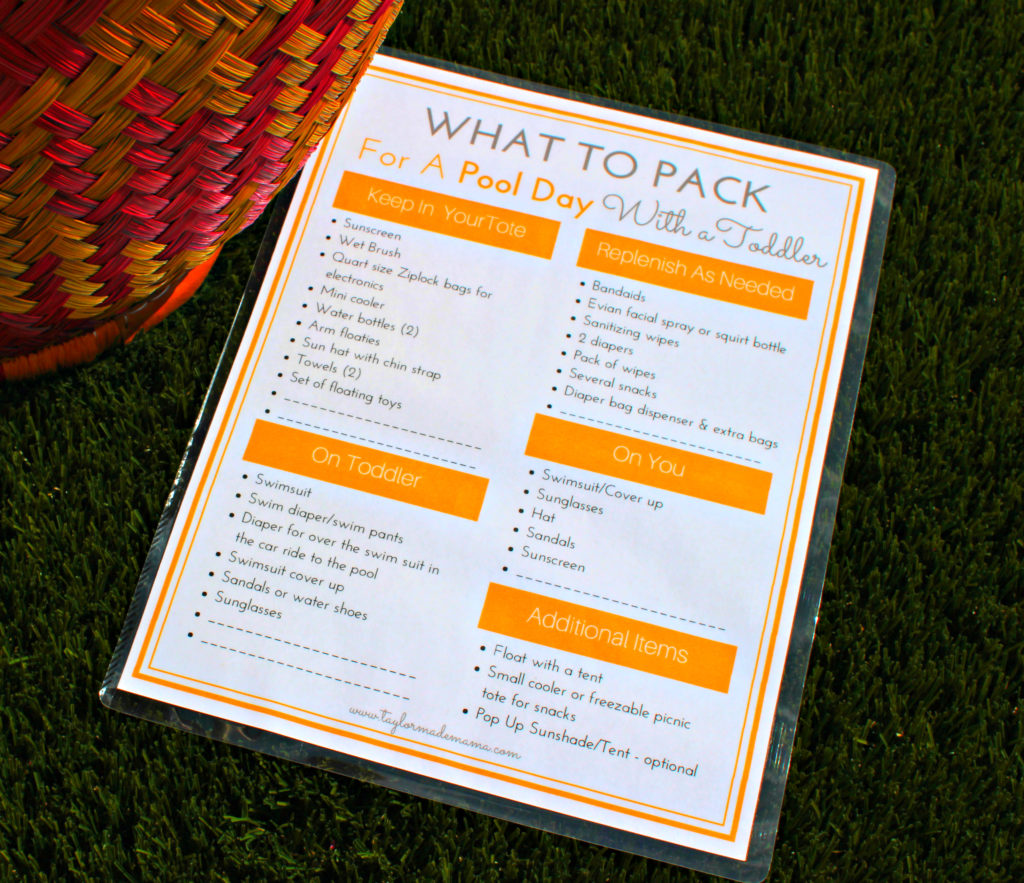 P.S.  If you haven't already, make sure to check out the American Academy of Pediatrics pool and sun safety recommendations including:
Stay in the shade whenever possible, and limit sun exposure during the peak intensity hours – between 10 a.m. and 4 p.m.
Wear a hat with a three-inch brim or a bill facing forward, sunglasses (look for sunglasses that provide 97% -100% protection against both UVA and UVB rays), and clothing with a tight weave.
On both sunny and cloudy days use a sunscreen with an SPF 15 or greater that protects against UVA and UVB rays.
Reapply sunscreen every two hours, and after swimming or sweating.