Hi Mamas!
I haven't done a fitness post in a LONG time. That's mostly because, as much as it used to be my "thing" (e.g. 14 half marathons, competing in CrossFit, wanna-be body building, etc.), since becoming a new mom I've been struggling to feel as passionate about working out as I have in the past.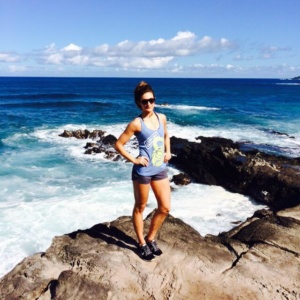 Maybe it's the lack of sleep (thank you teething/growth spurt/sleep regression/whatever), the minimal time left after trying to be excellent at my job whilst trying to be an excellent new mom (I'm not accomplishing either of those to that standard, FYI), or the general discomfort I feel when I actually do work out, but I've been cutting myself a break in the workout department these last few months. Now, I haven't completely fallen off the wagon, as I am still eating relatively healthily (90% of the battle) and making sure I am active in some form 3-4 days per week which usually consists of a gym workout once or twice, a few walks, and lots of planks and push-ups during crime show commercials after Taylor has gone to sleep…
All that to say that I worked out Sunday night after a really long week (I think I slept a cumulative 21 hours, and I say "think" because I barely can…) and during my warm up thought through the reasons why I continue to make fitness a part of my life even when I don't feel like doing so. This thinking got me re-motivated and I wanted to share that with you in case you were feeling as lackluster about fitness as I was. It's easy to want to put it on the back burner, or even give it up entirely, when we're SO busy as moms trying to do "it all," but there are many valuable reasons -both physical and mental – to persevere and find some time to move.
At this stage in my life as a new, working away from the home mom, these are the reasons that motivate me to work out, in no particular order:
A clear mind – as moms we have SO many "to dos" running through our minds at all times. For me, working out is the space where I permit myself to turn all of that off and tune in only to what I'm doing physically. Even if it's a few rounds of 1 minute plank holds (which, by the way, are infinitely harder after childbirth) giving my neurotic mind a mini-break is well worth the effort. If you need one reason to workout, let this be the one.
Alone time – aside from driving in my car to and from work, one of the only times I am alone is when I go for a workout. We have a gym in our garage, but I find that I crave going to the actual brick and mortar gym – it's so tempting to cut my workout short when I know my precious baby is just a few steps beyond my garage door whereas if I've driven to the gym I'll usually put in at least 45 minutes. As much as I love being with my family, I also need to have time where I don't have to interact with anyone in the world; As an introvert, this time is integral to my feeling balanced and refreshed. Any other introvert mamas out there who relate?
A confidence boost – when I'm working out consistently I definitely keep my shoulders more square and hold my head a little higher. Working toward a goal – whether strength or aesthetic – makes me feel really good about myself. If you work out consistently, you know what I mean. If you haven't given yourself this gift, you certainly deserve to.
Endorphins – when we exercise, our bodies release these amazing, feel- good hormones that can be just as addicting as any other vice; I got hooked in high school and haven't been able to quit them since! I find that, even on sleep deprived nights like last night, no matter how tired I am if I can just motivate myself to move – go for a jog, a short but intense workout, etc. – I get an instant mood and energy lift. Who couldn't use a little more of that in their life?
Getting my "body back" – as much as that phrase irritates me, and I think that all moms (and women) are beautiful no matter what their physical state, I honestly do want to get back into fighting shape eventually. For each mama getting your "body back" looks a little different, but I go by the mantra that the ideal weight/shape is whatever you reach when you are living the healthiest life you actually enjoy living; I'm sure this will look different for me at this stage in my life than it has in the past, and than it may look in the future. The most important motivator is that physical strength & ability translates into mental fortitude – which I for one can always use an extra dose of!
Why do you work out? What is motivating to you to keep moving and take care of yourself physically? If you don't already, do any of these reasons make you consider incorporating workouts into your (busy) life? Leave a comment and let me know!
Here are a couple of the workouts I've done lately, at home and at the gym. If you're looking for ideas, Pin these for when you find time in the coming weeks: