I can't believe Taylor turns 1 year old in less than a month. Like, I can't even…
I've been busy planning her first birthday party (more to come on that) and reminiscing on what an amazing experience it has been to be her mama these last 11+ months. Despite the unplanned, drug-induced haze after her delivery I so vividly remember the first time I saw her face (and those dimples!) as she was laid on my chest. It was a face that my heart instantly recognized and felt I'd known my whole life, yet I knew nothing about her at the same time – if that makes any sense. From that moment on I've been absolutely obsessed with loving and learning all about this precious gift I've been given.
Watching her literally grow up before our eyes is absolutely amazing, but bittersweet knowing that she won't be little forever. Taylor's not the only one who has been growing and developing this year; we parents experience immense growth during the first year, through the joys and the challenges of figuring out how to do this whole parenthood thing. I am forever a different person than I was before April 15th, 2016.
Today, I want to share about the clothing company that has been "with us" throughout Taylor's first year of life, from the white beanie she wore at the hospital to the body suits, hoodies and leggings she currently wears to "run around" or explore at her Little Gym classes every Friday afternoon – Primary.com.
Here are 10 reasons we love Primary.com

(and think you will too!)
1.A variety of styles – personally, I am absolutely obsessed with their hoodies, leggings and zip romper pajamas, but there are so many cute styles to choose from for both boys and girls. Here are just a few of my other favorite pieces: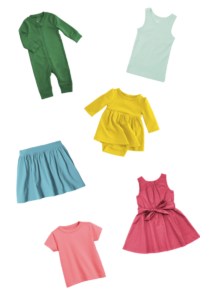 2. Vibrant colors that don't fade – You can choose from the following array of colors for almost every item in stock, making it easy to coordinate with existing wardrobe pieces:

I've washed and washed Taylor's Primary pieces, because she wears them multiple times per week, and they still look like new. We used a bright orange baby suit as a part of T's Halloween costume this year: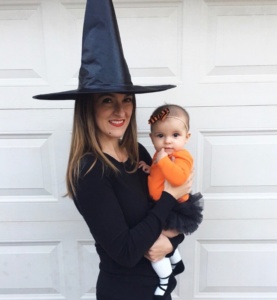 3. A great price point – every item on Primary.com is under $25, starting at only $8! There is even a discount for buying 3+ of an item.
4. The softest fabrics – seriously, the cotton feels like butter; they're basically the Lularoe leggings of baby/child apparel. So, so comfortable for babies sensitive skin. For the price, I honestly haven't found anything that beats the quality of Primary.com clothing.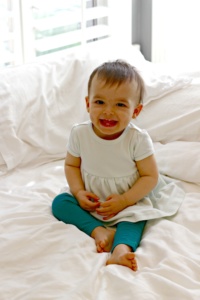 5.
No logos, tags or slogans
– this is another reason the clothing is super comfortable, and also easy to pair with any other pieces in your babe's closet. Primary.com is a great place to stock up on your baby/kiddo basics to build a comfy wardrobe around.
6.
Digital gift cards
– even if you don't have a little one in the home, the digital gift card option would be a GREAT gift for new mom friends, kid's birthday parties, etc. Check out this post for some other great gift ideas for new moms.
7. Sizes from Newborn through Kid's 12 – I'm not ashamed to say that I've bought the gray hoodie and black baby leggings for Taylor in 3 sizes over her first year – they're staples! Primary.com can grow with your family.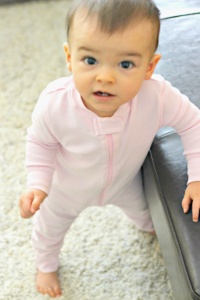 8.
Versatility
– kiddos can crawl/run/play around in these comfy clothes, but the pieces can also be accessorized for a more dressy occasion – a bow and sparkly cardigan over the swing dress or pocket skirt, the polo shirt with a pair of boys' slacks to give you a couple of ideas. So many of these comfy basics can be worn casually around the house or for a dressed up (yet super comfy) look.
9. Free Shipping on orders over $50 – I bought $50-75 worth of Primary staple pieces before each size jump Taylor has gone through this year, which kept us perfectly stocked on all the basics she needed.
10. 20% off of your very first order (click the link below) – So, what are you waiting for? Happy shopping!

This month, the Mama Must Have Giveaway includes a $25 gift card to Primary.com as part of an Emergency Baby Car Kit (my most popular blog post to date!). If you haven't already, make sure to subscribe in order to be automatically entered to win.
As always, thank you for reading and let me know if and what you buy from Primary.com in the comments below!
P.S. This post contains affiliate links for your convenience. If you utilize a link to make a purchase, I make a small commission at no cost to you. THANK YOU!