Sweet Taylor,
This time next week I'll be back at work, and our sweet time of being together all day, every day will have ended for now. It went by way too fast.
These have been the 15 best weeks of my entire life, and I don't want them to end; If I could freeze time, or put it on a loop so that I could continue experiencing the joy and wonder of getting to know you these last few months, I would. We spent mostly simple days together, learning how to be a mama and baby, but they were absolutely perfect. I will treasure every minute of this precious quarter of a year forever.
Figuring out how to meet your needs has been the most challenging job I've ever had, but the one that has given me my greatest sense of purpose. I had the privilege to change hundreds of your diapers, nurse you whenever you felt hungry, and comfort you when you [and sometimes I] cried because we were both getting used to everything being so new/disorienting. I spent countless hours just watching you in awe, and sometimes disbelief, that I really get to be YOUR mama. I haven't been perfect, but I have tried my very best to take care of and love you well.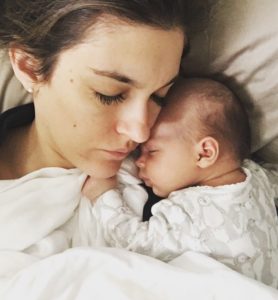 It has been amazing to watch you literally grow and change every day. I loved "chatting" with your 8 pound little self after reading stories on the big bed in your room. I was so thankful to you for the gift of rest when you slept through the night at only six weeks old! I felt as if my heart would explode when you unexpectedly giggled for the first time on our walk to Starbucks downtown – I'm waiting to hear that again. Even when I knew I had things to get done, I chose to nap with you in my arms in the middle of the day – I would let them go numb because I didn't want to move and wake you.  I was so proud of you when you discovered your hands and the things they could begin to do – you're so smart!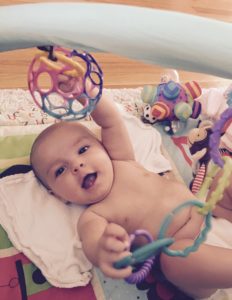 When your cute little side smiles turned into big, whole body grins I absolutely melted.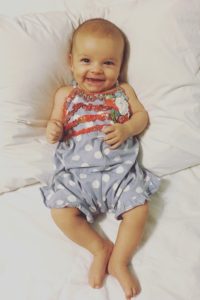 I felt so excited when one day I rolled you over and you pushed up from your tummy and happily looked around at your toys after screaming for 12 weeks every time we tried…I can't wait for you to figure out how to translate your crazy hip thrusts into a roll or something – please save that for a day I'm home, okay? Every day it's something new and exciting with you, and my heart swells with pride.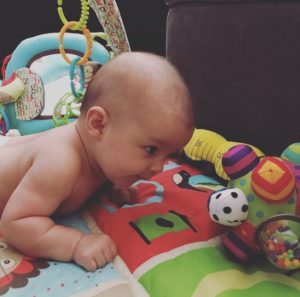 In a week I go back to work, though thankfully part time so that I have more time to be with you. It's going to be tough on both of us at first, but I also know that you'll love having special time with Grammy, your Daddy is working at home and can play with you during the day, and that you'll meet new friends at your daycare. I hope you're inspired by and proud of me someday for being strong, independent and successful; when you grow up I want you to take advantage of opportunities and pursue your dreams, education, goals and passions just like I have. But the most important thing you should know is that I love you to the moon and back; Thankfully, I do like my job, but I LOVE being your mama more than anything in this world.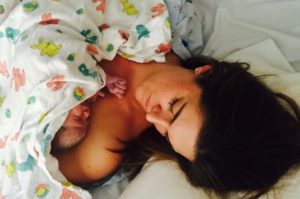 Since your birth I have spent almost every hour of every day by your side, and never once did I wish to be anywhere else. Know that when I'm not with you, each second I'll wish I were.
Every day of maternity leave my full time job has been to make you feel like you are the most loved baby in the world. I PROMISE you that job will not end because I go back to work – that's for life!
I love you with all of my heart, and I can't wait to continue getting to know you every day and being your mom. It is such an honor.
Love Always,
Mama
P.S. I'm so thankful to your daddy for making it possible for me to take this time off to be with you, and learn how to be your mom. He supported me every day in many ways [filling my water bottles, giving me a yummy glass of adult grape juice, playing with you in the middle of the day so I could take a shower, etc.]. He loves you so much, and I know he would do anything for you. When you smile, his faces lights up with happiness. I'm so glad he is your daddy and my husband. We both love you so much.
Mamas, I would love to know how your transitions from maternity leave back to work went. What helped with the adjustment? Leave me a comment – I would really appreciate your advice : )