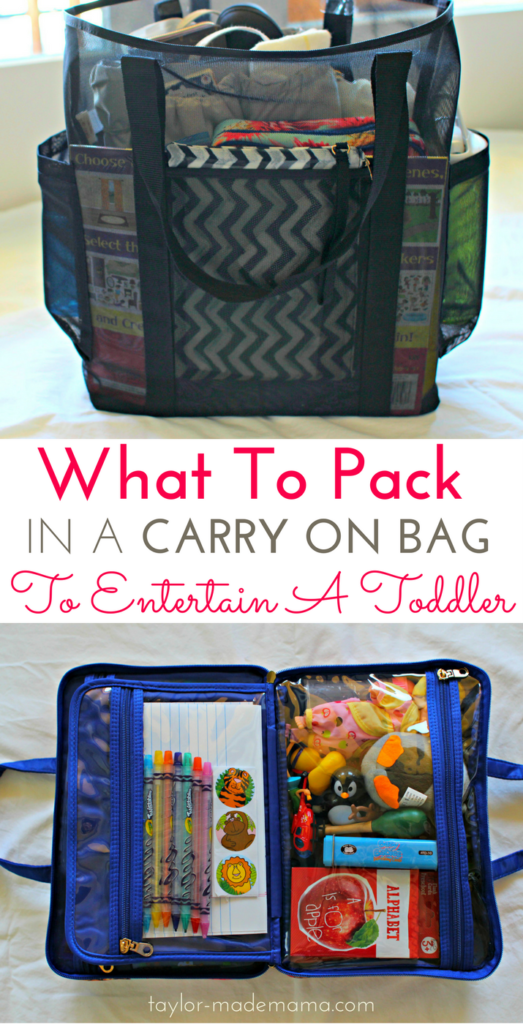 The thought of flying with a toddler with an attention span as short as they are cute for the first time (or anytime) can be downright intimidating. Taylor had flown with us before, but not since she became mobile and A LOT more active/aware.  In preparation for our family vacation to South Carolina, I spent a lot of time tapping the brains of all my been-there-done-that mama friends, "researching" on Pinterest, and brainstorming ideas to compile the perfect carry on bag to keep my toddler entertained and happy on a cross country flight.  Guess what? Our 4.5+ hour flight with a 15-month-old went off with far less stress than I envisioned – sans iPad/electronics or spending a ton of money – so I want to share what we packed, how we packed it and tips for a successful travel day with a toddler based on this experience.
Bonus – the in-flight kit I created has served as a both a car and restaurant entertainment kit while we've been on vacation as well! I hope you find this post useful when packing a carry on bag to keep your toddler AND you entertained and happy during your travels. If you have an infant, check out this post to see how we packed for one of Taylor's first flights/vacations featuring our absolute, must have packing cubes by EZPacking.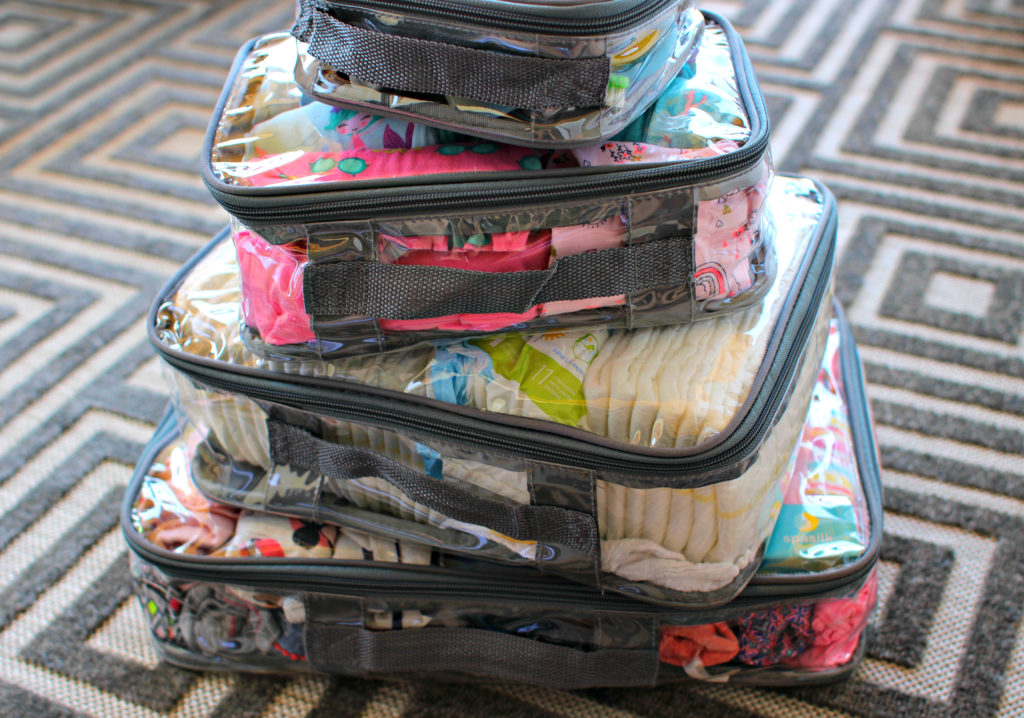 Make sure to download and print the FREE printable checklist at the end of this post (or click the photo below)!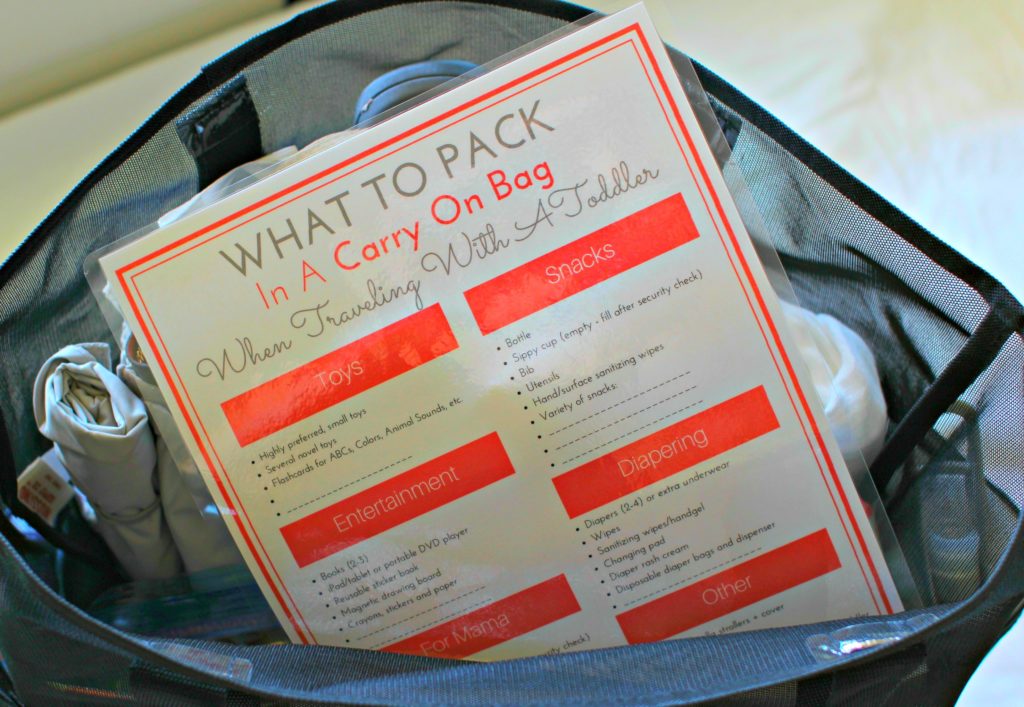 Let's start with the bag:
I snagged this mesh tote at Target for $9.99 (!!!) and think it's a perfect carry on because A) they have it in 8 colors, B) it's durable but mesh, so you can easily see and grab for anything you might need in-flight, C) it can be used as a beach bag upon arrival if you're taking a beach vacay, and D) did I mention it was only $9.99!?


What's In The Bag (and how it all fit!):

In-Flight Entertainment Kit – I included a section below with all the details on what's inside this cosmetics case turned toddler entertainment kit. I use this same bag (in this floral pattern) for my Baby/Toddler Restaurant Kit as well because it's a perfect size and has tons of storage space!
 A lightweight swaddle blanket to put over your toddler if/when they nap. Airplane cabins can get chilly!
Tote Savvy Mini Insert – Stocked with 4 diapers, pack of wipe, disposable diaper bags/dispenser, changing pad, hand sanitizer, lip gloss, wallet, keys, etc.  I pop this in and out of pretty much all my bags so that we always have the essentials on hand and organized. Check out this post for exactly what and how I'm packing my Tote Savvy for a toddler diaper bag these days.
A zippered pouch (this one from Target is only $4.99) to carry a copy of your little one's birth certificate (most airlines require proof that your toddler is under 2 years old to qualify as a "lap infant") and headphones for if and when your toddler naps. I stored this pouch in the front pocket of the mesh tote bag for easy access during our travels. I love my beautiful rose-gold, wireless headphones from Sudio – you can snag a pair for 15% off here using the discount code TAYLORMADEMAMA.
Puffs (AKA toddler crack).  I keep these on hand pretty much at all times. We only buy the Happy Baby organic brand.
Empty water bottles for mama and tot  – Fill them up once you've cleared security. I store the water bottles in the outer pockets on either side of the tote bag.
1-2 tried and true favorite books and 1-2 new books having to do with their interests, airplane travel or their destination; I suggest Richard Scarry's A Day At The Airport, and Amazing Planes.
Spare outfits for you and your toddler.
A novel toy set like this one with a wooden fire engine theme. Check Target's Dollar Section – I swear, they have the most amazing toys/activities for travel purposes on the super cheap! After I already had everything together for this trip I found mini felt board sets which would be PERFECT for the kit! There is a set of 3 felt story boards on Amazon right now that I'm considering ordering to our beach house for the return flight (another Amazon Prime membership perk!). This magnetic block set would also be a great option.
Packing tape to tape up a box for your car seat if you're bringing it with you. We had a short wardrobe box as that was the only box that would fit the dimension of our beloved car seat (Maxi Cosi 70 Convertible – on sale for only $199 right now on Amazon!!). We also brought a roll of bubble wrap to line it with. You can also check it in one of these nifty car seat backpack style bags – either way, the goal is to prevent damage. We ended up making a game time decision to put our car seat in our travel stroller bag and forego the box altogether!
Melissa & Doug Reusable Sticker Pad (Adventure, Playhouse, Farm or Vehicles and Habitats)
Taylor's Top Entertainment Pick…

Number 11!!!! Although she LOVES to color, I can't freely give Taylor crayons or other drawing instruments because, at 15 months old, she cannot be trusted not to try them out for flavor… so, introducing this off-brand etch a sketch during the flight was a total win-win.  There are more expensive versions with lap pads and sound features that would be great for car travel, but this one fit the bill for function, size and the quiet factor. Taylor played with this for nearly an hour of the flight (cumulative), so I would say the $19 price tag was well worth it.  As I was writing this post I noticed that right now it's on sale for Amazon Prime members for only $10.65! Don't have a Prime Membership yet? Get a FREE 30 Day Trial here ( I PROMISE it's worth it – most things on this list are Amazon Prime eligible!). There is also a cute set of two miniature drawing pads like this if you're packing for more than one little. One of my besties recently showed me her kids' LCD Writing Tablet like this one which is only $29.99 on Amazon.com for Prime members and an even better option than the traditional etch a sketch.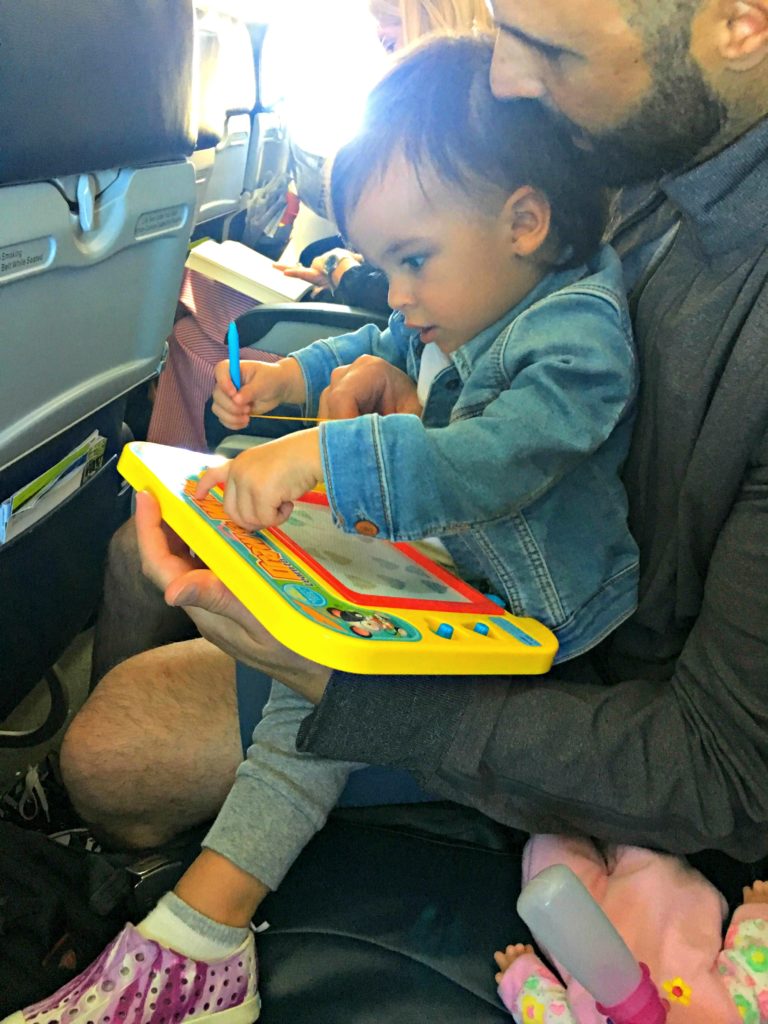 What's In The In-Flight Entertainment Kit (# 1):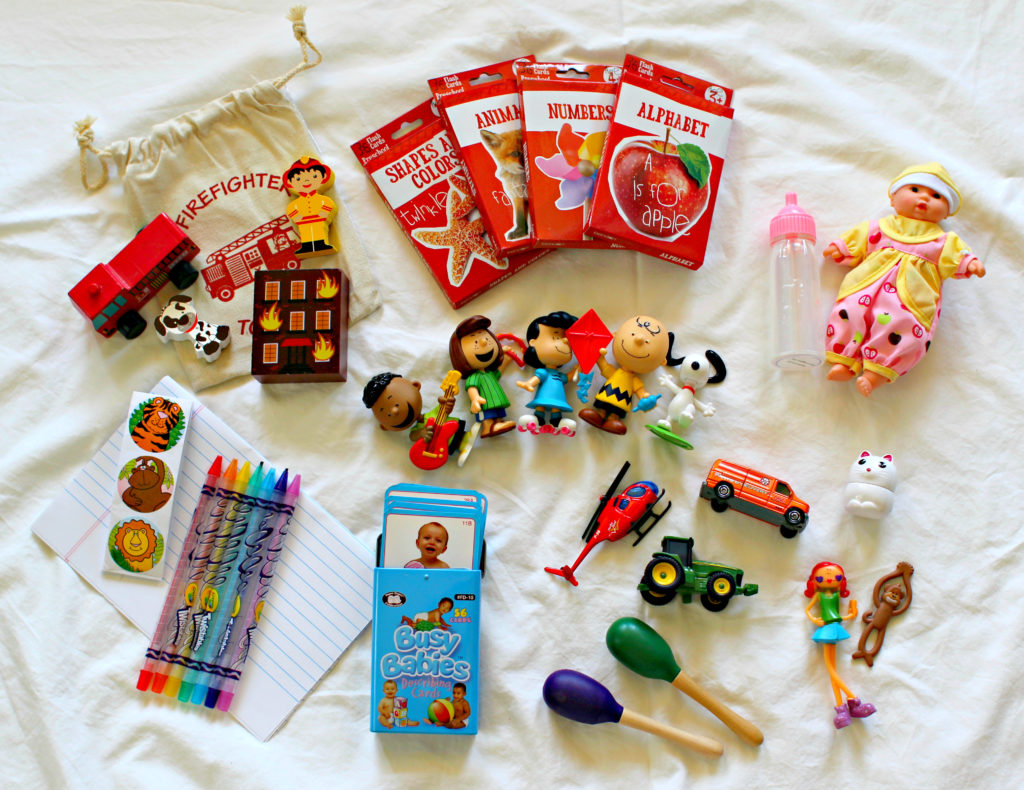 The Left Side:
When all else fails, snacks (and a big variety of them!) will be your tantrum tamers on a flight. In the left side of the in-flight kit I packed a ton of snacks I knew she would love: Annie's organic gummy bunnies, fruit roll ups and cheddar bunnies, fruit + veggie pouches, a variety or bars, 2 milk boxes, a travel set of utensils (LOVE these by OXO!), a Green Sprouts wipe-off bib with a pouch (the best, and so easy to fold up!_, and individual hand and surface sanitizing wipes by Babyganics.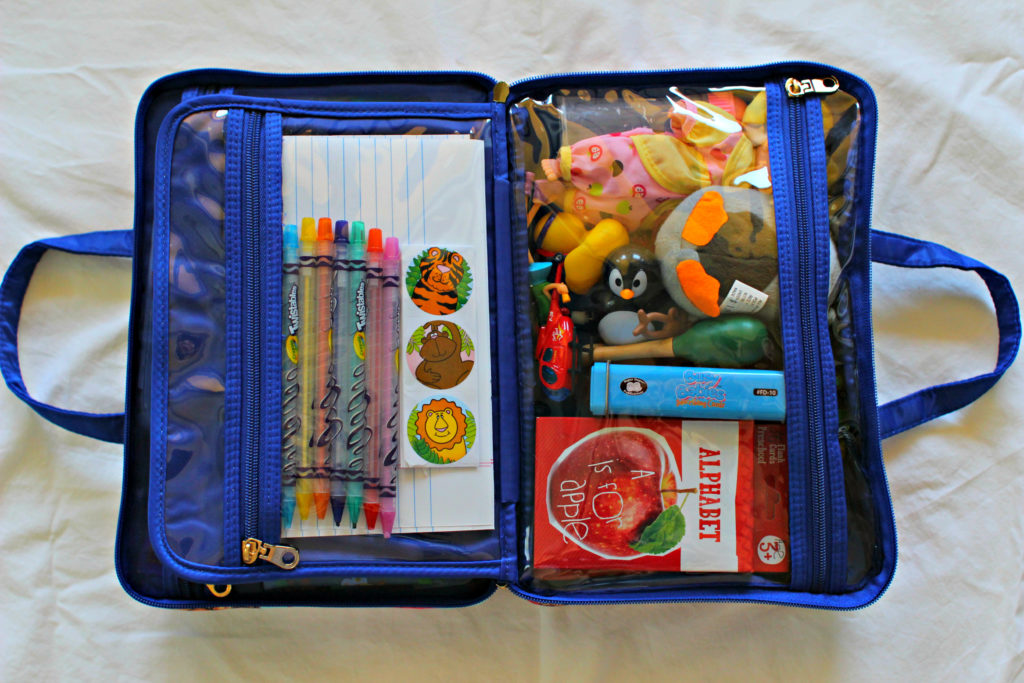 The Right Side:
Basically, I raided our local party supply store and the Target dollar bins to stock up on a ton of fun little toys, stickers, flashcards and other packable items that I knew Taylor would be interested in. I brought them out one by one, or let her pick, whenever she began to lose interest.  I actually had WAY more than I needed, so I'm happy we'll still have some novel entertainment for the return flight and/or restaurant trips on vacation! I've heard of parents also wrapping individual toys and letting their kiddo open them up one by one to add to the time/excitement.
A Speech Pathologists I worked with recommended these Busy Baby cards to work on language development. Taylor loves looking at the cute little images and hearing me talk about what she is seeing (i.e "this baby is holding a cat and wearing a hat!"). I definitely recommend any toddler mama to pick up a pack.
What I'll Pack Next Time:
Although our trip went smoothly, of course,  I'm already thinking about how to make our mom lives even less stressful. Here are a couple things I didn't bring with us this time, but likely will for the next trip based on our experience:
Snack and Play Travel Tray (top rated on Amazon.com) – good for plane, car or train travel!
A portable, foldable 
high chair like this one that I almost bought on Prime Day this year! It could easily fit in a carry-on. Fortunately, we were visiting family who let us borrow us their daughter's old Pack and Play and high chair for this trip, but in the future, we will want to bring those ourselves. The portable crib we have, use and love is this one by Baby Bjorn.
Now, onto my top 10 tips for traveling & flying with a toddler…

Top Tips For Traveling/Flying With a Toddler:
Check the TSA and your airline websites well in advance of your flight for their rules and regulations regarding travel with children under 2 years old.
You can bring your own milk or juice in a cooler like this one,  but you may have to go through a full on TSA check. One option is to wait until you get through security and buy a milk box from Starbucks (these do not require refrigeration). Some airplanes will have milk depending on the airline and time of day, but if you care for it to be organic, you're likely out of luck. I think the best option is to bring no refrigeration needed, easily portable milk boxes with you. When we arrived at our beach house, I ordered another 12 pack of organic whole milk boxes for the rest of our travel as we will not always have easy access to a fridge/milk.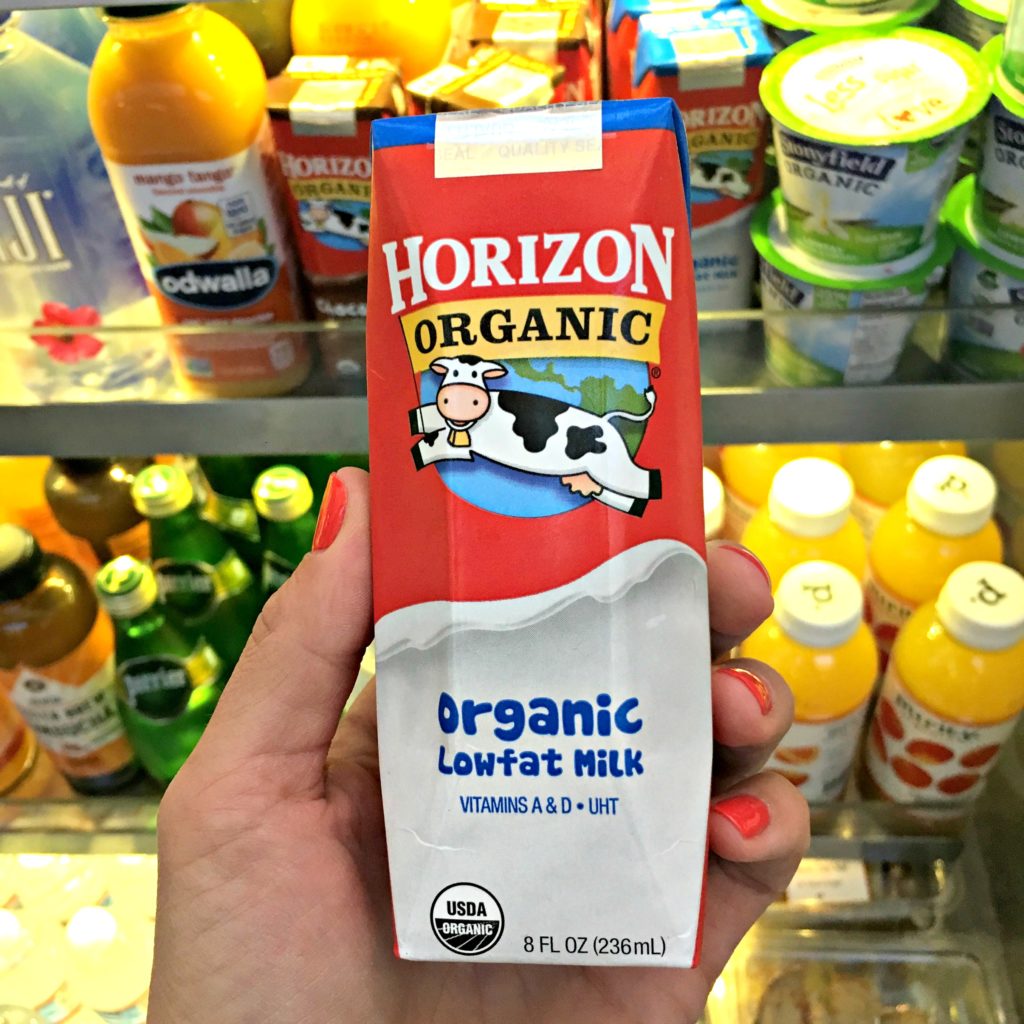 3. Put your little one (if not already potty trained) in overnight diapers for the flight initially so that they don't need to be changed as soon as they would in a regular diaper. Leaky diapers are fun for no one. Make sure they are in comfy clothes with shoes that are easy to slip on and off; we opted for Natives and they worked like a charm – definitely our new fav toddler shoe!
4. I know it isn't always possible with logistics, but try to plan your flight time around your toddler's nap if possible. We booked a SUPER early flight which was painful at 4:30 in the morning but worth it to coincide with Taylor's daily nap. We enjoyed watching the movie Lion while she snoozed.
5. I know screen time isn't for everyone, and to each their own, but if you allow it this suggestion is for you. Download shows from Netflix, Xfinity, etc.  and age appropriate apps onto your iPad or laptop. This will, hopefully, occupy your little one and buy you and your fellow passengers some quiet time. We had technical difficulties and weren't able to utilize this option on this flight. Luckily, Taylor slept for nearly 2 hours of the flight but if she hadn't we really would have missed out on having this entertainment option.
6. Bring empty water bottles in your carry on and fill them up at the airport once you've cleared security.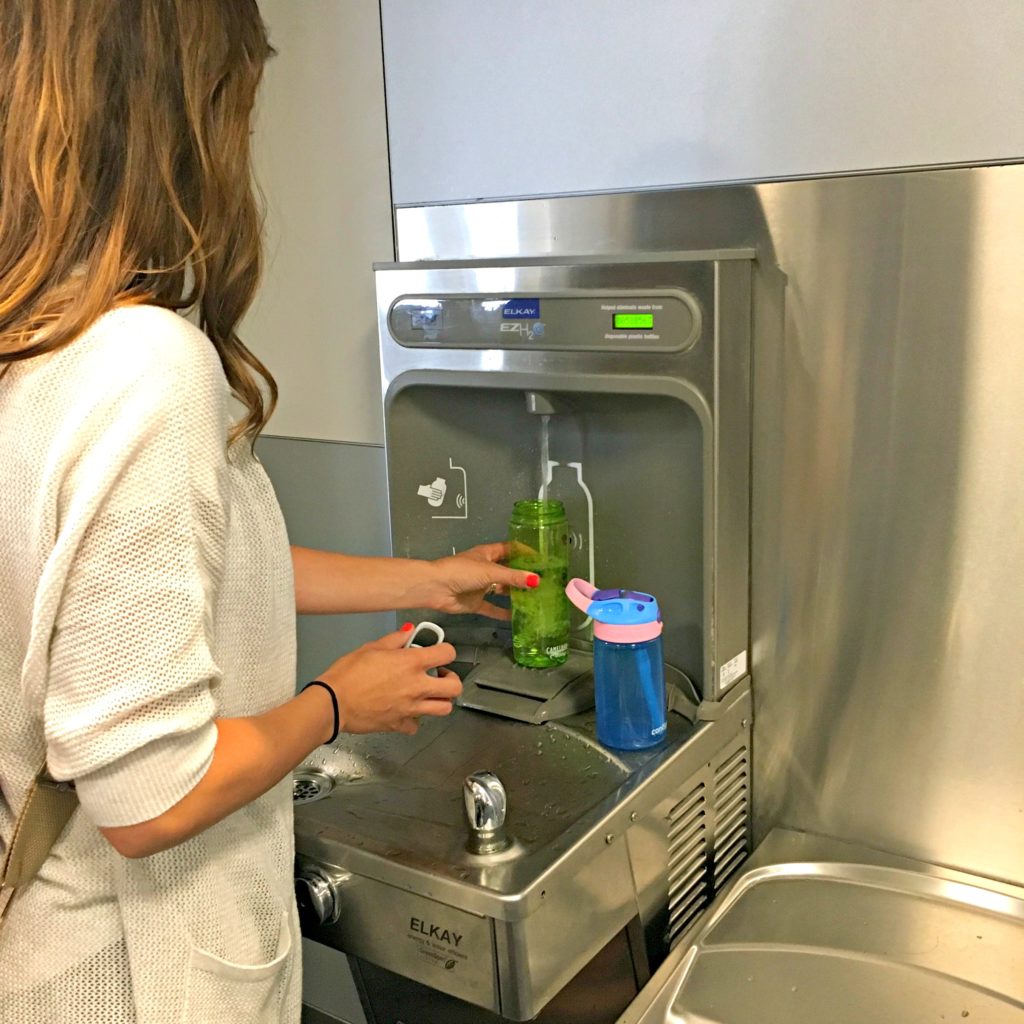 7. Invest in a  travel/umbrella stroller and umbrella stroller bag. Previously, we traveled with our  Baby Jogger City Select, but it was just too big and cumbersome with all the other luggage we needed to bring with us. This J by Jeep umbrella stroller is easy to fold open and closed and really compact. It also has a UV. You can check the stroller at the gate right before you board, but make sure to ask the desk attendant at your gate for a tag asap.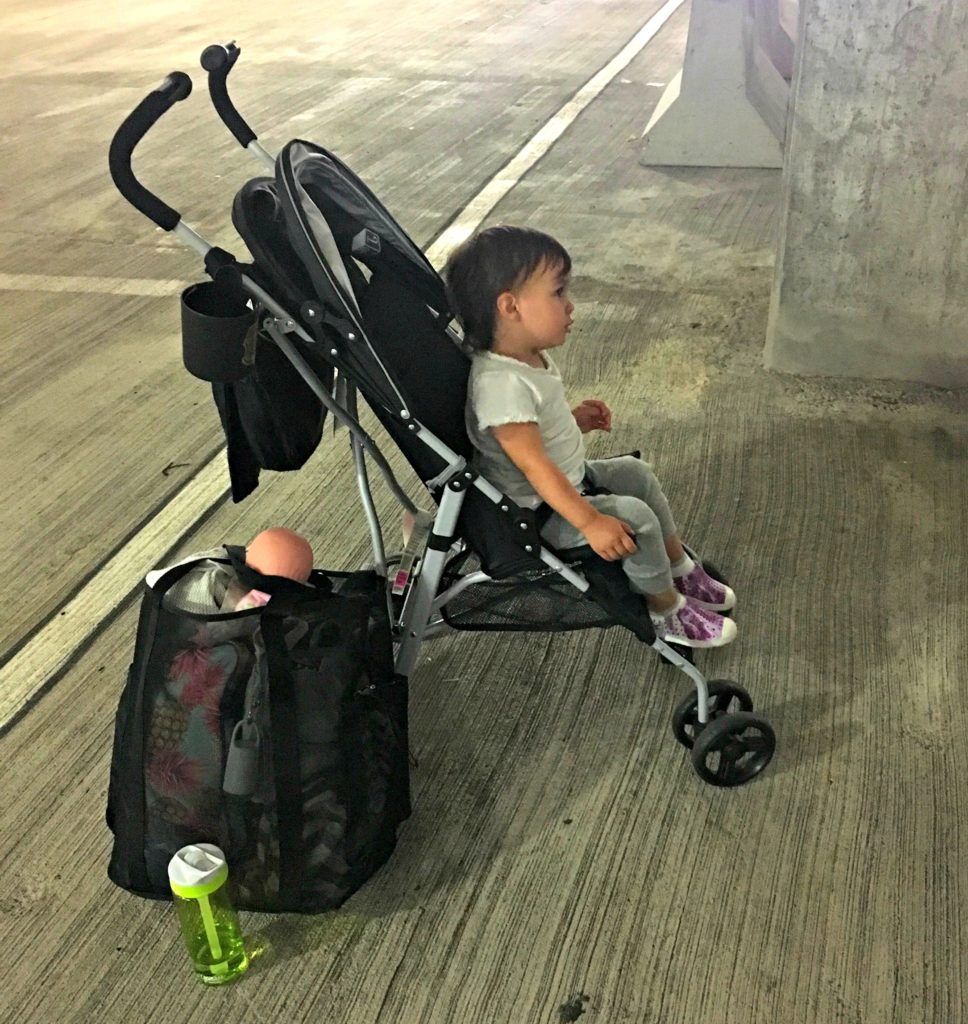 8. Walk the aisles if you sense that the native/s are getting restless and it is permitted by the captain. Generally, other passengers are going to want to see that cute little toddler's happy face when they get to get up and move around the cabin. The walk will give them a chance to check out this new environment and distract them from being confined to a seat. If anyone has a problem with it (or your toddler crying for that matter) then that is their own issue – but truth be told, #momshaming can be real on flights!
9. Arrive to check in for your flight early, call ahead, or both to ask for an extra seat if possible. Generally, airlines will go ahead and reserve a seat when a "lap infant" is flagged on the manifest and keep it if the flight is not full. The extra seat makes diaper changes, and the whole flying experience, a lot easier! By the way, this article by USA today does a great job of breaking down how to deal with how to change a diaper during a  flight!
10. My last, but number one piece of advice would be to prepare and pack as well as you can beforehand, but then try your best to relax and go with the flow because, as we all know, toddlers certainly cannot be predicted!
I truly hope there is at least one piece you can use to make your #momlife less stressful when planning and packing for your next family vacation!
Now, click here or just click on the picture below to access, download and print a copy of the packing checklist:
Be sure to check out the other posts in my Packed to Perfection Series – I'll be including free downloadable packing lists for each! Print, laminate (this laminating machine is $19.97 on Amazon.com – woo hoo!), stick the list in your bag to reference, and stop worrying about forgetting something every time you head out the door!
What other posts would you love to see in this series?
Other Ta[y]lor-made Mama posts you may be interested in: