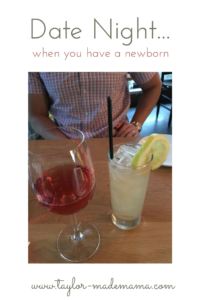 When Taylor was 2 months old, AJ and I headed out for our first date since her birth. We left her for in the care of my awesome parents and went out for a quick, early bird dinner at a great little farm to table restaurant, 31st Union.
I realized that I was giving pretty much all of my attention to Taylor [newborns tend to require approximately 110% of you], and not nearly as much to my hubby. Date night was a much needed refueling of our love tanks.
A stiff marg for him, a perfect glass of rosé for me, and the rest was blissful one on one history.
AJ and I have always loved dining at restaurants together, and have had some of our best conversations over good food and drink. It was hard to leave Taylor, but having that time as AJ + Ashley again was so sweet.  Nurturing my marriage and having a strong relationship with my husband – the relationship that created our gorgeous baby to begin with – is one of the best gifts I can give to my daughter. Not to mention that putting on actual "going out" clothes, makeup and even perfume made me feel like I was coming out of the sleep deprived, messy bun, yoga panted, newborn fog state I'd been in.
I believe that prioritizing each other/our marriage, will not only keep the romance alive, but help us to be better parents and show Taylor what a loving, healthy relationship looks like.
Cheers to that!
How do you make date nights happen? How often? Leave a comment and let me know!
You may also like: