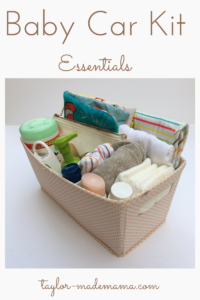 You thought you would only be gone from the house for 20 minutes and baby's just been fed and changed – no need to bring the diaper bag along…Of course, this ends up being the one time you discover a flat tire when you come back out from the store, the baby has an unexpected and rather intense blowout, a traffic accident has you basically parked on the freeway 5 minutes from home, out to eat and a stomach bug hits (enough said)….insert other unexpected and/or messy situation…. Well, it's a good thing you've got your emergency car kit stocked and ready to go!
Maybe it's because I'm the daughter of a Boy Scout Master, but in my book, it's always a good idea to be over prepared. This post will outline all the essential back up supplies you and your infant would need in case of a mess, change in the weather, delay, mom brain forgetting to re-stock the diaper bag, etc. I hope this visual and list can give you some ideas to create or add to an existing baby car kit.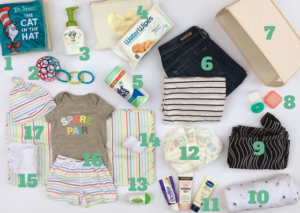 Baby Car Kit Essentials
To access the printable Baby Car Kit Checklist use this link or just click on the image below.  Print it, shop with it, then keep it in your kit to make sure you're always stocked up. As a subscriber, you can access and download this and any of the other printables (including Toddler Car Kit and Toddler Diaper Bag Checklists you can use a little later on!!)  from my website by going to the Printables Library Page and entering the password I emailed to you when you subscribed.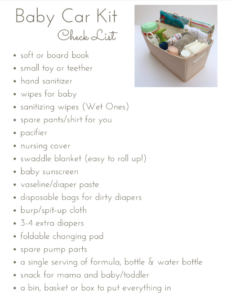 1.Soft book – if you get stuck somewhere unexpectedly having a book on hand would be a great distraction and keep boredom at bay. Taylor loves soft books like this classic Cat In The Hat and they can be easily stuffed into your car kit. The Very Hungry Caterpillar is also a great choice.
2. A Toy – for the same reasons as above, a toy or two will come in handy. Taylor is entertained by these rings for shockingly long lengths of time, and an Oball is another standby favorite. For more on developmentally appropriate toys for 0-4-month-olds read this post.


3. Hand Sanitizer – I have one of these Babyganics hand sanitizer pumps in our change table caddy, nursing station basket and in the emergency car kit. I like this brand because it is alcohol and paraben free, yet 99% effective in killing germs. And, trust me, you'll wand a healthy pumping of sanitizer after a major, on the road blow out.
4. Baby Wipes – Water Wipes are my go to – they are natural, gentle and only have two ingredients (99.9% pure water and 0.1% fruit extract) therefore you can use them for wiping baby's bum, hands and even face.
5. Sanitizing Wipes – You may very well need these to wipe down a car seat, trunk bed, etc. I'll leave it at that ; ) Our new favorite wipes brand is Babyganics; I have been buying these individually wrapped packets and stuffing them in my car, pockets diaper bag, portable high chair pocket, purse, basically everywhere:

6. Spare Outfit for Mama – I have this striped top in several colors. It's long sleeved, yet light enough to use as a spare in any season. Add a pair of jeans that can be worn with casual or dressier shoes, and you're good to go in case of a blowout or spit up emergency.
7. Storage Bin – I bought a cute bin for $5 on sale at Target, but these Ikea boxes are cheap and would work perfectly. I have 4 or 5 sets of these. The rest of the set can be used for nursery drawer organization as shown here: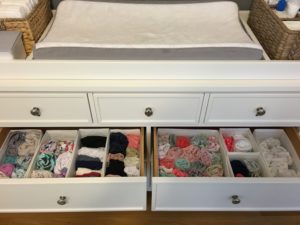 8. Extra Pacifier – I like storing extra pacis in small Tupperware containers like these or these. Taylor will only take the Soothies brand.
9. Nursing Cover – You may or may not be nursing and/or concerned with being exposed when breastfeeding, but I like having a spare nursing cover in the car just in case. Here are
my favorite styles:
10. Swaddle Blanket – my favorites are these Aden & Anais muslin blankets – I use them to cover Taylor's car seat to shield her from the sun, and also to keep her warm when it's a little cold or windy out.
11. Baby Sunscreen & Diaper Creams – these are totally up to your preference, but I personally feel most comfortable using this Neutrogena Pure & Free baby sunscreen on Taylor.
12. 3-4 extra Diapers
13. Diaper Disposal Bags – I have these Munchkin bags and dispensers in my diaper bag, daycare bag and car kit (click on the links to find out exactly what I pack in those bags!).
14. Pair of Socks
15. Burp Cloths – I have 4 packs of 10 of these cloth diapers that I use as burp cloths. The will come in handy when wipes just won't cut it.
16. Spare Pair Outfit for Baby – Seriously, just grab a onesie, a pair of pants and a beanie or hat that you already have – you don't need anything fancy. Make sure to keep the size of your spare outfits/diapers updated for baby! I highly recommend creating a "spare pair" set from Primary.com. They have the best baby basics in SO many different colors, for really reasonable prices (all under $25!) – plus, you get 20% off your first order (click the banner below to shop)! To learn more about Primary and some of my other mama must-haves check out my Resources page.
Here would be my recommendation for a spare pair outfit:
17. Changing Pad Clutch – there are so many versions of this available. I have this one and really like it, but there are several other great options like this one or this one.

Other Miscellaneous items to keep in the car:
A Restaurant Kit – create a Restaurant Kit with all the essentials you need to reduce the stress of dining out with babies and keep it in the car alongside your Baby Car Kit. You'll find a full list of contents for babies and suggested additions for older babies and toddlers, as well as 10 tips to make dining out with a baby less stressful in this post.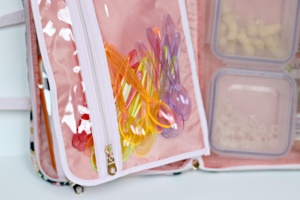 A Grocery Cart and High Chair Cover –  it's just more sanitary than plopping her down without wiping down the surface with sanitary wipes I may or may not have with me…



Feeding-related items

–
*A spare bottle, single serving of formula and a sealed water bottle to use for mixing. I did not include this in my photos as I am still exclusively breastfeeding, but if and when I switch to formula this will be a must-have in my car kit. If you have a toddler or older kiddo, definitely include an emergency snack in case you get stuck somewhere! For babies just starting to eat solids, these Happy Baby meltable yogurt snacks are perfect to keep in the car in case of "hanger" in an unexpected situation:

* I keep a bag of spare pump parts in my car at all times in case I forget to restock something in my pumping bag the night before work. Read THIS post to find out exactly what I pack in my pumping bag for work. If you're a nursing/pumping mama I also recommend having a manual pump in your car in case you get stuck somewhere away from baby unexpectedly and need relief.
So there you have it – everything you need for a well-stocked baby car kit. If you want to know what's in my diaper bag and how I keep all the little baby things organized, check out THIS POST!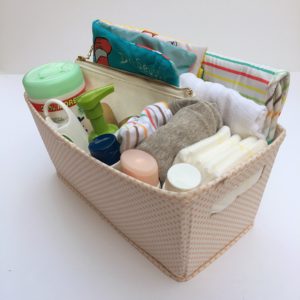 If you liked this post, check out other posts in this series: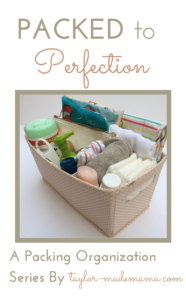 You may also like: