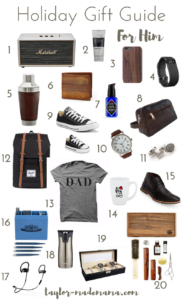 This post contains affiliate links for your convenience. All recommendations are mine (w/ input from a few men in my life!)
I didn't discover "gift guides" until recently via Pinterest, and sure could have used them in years past – especially when it came to shopping for my hubby/men in my life!  To create my holiday 'Gift Guide For Him', I polled my husband, and solicited suggestions from my friends' husbands, all who have great taste; You're sure to find a gift or two from this list that you'll feel excited to give to the men in your life!
1. Wireless Bluetooth Stereo Speaker // 2. Anthony shave lotion // 3. Wooden phone case // 4. Fitbit (on sale now) // 5. Cocktail Shaker (on sale now) // 6. Billfold (less expensive version here) // 7. Beard oil // 8. Leather toiletry kit // 9. Daddy & Me Converse AllStars // 10. ILY Couture Watch // 11.Herringbone Cuff links // 12. Backpack (Daddy diaper bag) // 13."Dad" Graphic t-shirt // 14. ILY Couture "Mr. Santa" Mug // 15. Timberland Boots (less expensive version here) 16. Metal collar stays // 17.Wireless in-ear sport headphones // 18. Travel mug (on sale, and 9 colors to choose from) // 19. Watch case (only $12.99) // 20. Beardsman's Kit  
Have you found any gifts for the men in your family? I'd love to know – I have a few more to shop for this season. Hopefully you'll snag a few items from this list to spoil your guy!
P.S. Thanksgiving is next week! If you need some recipe/meal plan inspiration check out this post and download the free meal planner! Annnnnnd, if you don't already have a super cheesy cute set of matching family pajamas, check out these from Hanna Andersson – I literally cannot wait to wear ours!
You may also like: