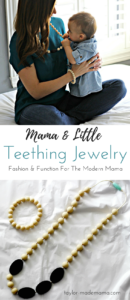 Taylor has been steadily teething since she was 3 months old, and currently has mouthful of chompers, 6 to be exact, at only 9.5 months old. I know some mamas are not okay with this, but I've definitely given her Infant Tylenol  before bed and employed a variety of teethers  over the last 6 months to help her get through the discomfort. The winners of the MANY versions we've tried are this teether/pacifier combo and this ergonomic one by Dr. Brown's, a banana shaped terry cloth teether by Sassy, a frozen ring similar to this one, and these organic teething wafers by Happy Baby that Taylor loves to munch on.
About bout a month ago, at the onset of her sixth tooth, Taylor began to employ a  new, all-natural teething remedy which involved biting my shoulder, belly, boob, arm, chin, etc. as hard as she could for relief. Fun, I know… Per usual, I took to Pinterest to troubleshoot this problem. Apparently, one way you can redirect this biting behavior is to offer your infant something appropriate to teeth on straight away and calmly say something like, "no biting mama." I didn't think it was very feasible to carry around a traditional teether in my hand or pocket all the time, and I knew I needed something I could provide to her instantly. Fortunately, I discovered the oh-so-stylish Mama & Little teething jewelry that I can have on and accessible anytime I have Taylor with me.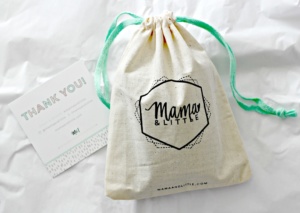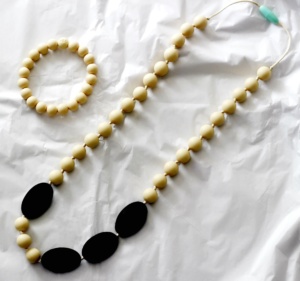 I now try to wear my necklaces and bracelet as often as possible when we are out and about so that I can instantly offer Taylor an appropriate, baby-safe silicone teether. It's so easy for her to just grasp at my accessory, chomp down on the beads and get some (appropriate) relief. This functional yet on-trend jewelry also adds an element of style to my outfits as well – I don't think anyone would ever know these pieces are meant to be teethers!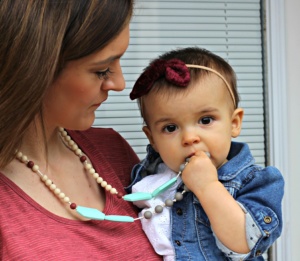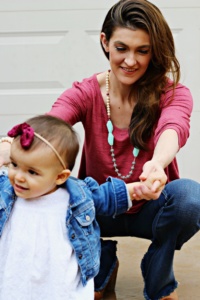 A few reasons I'm a Mama & Little teething jewelry fan:
1) the exposed cord design at the neck of the necklaces so that your hair doesn't get tangled up in the silicone beads (genius, right?),
2) they launch a new collection each season, with on-trend colors and styles so these are actually necklaces a mama would want to wear sans drooly babe, and
3) each piece comes gift wrapped and in a super cute drawstring cotton pouch that you can use to keep the jewelry clean in your purse/diaper bag when you're on the go and not wearing it.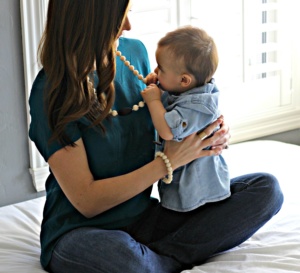 So, if you have a teething baby and a mind for fashion, or are looking for a unique gift for a baby shower or mama-to-be (they also carry Gift Cards!), check out the 19 original necklace designs and coordinating bracelets on the Mama & Little website.  
Use the code: TAYLORMADE at checkout for a 15% discount!
Taylor's outfits // Kardashian Kids (chambray dress), Baby Gap (white eyelet top and denim jacket), Headband (KRZA by Krystle Dawn), Primary.com (black leggings – the BEST!)
My jewelry // Frida Silicone Teething Necklace, Rachel Silicone Teething Necklace (Black Licorice) and the Michelle Teething Bracelet (Cream)
My shirts // Stitch Fix  (LOVE this service and can't wait to share more details with you in an upcoming post)


Other Ta[y]lor-made Mama posts you may be interested in:
This post contains affiliate links for your convenience. If you utilize a link to make a purchase, I make a small commission at no cost to you. THANK YOU!
You may also like: