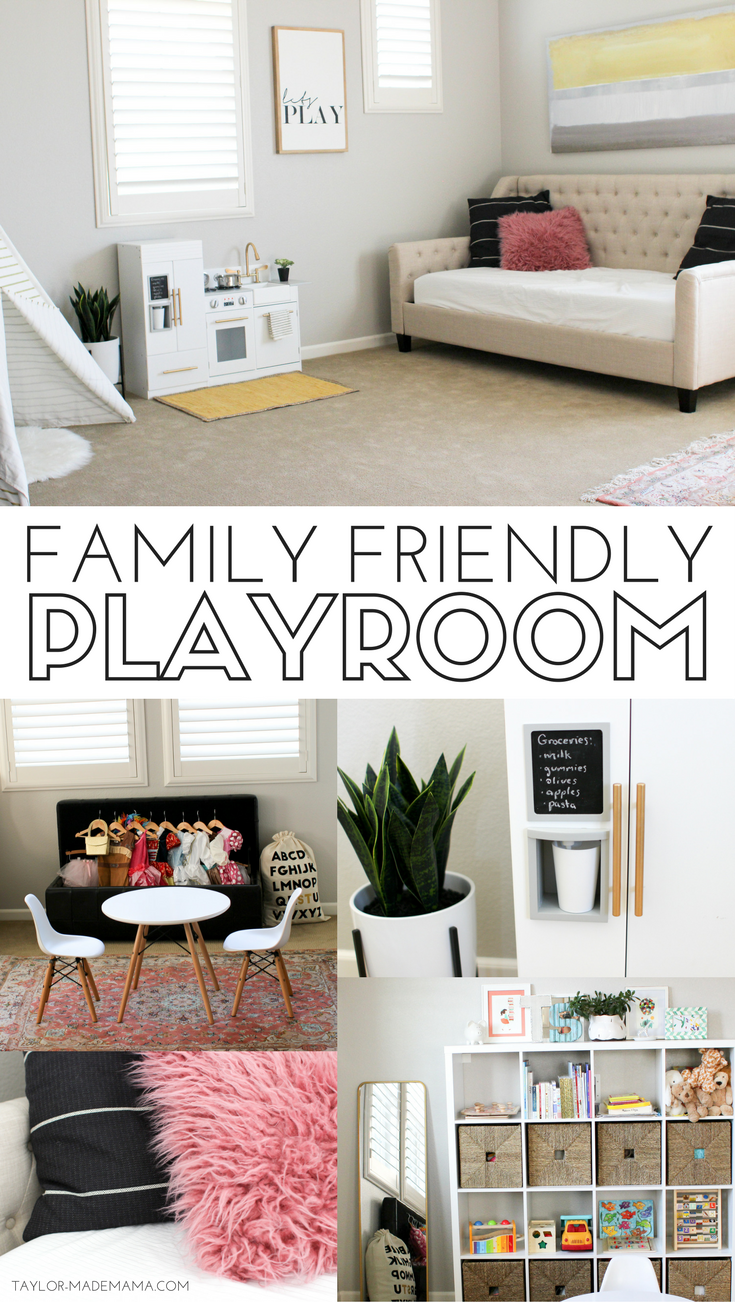 This post includes some affiliate links. I may make a small commission if you purchase an item through my links. See the full disclaimer in my footer for details. As always, I only recommend products I actually use and enjoy. 
After completing Taylor's Modern Nursery 2.0, my next project in our new home was to create a modern, family-friendly playroom out of the loft at the top of our stairs. It's the first and only thing you see when you walk upstairs (which is MANY times a day in my case), so I wanted to make it both functional + fun for Taylor and her friends, but also aesthetically appealing. The result is now my favorite room in our home, and I'm so excited to share it with you today.
I linked everything I thought you might be interested in at the very end of this post!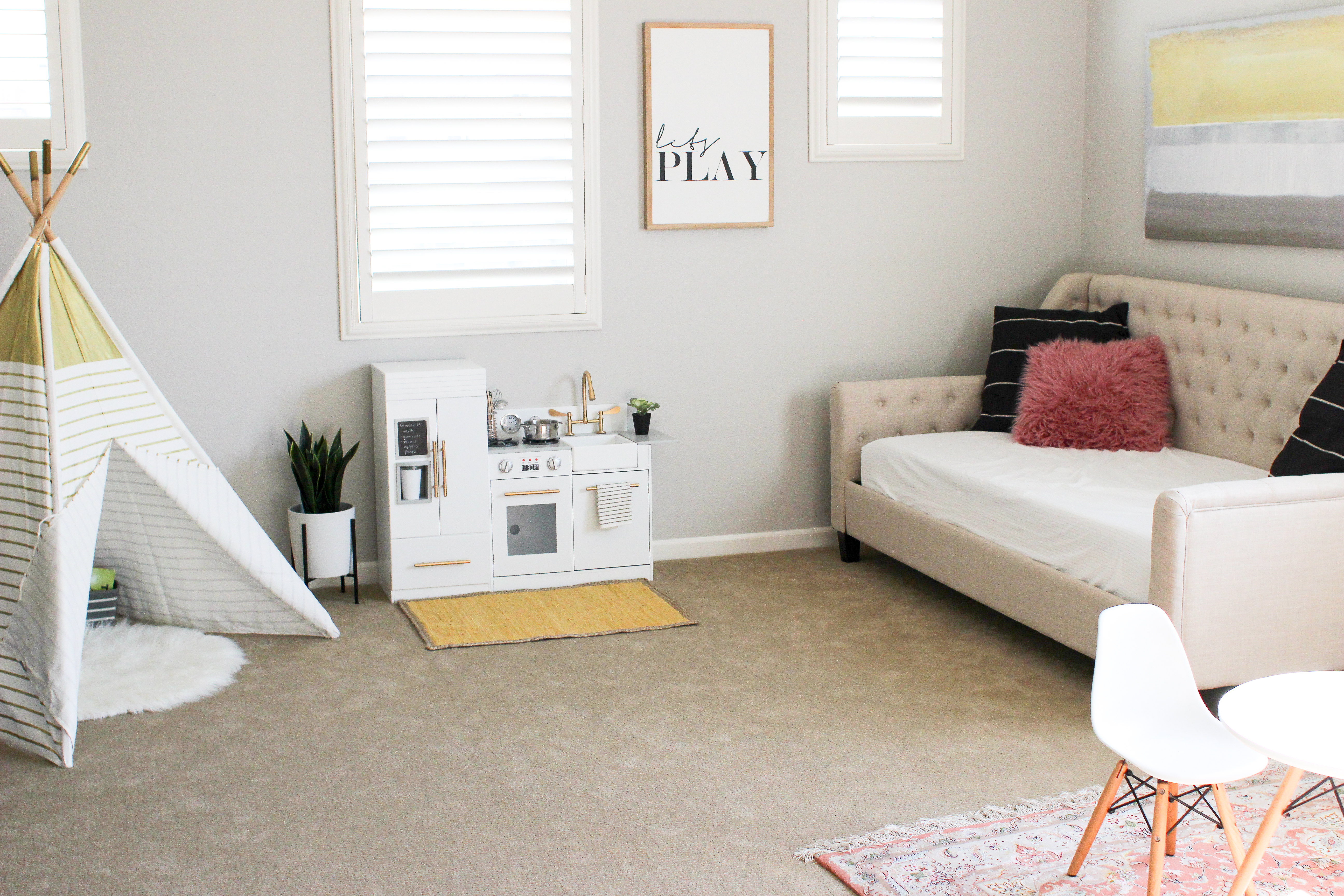 Creating A Space For Imaginative Play + Relaxation
What are your best memories from childhood, and do you intentionally try to recreate opportunities for similar memories for your own kids?
When I think back on my childhood, I am especially grateful for memories of imaginative play with friends. Sometimes I laugh at some of the activities we came up with! I credit my friends' and my own mom for fostering such creativity in us by providing dress up clothes, helping to construct epic forts out of pillows and chairs, and generally providing us with tools, space and freedom to create our own worlds during play time. I want Taylor and her friends who come to our house to grow up with these special, formative play experiences as well. You can read about how playtime figures into our toddler + stay at home mom routine in this post!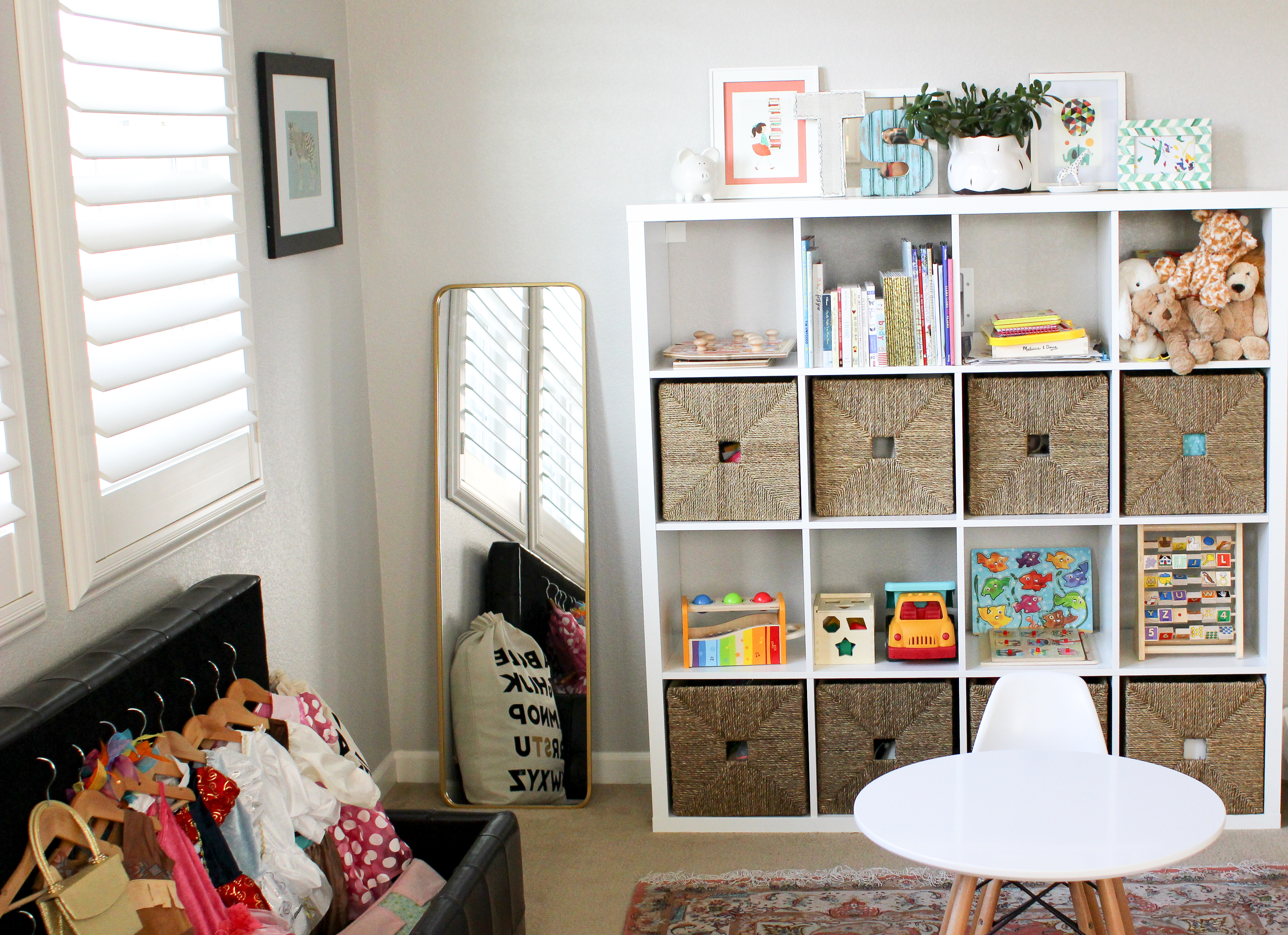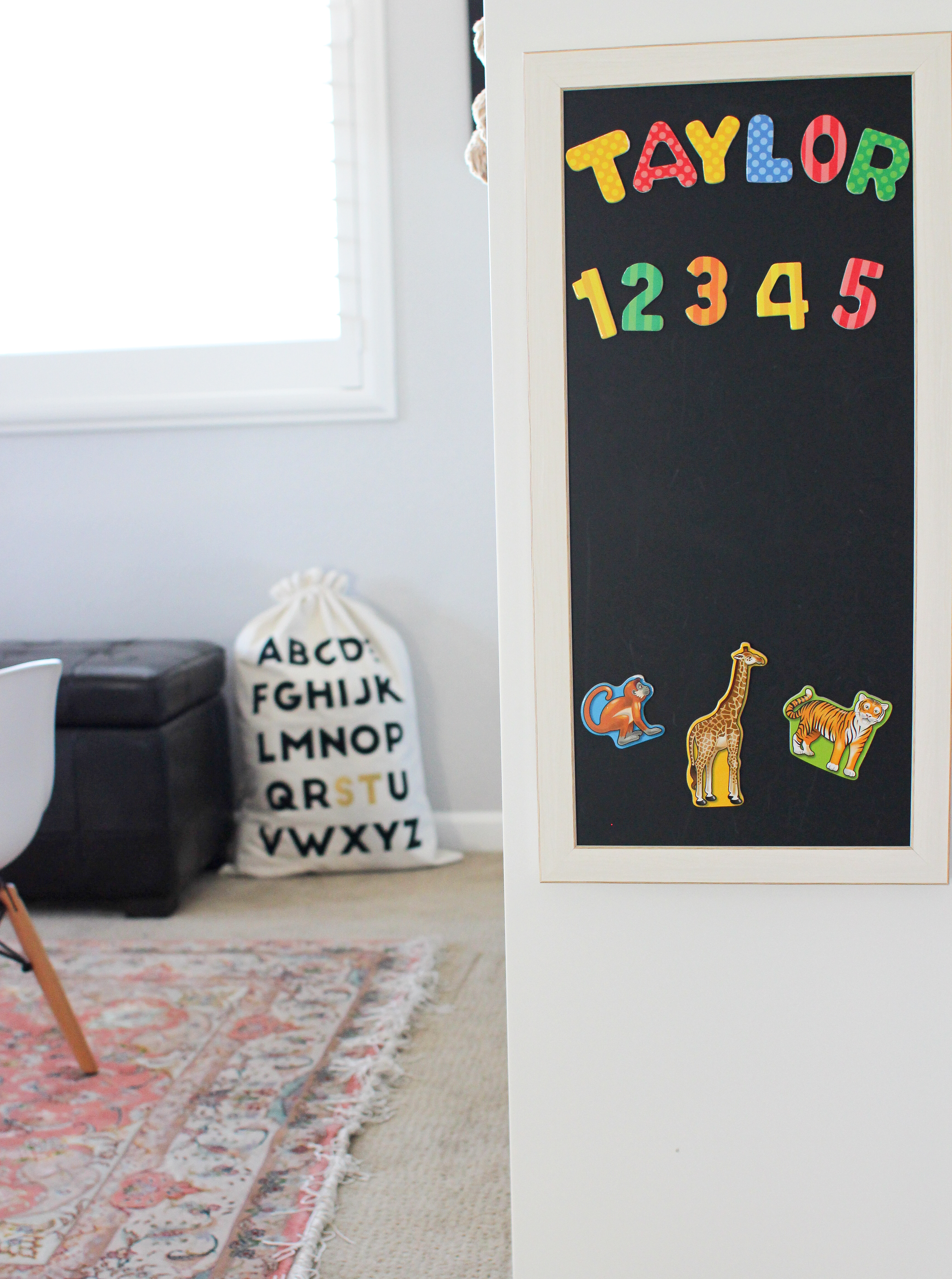 Imaginative Play + Dress Up:
Now that I am working/staying at home with Taylor, it's been such a blessing to have a dedicated area for her to play and be creative in on her own and with her buddies. I look forward to seeing her grow into this space, make memories with dear friends, and develop her play skills over the years to come!
The Kallax bookshelf and Knipsa seagrass baskets from IKEA were great purchases, if I do say so myself – ALL of T's toy and book storage for less than $200.  I rotate the toys, books, balls and puzzles that are in the reachable boxes about once a week, and keep a couple of them empty so that she doesn't have too many options at once (less mess for mama to clean up!). In the upper boxes I store toys she has outgrown, and art and craft supplies I don't want her to have immediate access to.
And, before I forget – how adorable is her Arabian Princess costume from Little Adventures Dress Ups? She has an entire trunk full of Little Adventures dress ups because I couldn't choose just one! Her dress-up trunk is just an old ottoman I had with holes cut into it for the wooden hangers. I love it because it's the perfect size for her to open and choose the costume and accessories she'd like to wear on her own now! When we're all done, the trunk closes (hangers and all!) up leaving the room look clean and chic, and also allowing additional seating for when adults/guests are in the room. I pick up little accessories here and there, as well as stock it with my old costume jewelry, racing medals ("participation only" because I'm no track star), etc. I found this mirror at Target (I still need to actaully secure it to the wall!), which she and her friends use to admire themselves in costume!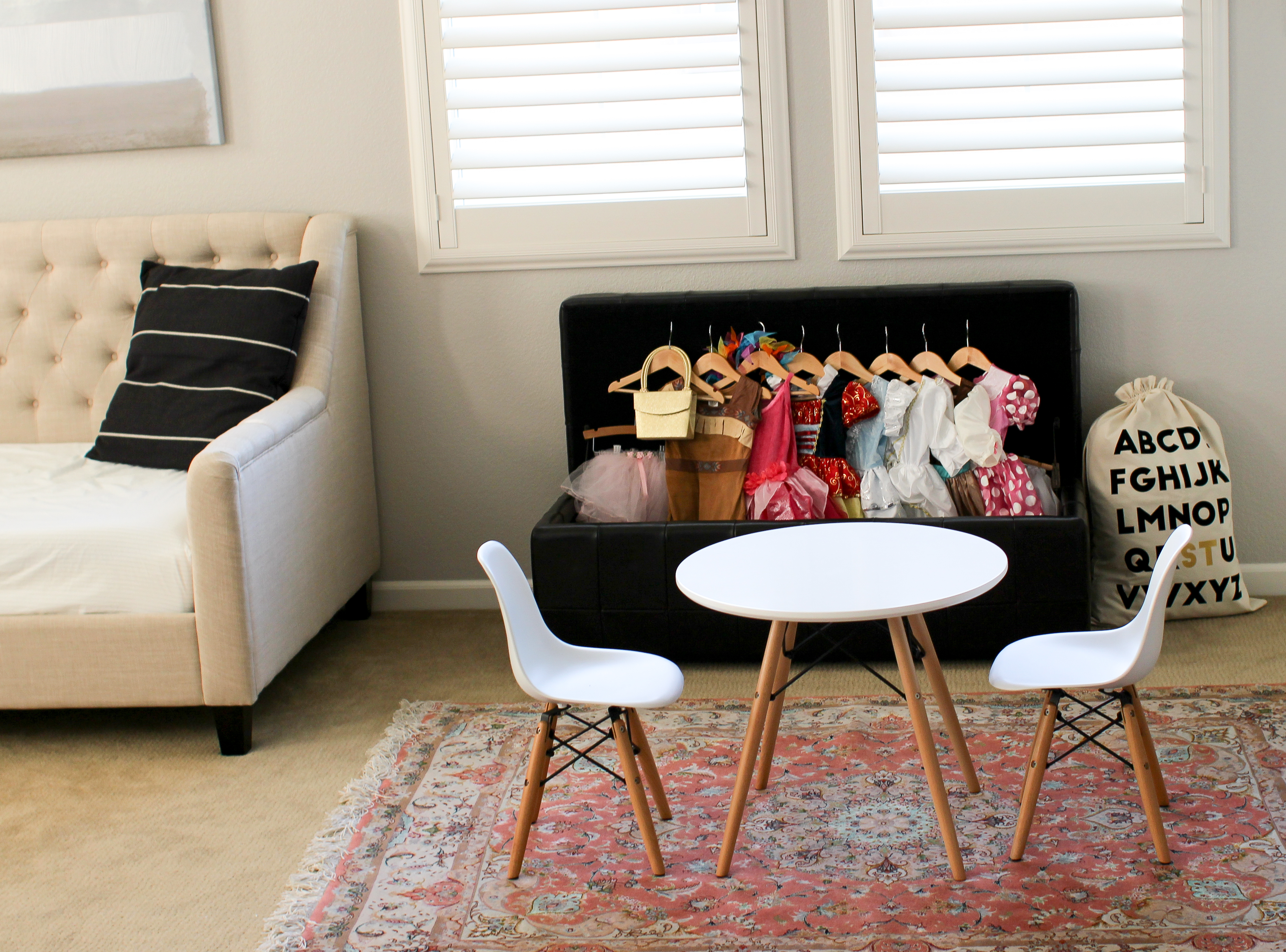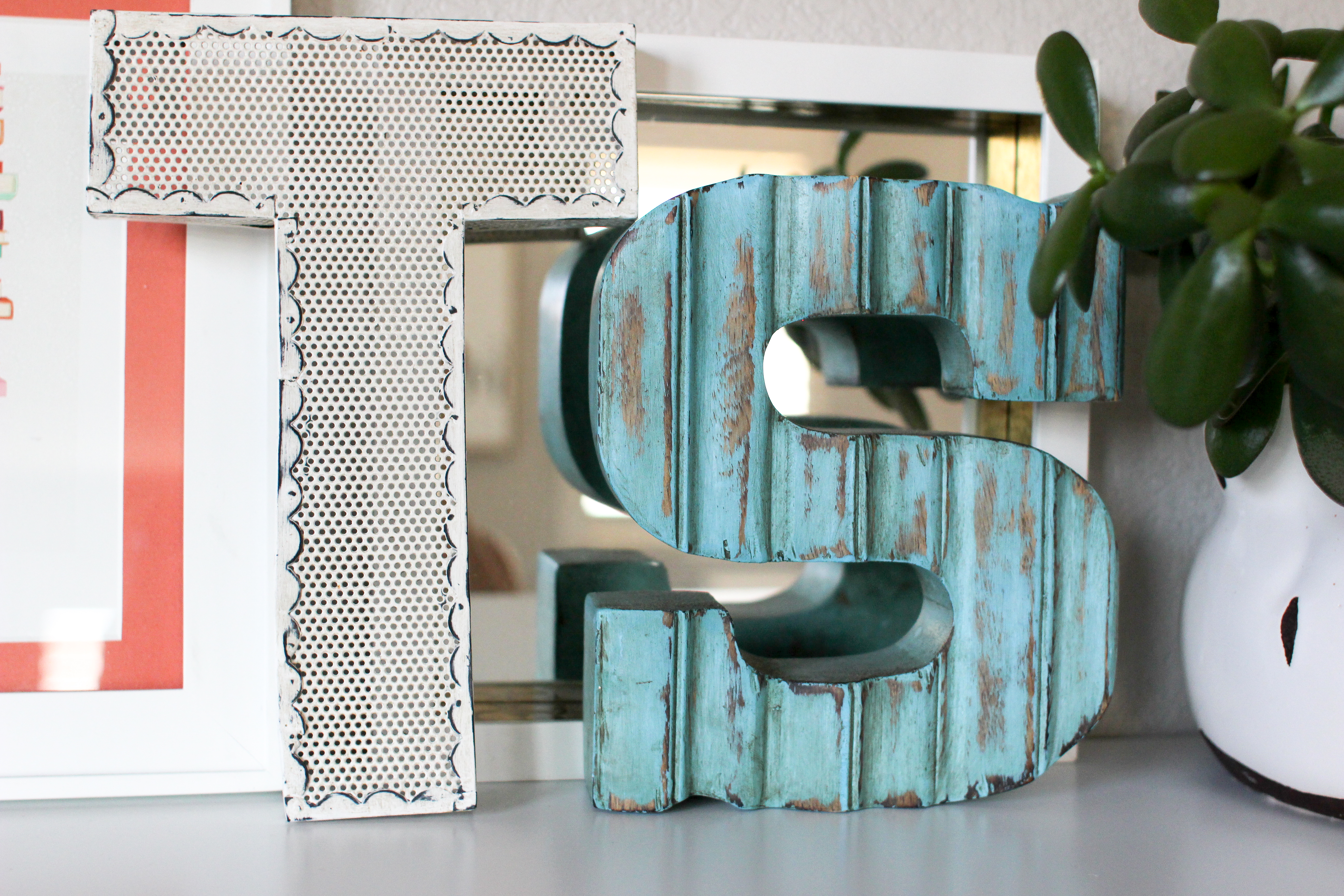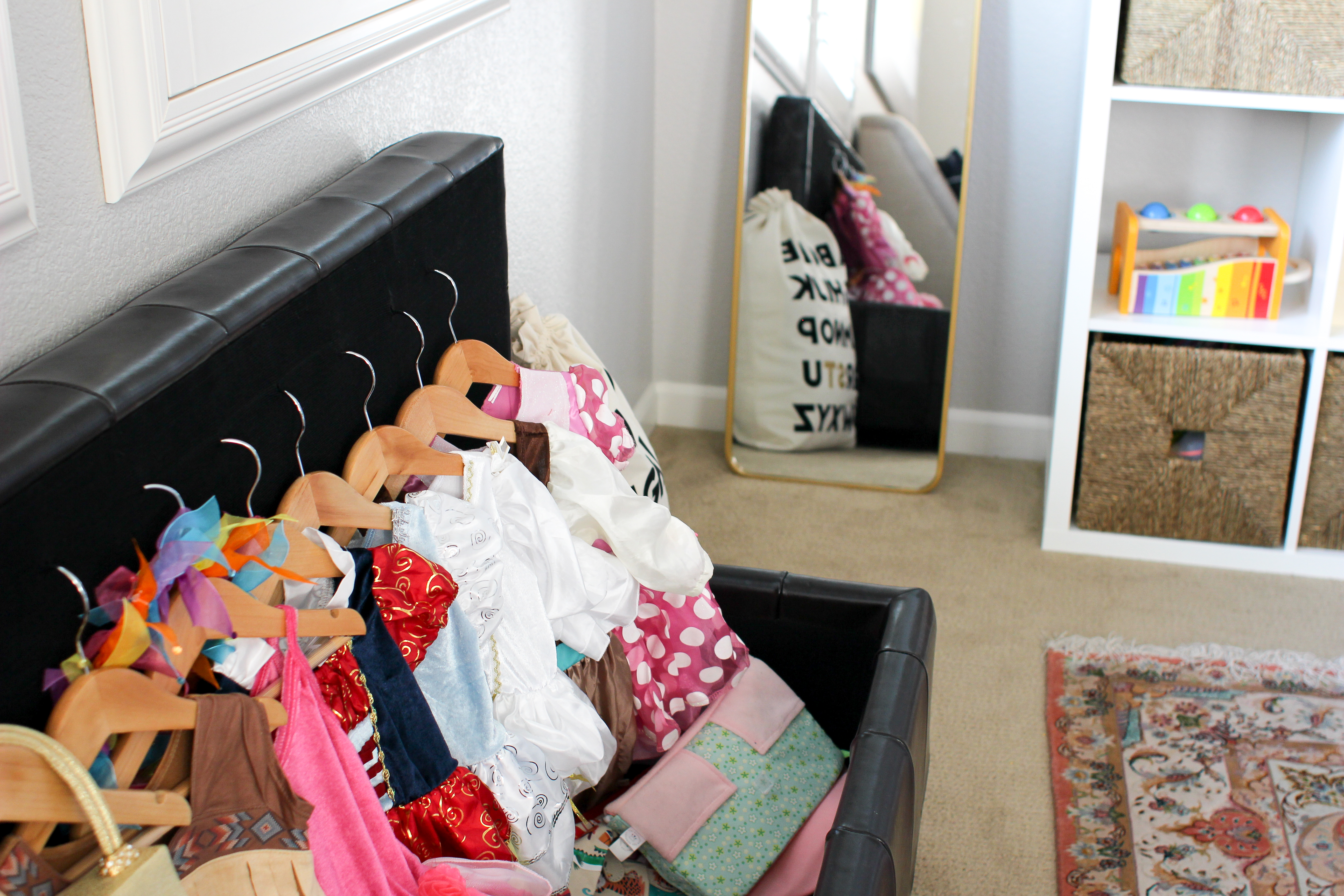 The Family Friendly Factor:
Another reason this room is my favorite  in our home is that when our friends (who also have little ones) come over, this Modern, family-friendly playroom makes the perfect spot for everyone to spend time together; the kids can play, sit at the table and chair set for arts and crafts or a puzzle, or chill out while watching a movie, and there is still plenty of room for the adults to sit + socialize. It's pretty perfect, except for the fact that we have to bring up any snacks and beverages we want to enjoy while the kiddos play! We've joked that we should just put a wine fridge up there. Which is actually not a bad idea…but, I digress.
We do have a T.V. in the playroom because, although I'm all about the imaginative play, sometimes a marathon animated movie session is just what the doctor ordered. Also, my husband and I can also watch sports, the news, etc. while Taylor gets to play. We use one half of the media center below it as a bookshelf for Taylor, and the other side is child-locked to protect our cable box, etc.
One of the best things about having this space is that the mess/toy chaos in our house is pretty much all contained in this one room upstairs, leaving our entire downstairs living area clutter-free (for the most part)!! I try and give it a once over during her naptimes (an exercise in futility, perhaps), but often wait until the evening when she's gone to sleep to pick everything up.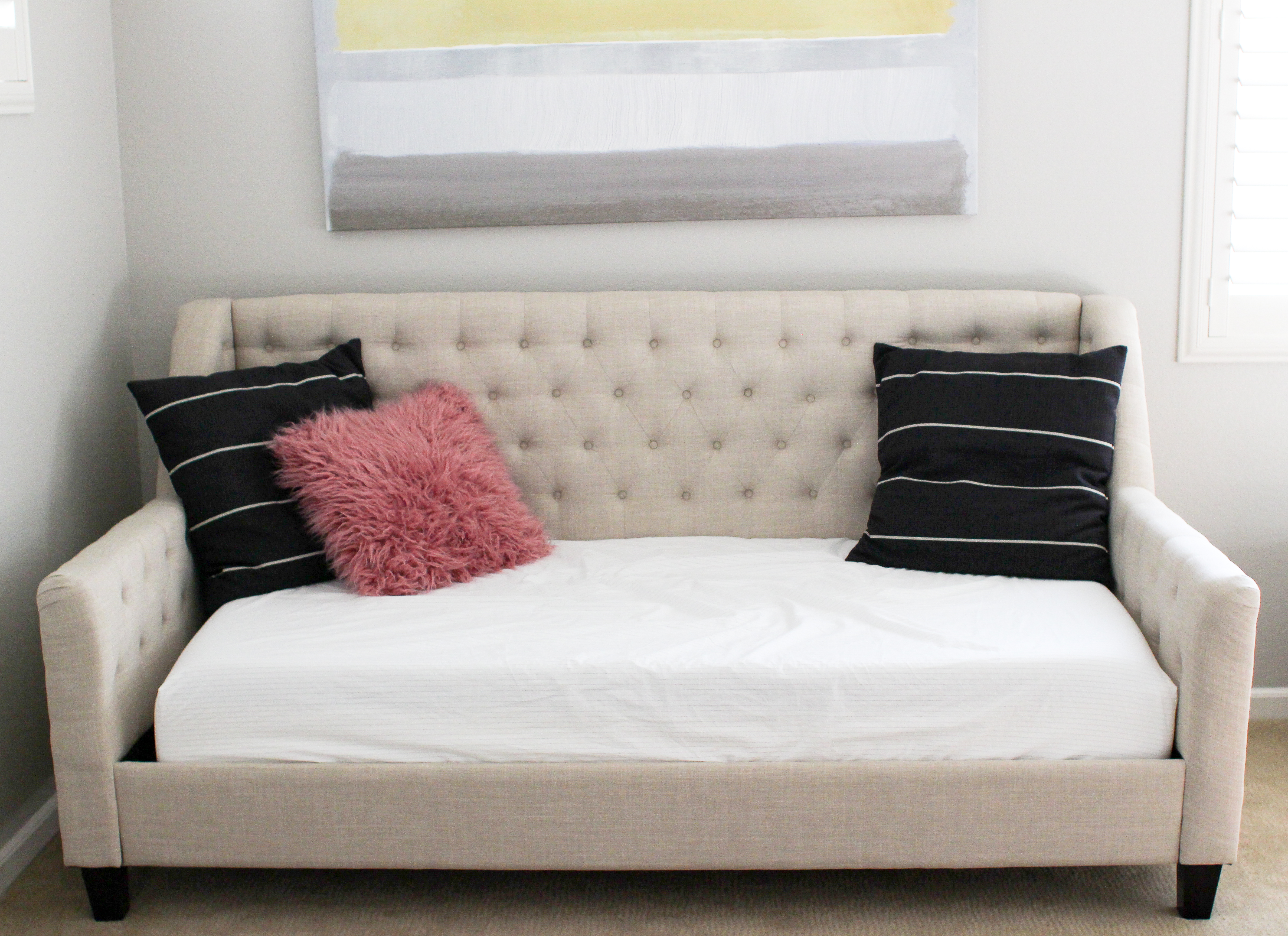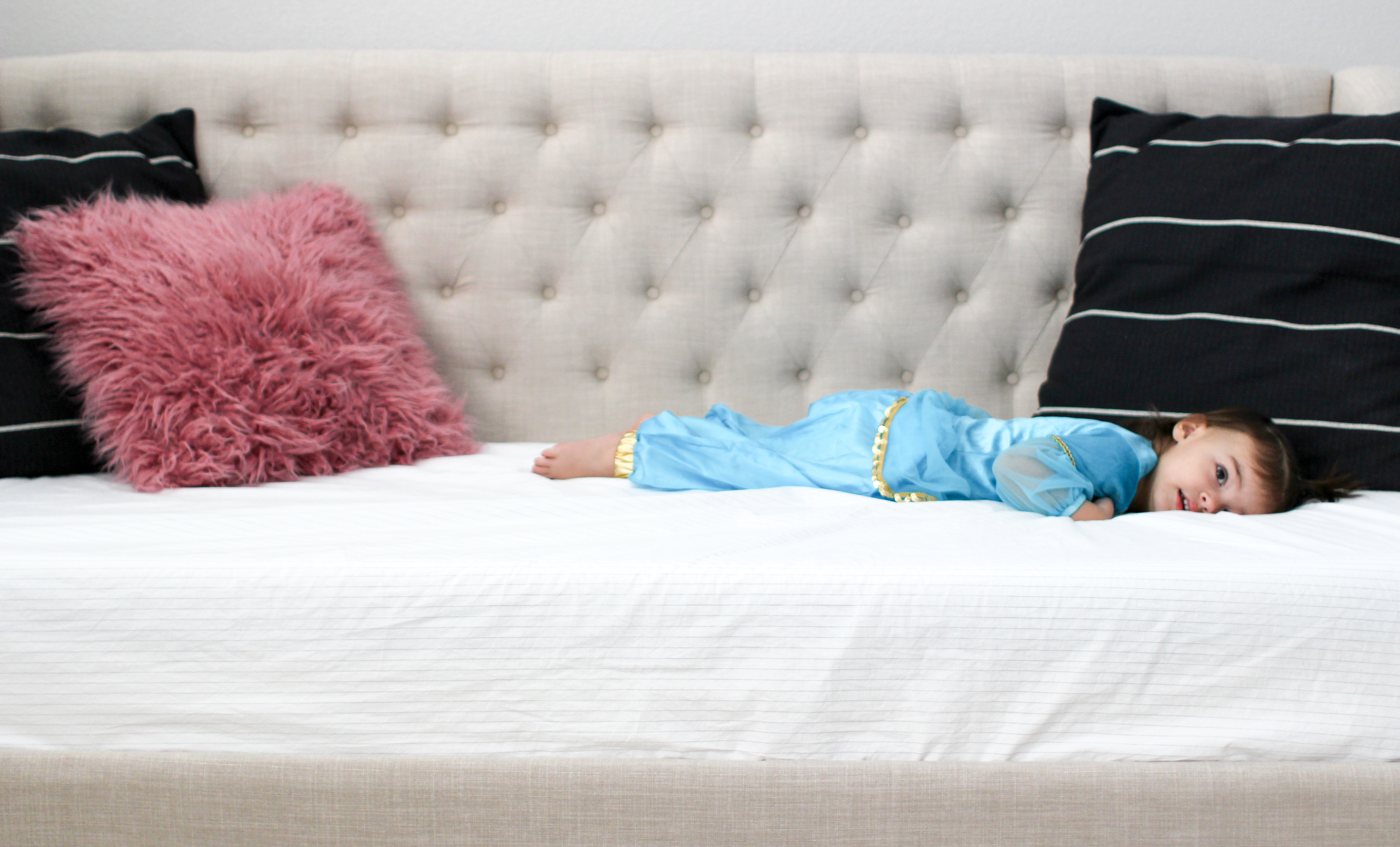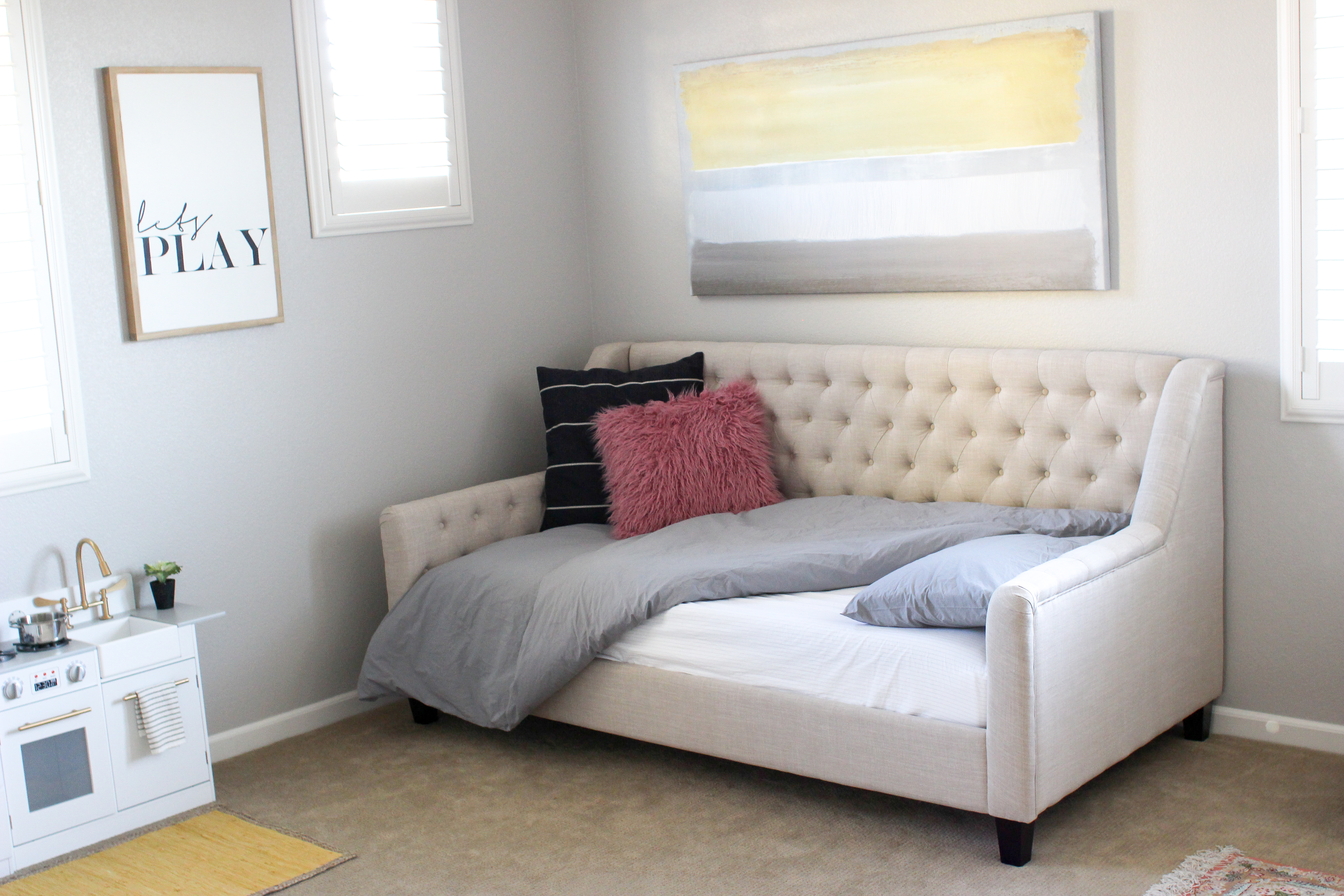 A Comfy Space To Chill:
The piece that brings the biggest comfort factor into our family-friendly playroom is this daybed I found on Wayfair.com (a close second is the "Let's Play" piece on the wall above it!)! Taylor and I often snuggle up to read books or watch a movie, or I'll sit there working on my computer while she plays independently. The daybed also doubles as an additional guest bed (or bed for me when AJ snores too loud and I can't sleep at night!), so we wanted to make sure we had a high quality, comfy mattress.  was contacted by Tomorrow Sleep at an opportune time to try out their Medium Soft and Medium Firm mattresses.  Tomorrow sleep makes the best hybrid memory foam mattress I've tried! We will probably use the twin mattress (currently on the daybed) for Taylor's first toddler bed when she is ready to make the transition, so I'm glad we have such a quality, comfy mattress for her already!  Check out this post for my review of both Tomorrow Sleep mattresses! You can also use code MAMA150 to receive $150 off any $500 purchase from Tomorrow Sleep (expires 12/31/17)!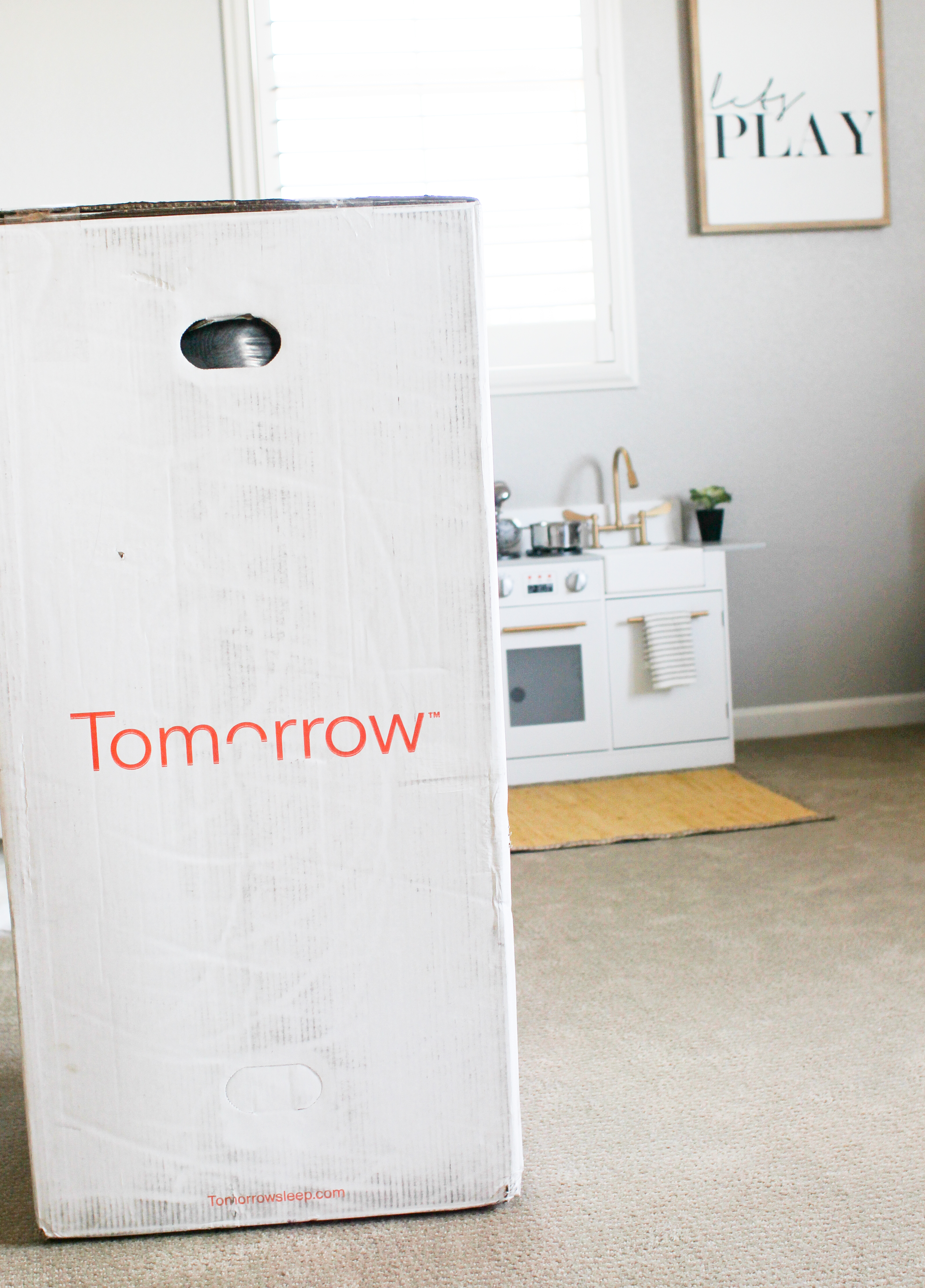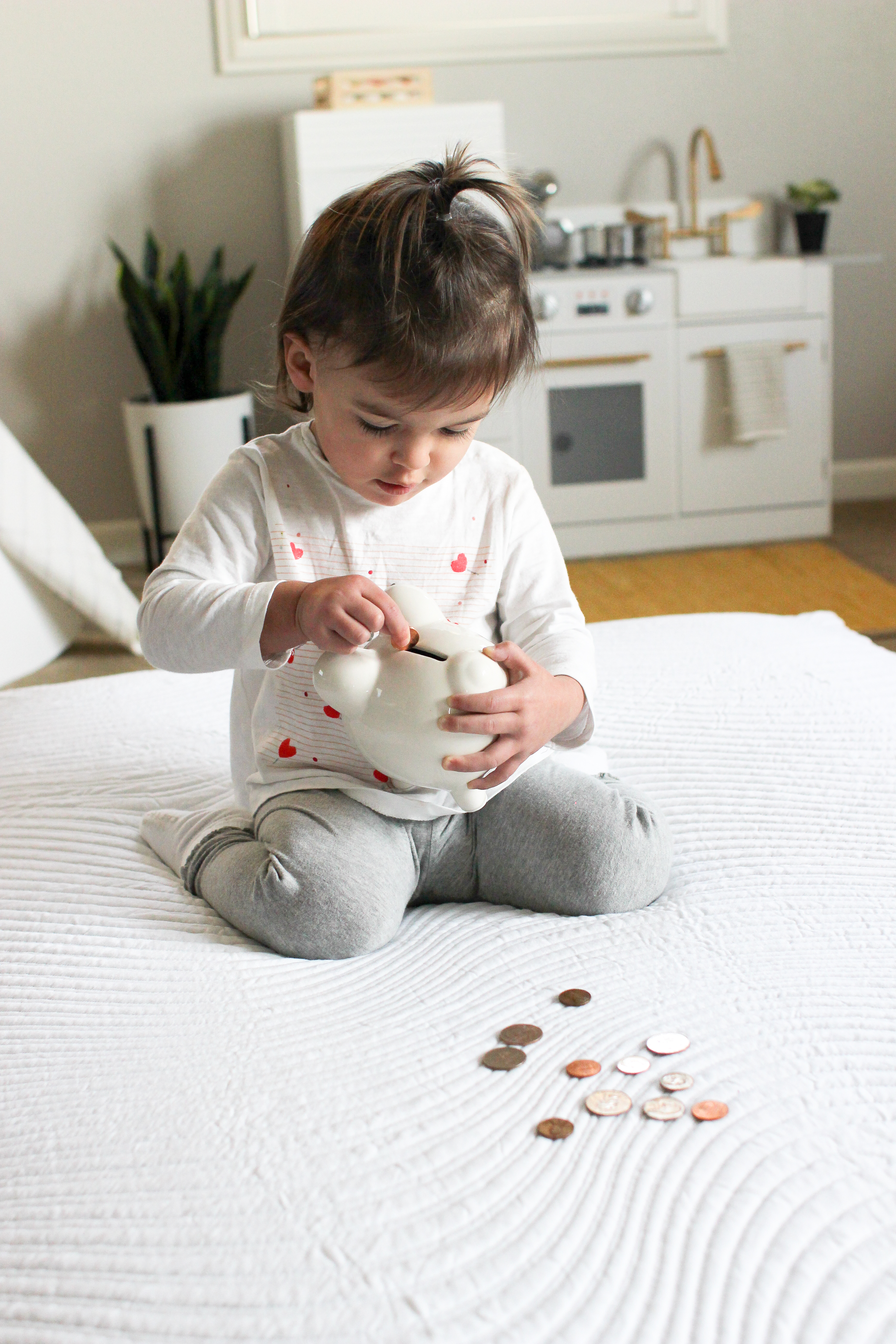 Play Kitchen + TeePee:
A few other areas of the playroom I wanted to show you are Taylor's play kitchen and reading/chill-out teepee. What I really should have done was take a camera and do a 360-degree video around the room to show you everything, but hopefully, you can get the lay of the land. Taylor's kitchen was this white one from Teamson Kids, but I wanted the hardware to match her teepee, so I used this spray paint on all the hardware before putting it together. I also used this chalkboard paint to paint over the decal on the refrigerator door. T's favorite part of her kitchen is the working "ice cube" (wooden block" maker! Right now she does some pretend cooking, but also enjoys dumping all her cooking pots/pans, utensils and play food everywhere. An opportunity to teach her about being a helper for clean up time, right?
She likes to sit on the round, (faux) furry rug and read her books from the book box, which I rotate on a weekly basis. Sometimes she will invite me in, but other times she is content to enjoy "reading" on her own. You can't see it, but I also store this 6 foot, pop-up tunnel behind the teepee – it's SUPER fun but doesn't exactly "go" with the rest of the room : )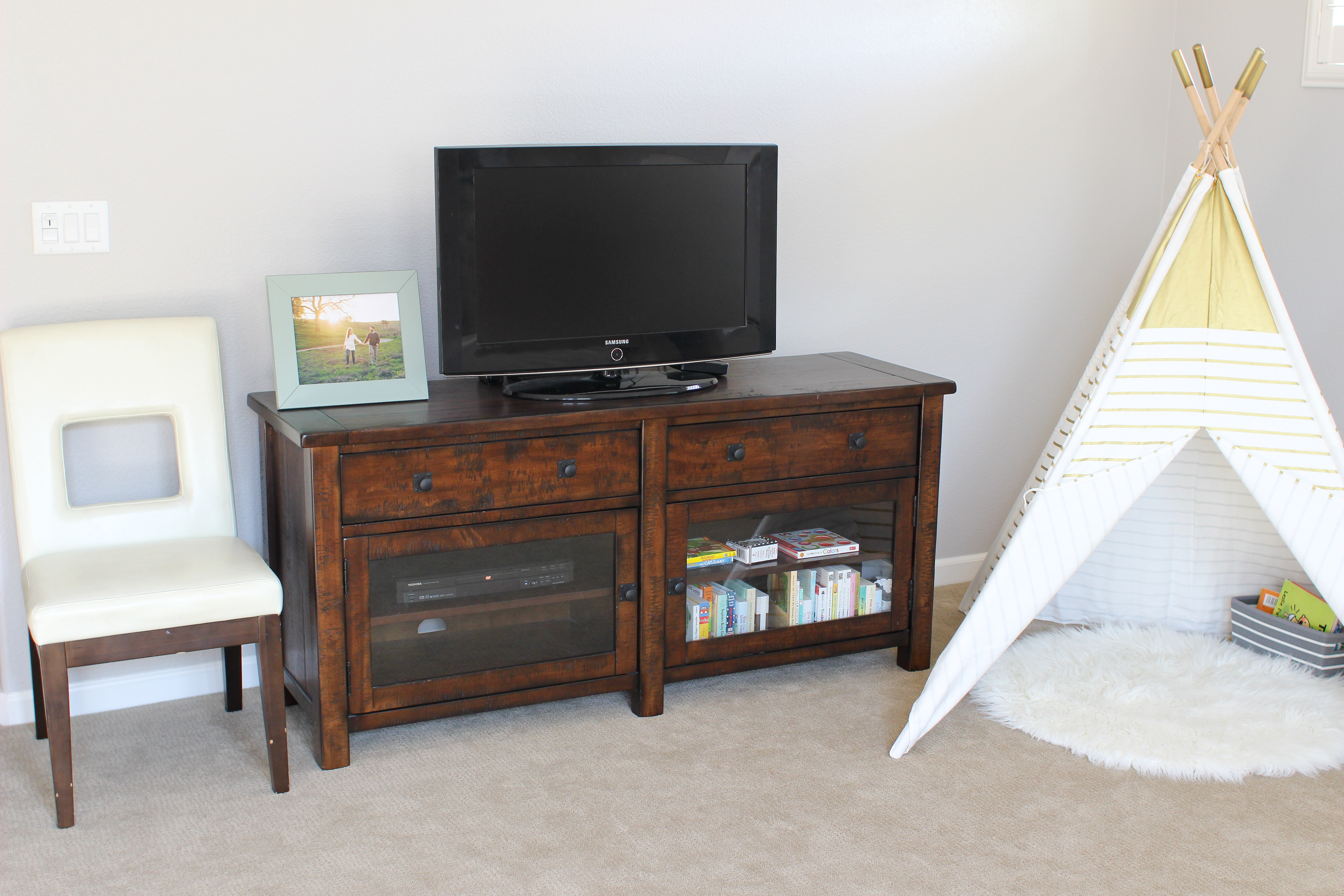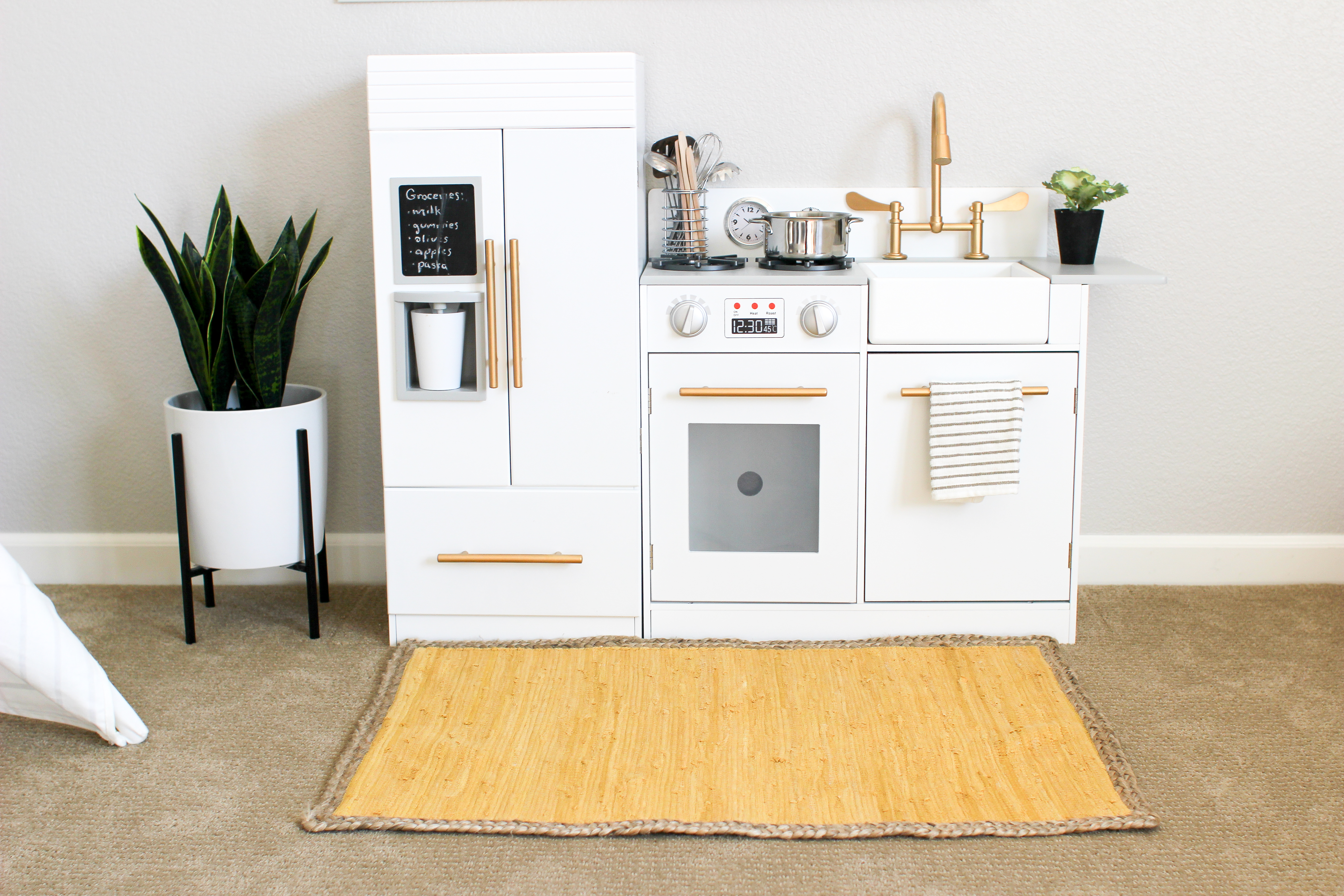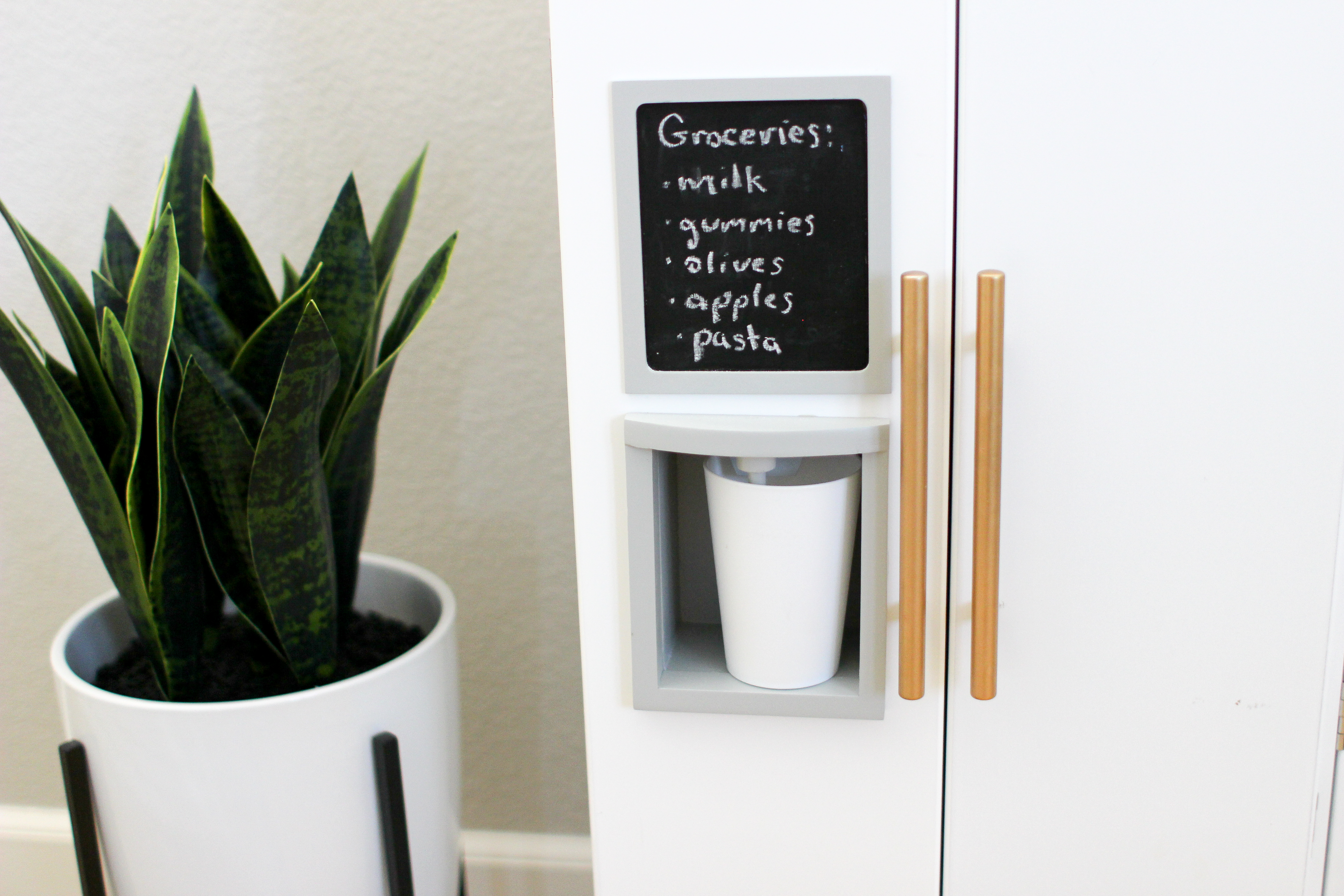 Well, there you have it! I hope you've enjoyed this tour of Taylor's modern, family-friendly playroom!
Below are links to almost everything that I thought you might be interested in, but please email me or leave a comment if you'd like a direct link to anything I left off!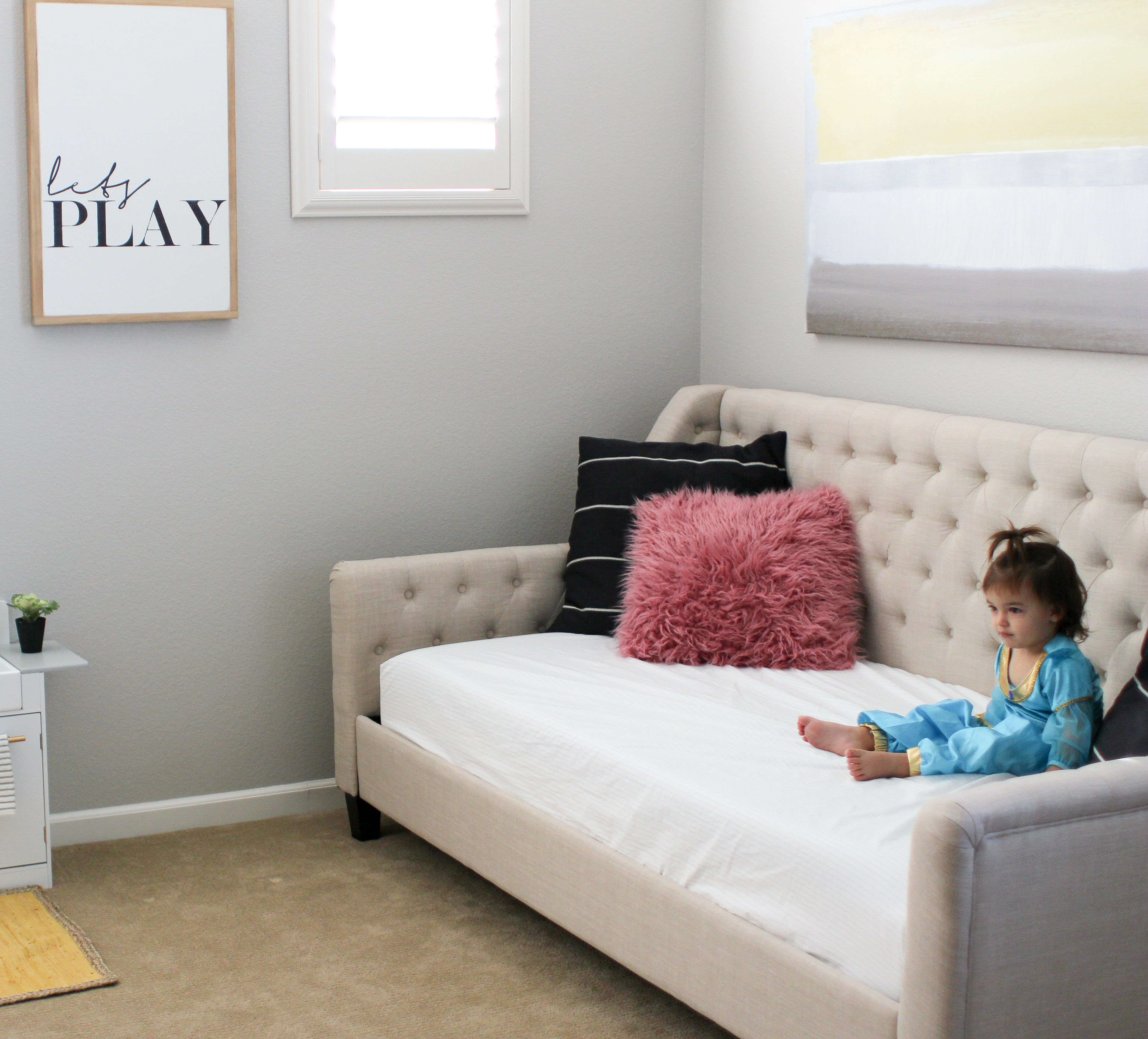 Kitchen: Teamson Kids play kitchen // play food // pots/pans //faux plant // utensils // small potted plant
Furniture: Wayfair daybed // Brooke Linen sheet/duvet set (LOVE the Luxe Hardcore Bundle!) // black striped pillows // entertainment center // Eames style modern table and chair set // rug (ours is a Persian rug, straight from Iran but check out the gorgeous Persian Style rugs from Anthropologie!)
Dress-Up Area: dress up clothes // trunk (similar) // long mirror
Art: Let's Play // Zebra
Tent: Land of Nod TeePee (comes in silver or gold finish) // round faux rug
Toy Storage: bookshelf  ($109 at IKEA!) // baskets // chalkboard (secured to the side of the bookshelf with these Command Strips!)
Miscellaneous: most of Taylor's other toys can be found in this post!


What would you include in YOUR ideal playroom?
XO,
Ashley
You may also like: